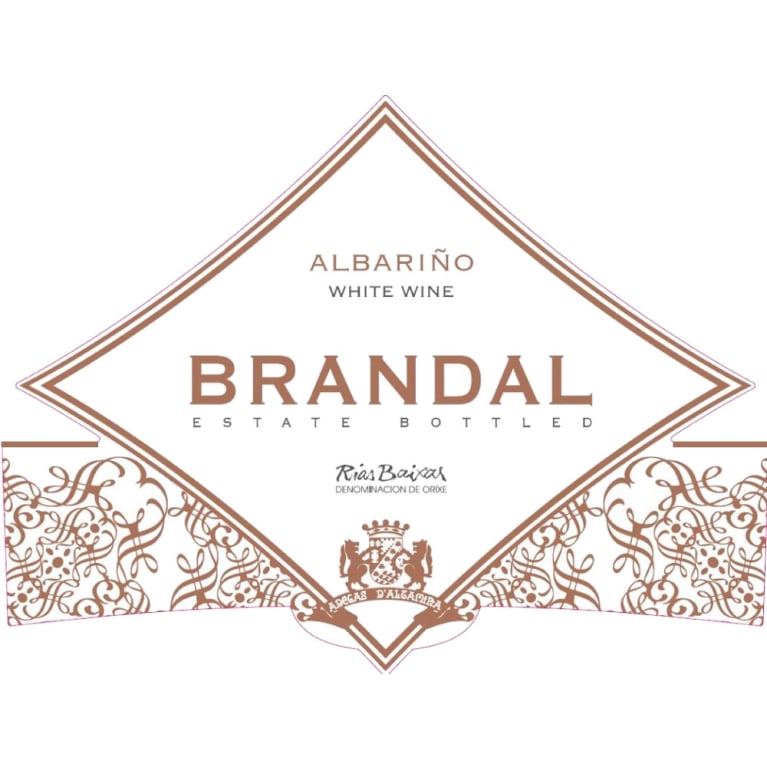 Adegas D'Altamira Brandal Albarino 2008
Winemaker Notes
The 2008 Brandal has a pale yellow color with green hues. It gives off a varied and intense aroma of citrus fruits (lemon, grapefruit), combined with sweeter notes of peach and white flowers in the end. Nice acidity in the mouth with flourishes of citrus and delicate, bitter balsamic hints.
Critical Acclaim
All Vintages
Adegas d'Altamira's 2008 Albarino Brandal is medium straw-colored with aromas of mineral, lemon meringue, and spring flowers. With good grip, savory flavors, and excellent balance, it will drink well over the next 3 years.
View More
Altamira means "high sight" in Spanish, and it was to this picturesque location - over 200 meters above the Atlantic Ocean in the heart of the Rias Baixas region - that the grandparents of the current owners of Adegas D'Altamira first planted vines more than 70 years ago.
Like all Galicia farmers around 1900, Juan and Leocadia Garrido grew the grapes on small plots of land, made and bottled wines without labels, and sold them in the local markets. Many of the grapes were hybrids of red Catalan grapes and white Alicante that offered maximum productivity. In the late 1930s, it was discovered that the climate and terroir of the Rias Baixas region was ideal for growing the pure Albarino grape. While the Garrido had already planted quite a few Albarino vines (some of the vines on the Estate today are over 100 years old), they turned their entire hillside vineyard over to this one varietal.
The 100% Albarino wines made by the family became extremely well-known, so much so that when Albarino wines from the Rias Baixas started to make a name for themselves in the rest of the country, they were uniquely poised to take advantage of this mew market and the burgeoning Spanish wine industry.
In 2004 , Jose Tourino, Sr., along with his son, Jose Jr., built a state-of-the-art winery, a tasting room, cave and catering facilities, soon to be joined by luxury lodging on the family property. They also finally put a label on their wines - 2004 Albarino Adegas D'Altamira was their first vintage. This wine has received great praise and over 23 awards, including Spain's Golden Bacchus and is considered among the very best of aged Albarino from Rias Biaxas.
Named after the rías, or estuarine inlets, that flow as far as 20 miles inland, Rías Baixas is an Atlantic coastal region with a cool and wet maritime climate. The entire region claims soil based on granite bedrock, but the inlets create five subregions of slightly different growing environments for its prized white grape, Albariño.
Val do Salnés on the west coast is said to be the birthplace of Albariño; it is the coolest and wettest of all of the regions. Having been named as the original subregion, today it has the most area under vine and largest number of wineries.
Ribeira do Ulla in the north and inland along the Ulla River is the newest to be included. It is actually the birthplace of the Padrón pepper!
Soutomaior is the smallest region and is tucked up in the hills at the end of the inlet called Ria de Vigo. Its soils are light and sandy over granite.
O Rosal and Condado do Tea are the farthest south in Rías Baixas and their vineyards actually cover the northern slopes of the Miño River, facing the Vinho Verde region in Portugal on its southern bank.
Albariño gives this region its fame and covers 90% of the area under vine. Caiño blanco, Treixadura and Loureira as well as occasionally Torrontés and Godello are permitted in small amounts in blends with Albariño. Red grapes are not very popular but Mencía, Espadeiro and Caiño Tinto are permitted and grown.
Bright and aromatic with distinctive floral and fruity characteristics, Albariño has enjoyed a surge in popularity and an increase in plantings over the last couple of decades. Thick skins allow it to withstand the humid conditions of its homeland, Rías Baixas, Spain, free of malady, and produce a weighty but fresh white. Somm Secret—Albariño claims dual citizenship in Spain and Portugal. Under the name Alvarinho, it thrives in Portugal's northwestern Vinho Verde region, which predictably, borders part of Spain's Rías Baixas.
MSWQ7430181_2008
Item#
106884