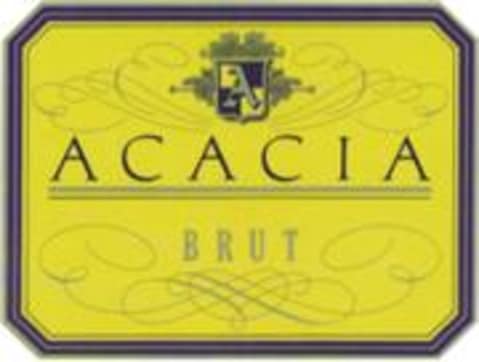 Acacia Carneros Brut 1993
Winemaker Notes
As usual, we have used methods so traditional as to be antique. The base wine is barrel fermented and aged. The primary and subsequent bottle fermentations are done very slowly. The wine is bottle-aged for five years before disgorging and receives a small (dosage) of sweetened wine to flesh out the texture.
The sparkling wine we produce is in strong opposition to this trend for a lighter champagne. Our style is full and toasty, meant to be drunk with food. Pleasant enough by itself, but it's much more at home with appetizers and first courses. It is very dry and not a good dessert champagne.
Acacia takes its name from the lone Acacia tree that once stood on this Los Carneros vineyard. The tree stands tall against the cool winds from San Francisco Bay signaling the chilly conditions that give this region one of the longest growing seasons around. Cool temperatures, dense clay soils and extended hangtime on the vine all combine to yield Chardonnay and Pinot Noir grapes of rare power and complexity. Gentle handcrafting brings out the full expression of this special terroir, for wines with layered varietal character over silky texture.
Known for elegant wines that combine power and finesse, Carneros is set in the rolling hills that straddle the southernmost parts of both Sonoma and Napa counties. The cooling winds from the abutting San Pablo Bay, combined with lots of midday California sunshine, create an ideal environment for producing wines with a perfect balance of crisp acidity and well-ripened fruit.
This cooler pocket of California lends itself to growing Pinot Noir, Chardonnay and Syrah. Carneros is an important source of sparkling wines made in the style of Champagne as well.
A term typically reserved for Champagne and Sparkling Wines, non-vintage or simply "NV" on a label indicates a blend of finished wines from different vintages (years of harvest). To make non-vintage Champagne, typically the current year's harvest (in other words, the current vintage) forms the base of the blend. Finished wines from previous years, called "vins de reserve" are blended in at approximately 10-50% of the total volume in order to achieve the flavor, complexity, body and acidity for the desired house style. A tiny proportion of Champagnes are made from a single vintage.
There are also some very large production still wines that may not claim one particular vintage. This would be at the discretion of the winemaker's goals for character of the final wine.
NDF615704_1993
Item#
17437