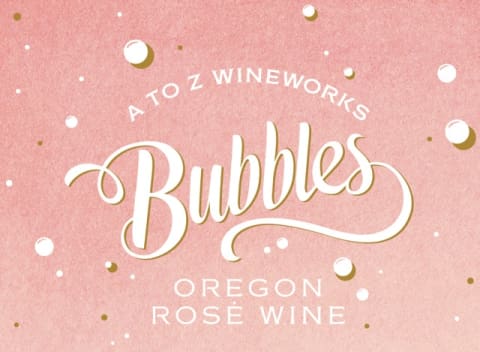 A to Z Rose Bubbles
Ships today if ordered in next 7 hours
Limit
0
bottles
per customer
Winemaker Notes
The lovely, pale pink A to Z Bubbles invite with juicy, ripe fruit aromas. Notes of strawberry, raspberry, watermelon, cherry, white peach, nectarine and apricot are joined by white flowers and a hint of creaminess. The bubbles dance on the tongue with mouth-watering acidity that leaves one wanting more.
Blend: 90% Pinot Noir, 10% Chardonnay
A to Z Wineworks was established in 2002 by four Oregon wine industry veterans to consistently offer quality wines that capture the Essence of Oregon. Five times named a 'Best for the World' B Corp, A to Z's commitment to excellence is matched by a belief in fair value and sustainability in business as well as farming. Recognition for A to Z wines as offering dependable quality for great value continues today, making A to Z the top-selling Oregon wine brand.
Home to some of America's most celebrated Pinot Noir, Oregon maintains a tight focus on small production, high quality wine even while the state's industry enjoys steady growth. As a world-renowned wine region, Oregon has more than 700 wineries and is home to well over 70 grape varieties. With a mostly Mediterranean climate, its cooler and wetter regions lie in the west, close to the Pacific Coast.
By far the most reputed region is the Willamette Valley, which is further subdivided into six smaller appellations: Chehalem Mountains, Dundee Hills, Eola-Amity Hills, McMinnville, Ribbon Ridge and Yamhill-Carlton.
The Valley's obvious success story is with Pinot Noir, which here takes on a personality that could be described in general terms as somewhere in between the wines of California and Burgundy—and is often more affordable than either one. The best Willamette Pinot noir has a rare combination of red and black fruit, elegant balance, high acidity and rustic earth. While completely enjoyable in their youth, some of the better, single vineyard or appellation-specific Pinot noirs can often benefit from some cellar time.
Other AVAs in Oregon's west worth noting include Umpqua Valley and Rogue Valley.
In the east are Snake River Valley, which overlaps into Idaho, and Columbia Valley, which Oregon shares with Washington. Summers are hot and dry in these regions but winters are cold and rainy.
Pinot Gris, Chardonnay, Riesling and Pinot blanc also grow successfully in Oregon.
What are the different types of Champagne and sparkling wine?
Beloved for its lively bubbles, sparkling wine is the ultimate beverage for any festivity, whether it's a major celebration or a mere merrymaking of nothing much! Sparkling wine is made throughout the winemaking world, but only can be called "Champagne" if it comes from the Champagne region of France and is made using what is referred to as the "traditional method." Other regions have their own specialties—Crémant in other parts of France, Cava in Spain and Prosecco in Italy, to name a few. New World regions like California, Australia and New Zealand enjoy the freedom to make many styles, with production methods and traditions defined locally. In a dry style, Champagne and sparkling wine goes with just about any type of food. Sweet styles are not uncommon and among both dry and sweet, you'll find white, rosé—or even red!—examples.
How is Champagne and sparkling wine made?
Champagne, Crémant, Cava and many other sparkling wines of the world are made using the traditional method, in which the second fermentation (the one that makes the bubbles) takes place inside the bottle. With this method, spent yeast cells remain in contact with the wine during bottle aging, giving it a creamy mouthful, toasted bread or brioche qualities and in many cases, the capacity to age. For Prosecco, the carbonation process usually occurs in a stainless steel tank (before bottling) to preserve the fresh fruity and floral aromas imminent in this style.
What gives Champagne and sparkling wine its bubbles?
The bubbles in sparkling wine are formed when the base wine undergoes a secondary fermentation, which traps carbon dioxide inside the bottle or fermentation vessel.
How do you serve Champagne and sparkling wine?
Ideally for storing Champagne and sparkling wine in any long-term sense, they should be at cellar temperature, about 55F. For serving, cool Champagne and sparkling wine down to about 40F to 50F. (Most refrigerators are colder than this.) As for drinking Champagne and sparkling wine, the best glasses have a stem and flute or tulip shape to allow the bead (bubbles) to show.
How long does Champagne and sparkling wine last?
Most sparkling wines like Prosecco, Cava or others around the "$20 and under" price point are intended for early consumption. Wines made using the traditional method with extended cellar time before release can typically improve with age. If you are unsure, definitely consult a wine professional for guidance.