Winemaker Notes
This light, smooth Moscato has aromas of white rose and ripe honeydew that are followed by flavors of peach and tangerine. While lightly sweet at first, ample acidity lends balance, keeping the wine bright and fresh.
Pair with fruit salad, soft white cheeses, and charcuterie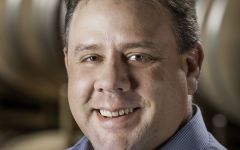 The inspiration for 14 Hands wines recalls a time when wild mustangs once freely roamed the hills of eastern Washington State. These small horses, measuring a scant 14 hands high - a "hand" being equivalent to a man's palm width and how horses were measured then - would travel down from the hills every day to drink from the mighty Columbia River and graze upon the luscious waist high grasses along the riverbank, and then retreat back up into the hills to cool off at night. Strong and tenacious, these little horses became known for their endurance and were revered around the world.
This unique and beautiful landscape that gave these unbridled horses their spirit and tenacity now feeds our vines. With loamy-sand and gravel soils, these hills require a strong and determined grapevine, and our 14 Hands vines revel in this unique and world class terroir. With the fruit from these tenacious vines, 14 Hands wines are handcrafted into big, bold, juicy fruit forward reds and crisp, fruit forward white wines that are laced with the unbridled spirit and legend of the region.
14 Hands celebrates the spirit of these wild horses, and the rich and unique history of Washington wines not only in our wines, but also in the vibrant colors and images on our popular varietal labels and our new Hot to Trot red and white blend wines. Whether you enjoy 14 Hands by the glass in your favorite restaurant, or share a bottle with family or friends, our wines are the quintessential Washington wine experience – fruit-forward, easily enjoyable with any meal or on any occasion, and delivering a superb value for the price. Bringing this bottle of wine to the party is more than bringing just a wine – it's a delicious wine with a unique story that's sure to spark up a memorable conversation.
A large and geographically diverse AVA capable of producing a wide variety of wine styles, the Columbia Valley AVA is home to 99% of Washington state's total vineyard area. A small section of the AVA even extends into northern Oregon!
Because of its size, it is necessarily divided into several distinctive sub-AVAs, including Walla Walla Valley and Yakima Valley—which are both further split into smaller, noteworthy appellations. A region this size will of course have varied microclimates, but on the whole it experiences extreme winters and long, hot, dry summers. Frost is a common risk during winter and spring. The towering Cascade mountain range creates a rain shadow, keeping the valley relatively rain-free throughout the entire year, necessitating irrigation from the Columbia River. The lack of humidity combined with sandy soils allows for vines to be grown on their own rootstock, as phylloxera is not a serious concern.
Red wines make up the majority of production in the Columbia Valley. Cabernet Sauvignon is the dominant variety here, where it produces wines with a pleasant balance of dark fruit and herbs. Wines made from Merlot are typically supple, with sweet red fruit and sometimes a hint of chocolate or mint. Syrah tends to be savory and Old-World-leaning, with a wide range of possible fruit flavors and plenty of spice. The most planted white varieties are Chardonnay and Riesling. These range in style from citrus and green apple dominant in cooler sites, to riper, fleshier wines with stone fruit flavors coming from the warmer vineyards.
While Muscat comes in a wide range of styles from dry to sweet, still to sparkling and even fortified, it's safe to say it is always alluringly aromatic and delightful. The two most important versions are the noble, Muscat Blanc à Petits Grains, making wines of considerable quality and Muscat of Alexandria, thought to be a progeny of the former. Somm Secret—Pliny the Elder wrote in the 13th century of a sweet, perfumed grape variety so attractive to bees that he referred to it as uva apiana, or "grape of the bees." Most likely, he was describing Muscat.
SOU334273_2015
Item#
361549