14 Hands Hot to Trot White Blend 2015
Winemaker Notes
This vibrant white blend sports apple, pear and melon aromascomplemented by citrus and floral notes. Ripe white fruit flavorsare repeated on the palate, joined by hints of sweet lemon andbalanced by crisp acidity, ending with a juicy finish.
Predominately Chardonnay and Riesling with small amounts ofother white varieties like Sauvignon Blanc, Semillon and Pinot Gris.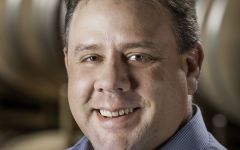 The inspiration for 14 Hands wines recalls a time when wild mustangs once freely roamed the hills of eastern Washington State. These small horses, measuring a scant 14 hands high - a "hand" being equivalent to a man's palm width and how horses were measured then - would travel down from the hills every day to drink from the mighty Columbia River and graze upon the luscious waist high grasses along the riverbank, and then retreat back up into the hills to cool off at night. Strong and tenacious, these little horses became known for their endurance and were revered around the world.
This unique and beautiful landscape that gave these unbridled horses their spirit and tenacity now feeds our vines. With loamy-sand and gravel soils, these hills require a strong and determined grapevine, and our 14 Hands vines revel in this unique and world class terroir. With the fruit from these tenacious vines, 14 Hands wines are handcrafted into big, bold, juicy fruit forward reds and crisp, fruit forward white wines that are laced with the unbridled spirit and legend of the region.
14 Hands celebrates the spirit of these wild horses, and the rich and unique history of Washington wines not only in our wines, but also in the vibrant colors and images on our popular varietal labels and our new Hot to Trot red and white blend wines. Whether you enjoy 14 Hands by the glass in your favorite restaurant, or share a bottle with family or friends, our wines are the quintessential Washington wine experience – fruit-forward, easily enjoyable with any meal or on any occasion, and delivering a superb value for the price. Bringing this bottle of wine to the party is more than bringing just a wine – it's a delicious wine with a unique story that's sure to spark up a memorable conversation.
An important winegrowing state increasingly recognized for its high-quality reds and whites, Washington ranks second in production in the U.S. after California. Washington wines continue to gain well-deserved popularity as they garner higher and higher praise from critics and consumers alike.
Washington winemakers draw inspiration mainly from Napa Valley, Bordeaux and the Rhône as well as increasingly from other regions like Spain and Italy. Most viticulture takes place on the eastern side of the state—an arid desert in the rain shadow of the Cascade mountains. Irrigation is made possible by the Columbia River. Temperatures are extreme, with hot and dry summers and cold winters, during which frost can be a risk.
Washington's wine industry was initially built on Merlot, which remains an important variety to this day, despite having been overtaken in acreage planted by Cabernet Sauvignon and Syrah. Bordeaux blends and Rhône blends are common as well as single varietal bottlings. Washington reds tend to express a real purity of concentrated fruit. The best examples have a bold richness, seamless texture, plush or powdery tannins and flavors such as licorice, herb, forest floor, espresso and dark chocolate.
In terms of white wine from Washington state, Riesling is the state's major success story, producing crisp, aromatic examples with plenty of stone fruit that range from bone dry to lusciously sweet. Chardonnay and Sauvignon Blanc perform nicely here as well, and Viognier is beginning to pick up steam.
With hundreds of white grape varieties to choose from, winemakers have the freedom to create a virtually endless assortment of blended white wines. In many European regions, strict laws are in place determining the set of varieties that may be used in white wine blends, but in the New World, experimentation is permitted and encouraged. Blending can be utilized to enhance balance or create complexity, lending different layers of flavors and aromas. For example, a variety that creates a soft and full-bodied white wine blend, like Chardonnay, would do well combined with one that is more fragrant and naturally high in acidity. Sometimes small amounts of a particular variety are added to boost color or aromatics. Blending can take place before or after fermentation, with the latter, more popular option giving more control to the winemaker over the final qualities of the wine.
SOU298346_2015
Item#
214312