14 Hands Cabernet Sauvignon 2016
Winemaker Notes
The 14 Hands Cabernet Sauvignon is a rich, juicy red that featuresaromas of dark cherry, black currant, coffee and subtle hints ofspice. These flavors are complemented by a touch of spicy oak andemphasized by refined tannins.
 Blend: 79% Cabernet Sauvignon, 19% Merlot, 2% other select varieties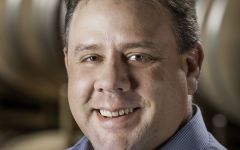 The inspiration for 14 Hands wines recalls a time when wild mustangs once freely roamed the hills of eastern Washington State. These small horses, measuring a scant 14 hands high - a "hand" being equivalent to a man's palm width and how horses were measured then - would travel down from the hills every day to drink from the mighty Columbia River and graze upon the luscious waist high grasses along the riverbank, and then retreat back up into the hills to cool off at night. Strong and tenacious, these little horses became known for their endurance and were revered around the world.
This unique and beautiful landscape that gave these unbridled horses their spirit and tenacity now feeds our vines. With loamy-sand and gravel soils, these hills require a strong and determined grapevine, and our 14 Hands vines revel in this unique and world class terroir. With the fruit from these tenacious vines, 14 Hands wines are handcrafted into big, bold, juicy fruit forward reds and crisp, fruit forward white wines that are laced with the unbridled spirit and legend of the region.
14 Hands celebrates the spirit of these wild horses, and the rich and unique history of Washington wines not only in our wines, but also in the vibrant colors and images on our popular varietal labels and our new Hot to Trot red and white blend wines. Whether you enjoy 14 Hands by the glass in your favorite restaurant, or share a bottle with family or friends, our wines are the quintessential Washington wine experience – fruit-forward, easily enjoyable with any meal or on any occasion, and delivering a superb value for the price. Bringing this bottle of wine to the party is more than bringing just a wine – it's a delicious wine with a unique story that's sure to spark up a memorable conversation.
Washington produces so many exciting wines, and that definitely includes Columbia Valley Cabernet Sauvignon. With over 10,000 acres under vine, Cabernet Sauvignon is now the most widely-grown varietal in the state. Terrific examples hail from sub-appellations like Red Mountain, Wahluke Slope, Horse Heaven Hills and Walla Walla Valley. One of the fascinations of these Columbia Valley Cabs is that they so often seem to have one foot in the New World and one in the Old. Representing the former are characteristics like the ripe, forward fruit that results from long sunny days during the growing season (up to two hours longer than in much of California). Old World similarities include an undeniable brightness from acidity, as well as notes of herbs, graphite and a dusty, sometimes gravelly minerality.
Whether you're looking for a budget bottle for everyday enjoyment, or a stellar, world-class wine with tremendous aging potential, Columbia Valley Cabernet Sauvignon wines can deliver the goods! Among the many fine options are bottles from Columbia Crest, Chateau Ste. Michelle, L'ecole #41, Quilceda Creek and Leonetti.
SOU107438_2016
Item#
434159