Planning a Thai night in? See our favorite wines to pair with Thai food and shop them all to spice up your winter takeout habit.
With the holidays behind us and more than a few additional weeks of winter stretching ahead, now is the ideal time to cozy up at home and not worry about cooking an elaborate meal. Enter Thai food, the perfect takeout option for chilly nights. There's nothing quite like the salty, spicy, sweet, and sour flavor profiles in this comforting and warming cuisine, which makes it our choice for avoiding the kitchen during the winter months. But just because you aren't preparing a five-course feast yourself doesn't mean you can't pair your fare with a delicious wine that complements the flavors perfectly. Thai recipes are wide-ranging and unique in flavor composition, so one might think it would be difficult to find a wine to match with everything, but there are more than a few wines that fit the bill to elevate your takeout night into something a little bit special.
Riesling:
Off-dry wine styles match perfectly with spicy curries and noodle dishes.
Probably the Thai food wine pairing most suggested, and for good reason! Riesling, particularly the off-dry styles, is a natural accompaniment to the spicy, sour, and sweet flavors that define many Thai recipes. This is due in part to the wonderful blend of tropical fruits and acidity present in these wines, as well as their low alcohol content, which balances the heat found in the food. Add to that some sweetness from residual sugar, which fades to the background against the spiciness leaving just the best fruit flavors, and you've got the ideal takeout night companion. The go-to choice is a
German Riesling
, but you can find fantastic wines from Alsace, Australia, and even New York to pair with your pad Thai.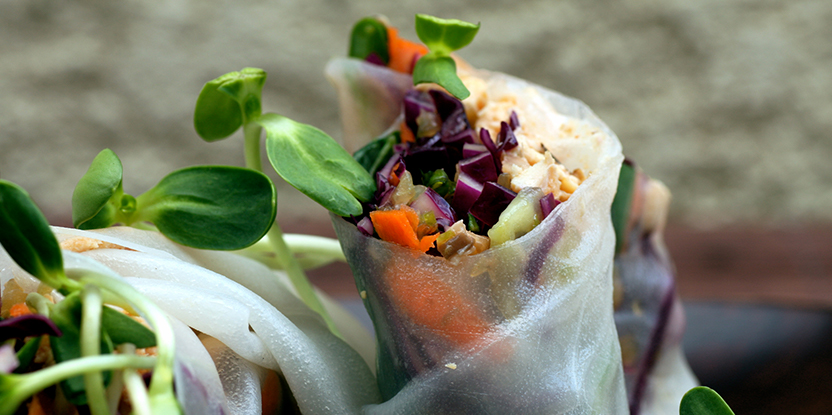 Just because the holidays are over doesn't mean you have to stop popping the bubbly! A bright sparkling rosé is a great Thai food wine pairing because it is refreshing and fruity, with just enough sweetness to pop against bitter and sour flavors. The carbonation also helps to cleanse your palate from the rich textures and spicy seasonings, so you're ready for each new bite to be just as fresh and exciting as the first. While this sparkling style is versatile enough to go with all your trusty favorites, it's particularly well suited to vegetable- and fruit-forward dishes like spring rolls, spicy eggplant, green curry, or a green papaya salad, making this the ideal Thai food wine pairing.
Pinot Noir:
Cool climate options have fresh acidity to balance out spicy dishes.
If you're a red wine drinker through and through, a smooth, lower alcohol variety will be the ideal match to pair with hearty dishes and umami flavors found in Thai takeout staples like pad see ew. A cool-climate Pinot Noir from Oregon, Germany, or New Zealand will have the acidity to balance the food flavor profiles and the spice in the food will bring out the juicy fruitiness of these elegant wines. Unless you're looking for a spice bomb, be sure to choose a wine low in tannins, the presence of which actually maximizes spicy sensations—luckily,
Pinot Noir
is generally a low tannin wine, which is why it's one of the best wines with Thai food.
---
As you can see, there are plenty of Thai food wine pairing in a variety of styles, and this is just the tip of the iceberg lettuce cup! Whether you are just beginning your wine discovery or looking to expand your palate to more white and
red wine varieties
, you can find the world's largest selection of wine at Wine.com along with expert guidance to help you pick the perfect bottle for any occasion, from takeout nights to black-tie affairs. Cheers!