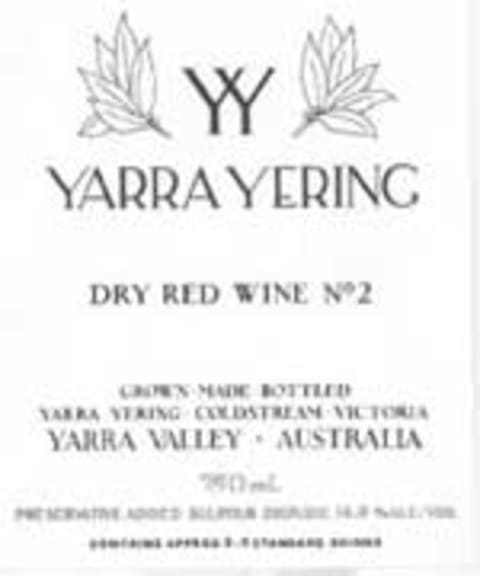 Yarra Yering No. 2 Dry Red 2004
Winemaker Notes
Predominantly Shiraz with small amounts of Viognier and Marsanne
A deep purple-red color. The nose shows licorice and cherry varietal fruit, complexed by cedary, spicy oak. These characters carry through onto the long palate, which is crammed with rich fruit and ripe tannins from start to finish.
A wine that will age effortlessly for 7 – 10 years under ideal conditions.
Yarra Yering was planted at the foot of the Warramate Hills in 1969 by Dr Bailey Carrodus. In 1973 he released the first commercial vintage of wine from the Yarra Valley since 1923.
The wines are a reflection of this highly individual man, the site he chose so carefully, and the vagaries of the seasons in which they are produced. From the beginning the aim was to produce wines of elegance and sophistication. The vineyard is not irrigated, and this promotes strong root growth deep into the subsoils protecting the vines against the trials of drought, and allowing the fruit to express the characteristics of the terroir in which it is grown.
The vines are hand pruned and cared for by vineyard staff with decades of experience at Yarra Yering. The fruit is hand picked, it is crushed gently by the old crusher destemmer and fermented in small batches, before being hand pressed in the basket press. Maturation is in carefully selected French oak casks and the wine is bottled on site. These are artisan produced wines of the highest quality. Yarra Yering maintains a proud heritage established by an extraordinary man.
As the most important area of wine production in Victoria today, the Yarra Valley is most popular for Pinot Noir and Chardonnay, which account for over half of vineyard acreage. A gentle, rolling and rural region alongside the Margaret River, the Yarra Valley has a cool maritime climate with a lengthy growing season, perfect for these cool-climate varieties.
Two styles of Pinot Noir are possible here. The warmer Lower Yarra Valley with sandy, loam soils, produces plush and fruity Pinot Noir while the cooler, higher-elevation Upper Yarra Valley with soils of young red basalt, produces more angular and mineral-driven Pinot Noir.
Yarra Valley Chardonnay is among the best in Australia. To preserve the floral aromatics and fresh citrus flavors for which this area's Chardonnay is so appreciated, time in barrel is restrained (though barrel fermentation is common). The best Yarra Valley Chardonnays display brilliant acidity, leesy characteristics, citrus, stone fruit and flavors of ginger and spice.
Shiraz and Cabernet find success in parts of this region as well.
With hundreds of red grape varieties to choose from, winemakers have the freedom to create a virtually endless assortment of blended red wines. In many European regions, strict laws are in place determining the set of varieties that may be used, but in the New World, experimentation is permitted and encouraged resulting in a wide variety of red wine styles. Blending can be utilized to enhance balance or create complexity, lending different layers of flavors and aromas. For example, a red wine blend variety that creates a fruity and full-bodied wine would do well combined with one that is naturally high in acidity and tannins. Sometimes small amounts of a particular variety are added to boost color or aromatics. Blending can take place before or after fermentation, with the latter, more popular option giving more control to the winemaker over the final qualities of the wine.
How to Serve Red Wine
A common piece of advice is to serve red wine at "room temperature," but this suggestion is imprecise. After all, room temperature in January is likely to be quite different than in August, even considering the possible effect of central heating and air conditioning systems. The proper temperature to aim for is 55° F to 60° F for lighter-bodied reds and 60° F to 65° F for fuller-bodied wines.
How Long Does Red Wine Last?
Once opened and re-corked, a bottle stored in a cool, dark environment (like your fridge) will stay fresh and nicely drinkable for a day or two. There are products available that can extend that period by a couple of days. As for unopened bottles, optimal storage means keeping them on their sides in a moderately humid environment at about 57° F. Red wines stored in this manner will stay good – and possibly improve – for anywhere from one year to multiple decades. Assessing how long to hold on to a bottle is a complicated science. If you are planning long-term storage of your reds, seek the advice of a wine professional.
YNG613122_2004
Item#
91294