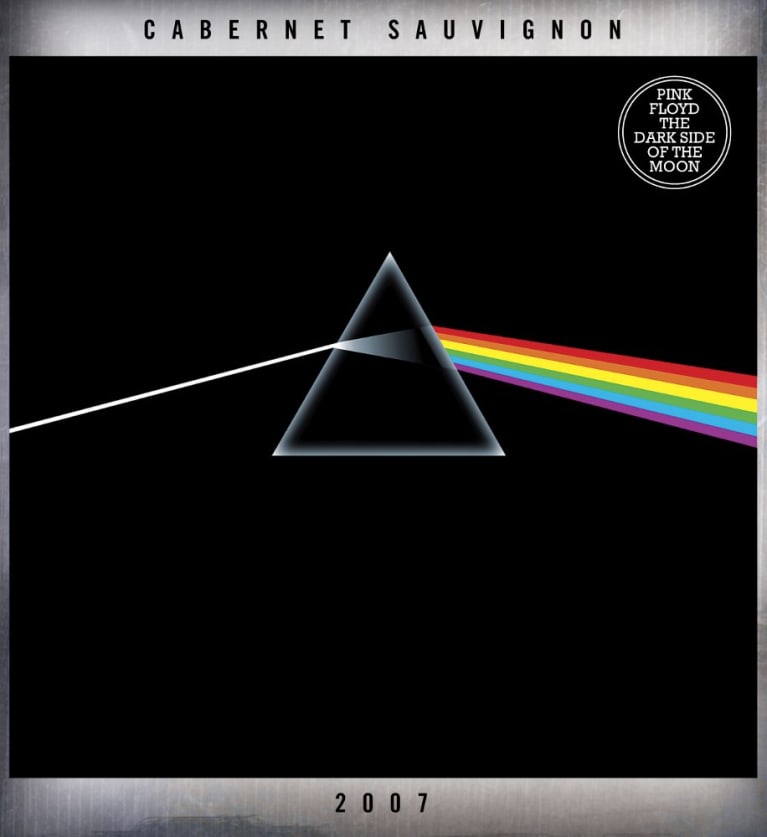 Wines That Rock Pink Floyd's Cabernet Sauvignon 2007
Ships Tue, Oct 6
Limit
0
bottles
per customer
Winemaker Notes
The 2007 Cabernet Sauvignon captures the attitude of Mendocino County's style. Aromas of black currant and cherry are followed by rich flavors of cassis, toasted vanilla bean, and hints of chocolate. Enjoy this rich dry red wine with hearty chicken dishes, beef and lamb, and red sauced pasta.
About the Blend:
With Pink Floyd's The Dark Side of the Moon echoing in the cellar, our winemaker crafted this custom Cabernet Sauvignon from premium Mendocino County fruit, blending a one-of -a-kind wine with Rock 'n Roll mythology. To capture the intense, brooding character of The Dark Side of the Moon, Winemaker Mark Beaman turned to a classic wine variety, Cabernet Sauvignon. A varietal with a deep, complex character that takes a relaxed environment to fully appreciate, Cabernet Sauvignon reflects the hauntingly dense, timeless character of Pink Floyd's masterpiece album.

The founders of Wines That Rock have been at the forefront of bringing Rock 'n Roll to fans for decades. This new project was born out of two great passions, music and wine. The project's goal is the creation of great tasting wines inspired by the spirit of Classic Rock 'n Roll Music, iconic album art for labels, earth friendly production from the grape to the labels and great consumer value. With over 30 years of rock 'n roll experience, Wines That Rock founders intend to use their rock 'n roll expertise to promote, produce and market these one of a kind wines, no differently than they would a World Wide Tour of a major artist.
About the Producers
Mendocino Wine Co. is dedicated to responsible land stewardship, sustainable viticulture and green business practices that yield superior wines while protecting the environment and supporting local farmers. These goals are reflected in the winery's E3 action plan: "...environmental responsibility, economic viability and social equity." Envisioning the wine industry as a model for all of agriculture, the partners lead by example. The award-winning brands produced by the winery include: Parducci Wine Cellars, Paul Dolan Vineyards and now Wines That Rock. In the spring of 2007, Mendocino Wine Co. became the first winery in the United States to achieve carbon neutral status. In recognition of their leadership, the State of California has twice (2007 & 2009) awarded Mendocino Wine Co. with the Governor's Environmental and Economic Leadership Award (GEELA), California's highest environmental honor.
EMP191725_2007
Item#
113030