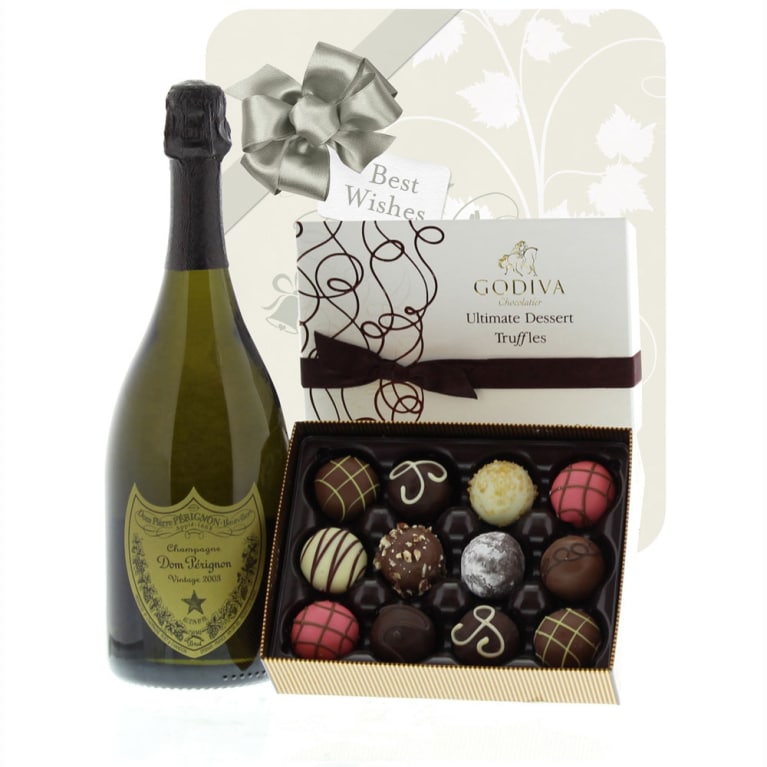 Wedding Bells, Dom Perignon, & Godiva Truffles Gift Set
Description
Nothing's too good for the bride and groom. Start their new marriage with a bottle of Dom Pérignon and Godiva. These legendary brands that have set the standard for combining luxury with heavenly taste. Known for their artful approach to perfecting vintage Champagne, Dom Perignon is the ideal pairing for Godiva's ultimate dessert truffles. Each of these heavenly truffles are filled with sumptuous fillings and ganaches inspired by classic and on-trend desserts like Chocolate Éclair, Red Velvet Cake, Crème Brulee, and Chocolate Lava Cake.
Wine Gift Includes:
Dom Perignon Champagne (750ml)

Godiva 12-piece Ultimate Dessert Truffle Assortment

Festive Greet Sheet

Due to the popularity of this gift, vintages sometimes sell out. Should this happen, we will always substitute with the current vintage.
Pursuant to state laws in New York, gifts that contain both food and wine will be sent in two separate packages.
Critical Acclaim
All Vintages
Unfortunately there is only one new release from Dom Perignon this year. The 2003 is one of the most unusual Dom Perignons I have ever tasted, going back to 1952. Readers will remember that 2003 was a torrid vintage across northern Europe, especially during the critical month of August, when temperatures remained very hot for well over a month. The harvest was the earliest on record, until 2011, that is. I suppose its not that surprising Chef de Caves Richard Geoffroy chose to make a 2003 Dom Perignon, given his penchant for risk-taking, an approach that has yielded so many memorable wines that stretch the perception of what big brand Champagne is and can be. The 2003 Dom Perignon is a big, broad shouldered wine. It does not have the seductiveness of the 2000, nor the power of the 2002. It is instead very much its own wine. In 2003 Geoffroy elected to use more Pinot Noir than is typically the case, and that comes through in the wine's breath and volume. The 2003 is a big, powerful Champagne that will require quite a bit of time to shed some of its baby fat. The trademark textural finesse is there, though. I expect the 2003 to be a highly divisive Champagne because of its extreme personality, but then again, many of the world's legendary wines were made from vintages considered freakish at the time. The 2003 is an atypically, rich, powerful, vinous Dom Perignon loaded with fruit, structure and personality. It is not for the timid, but rather it is a wine for those who can be patient. No one has a crystal ball, but personally I will not be surprised if in 20 years' time the 2003 is considered an iconic Champagne. Anticipated maturity: 2016-2038.
94+ Points
The Moet & Chandon Brut Champagne Cuvee Dom Perignon 2003, which will be released early next year, displayed rich aromas of honey, brioche and hints of vanilla. Though round and sumptuous, there was bright citrus, peach and a focus on the finish that retained elegance, freshness, finesse and complexity (94 points, non-blind). With air, it became more textural, with a ginger note and a distinctive mineral streak.
View More