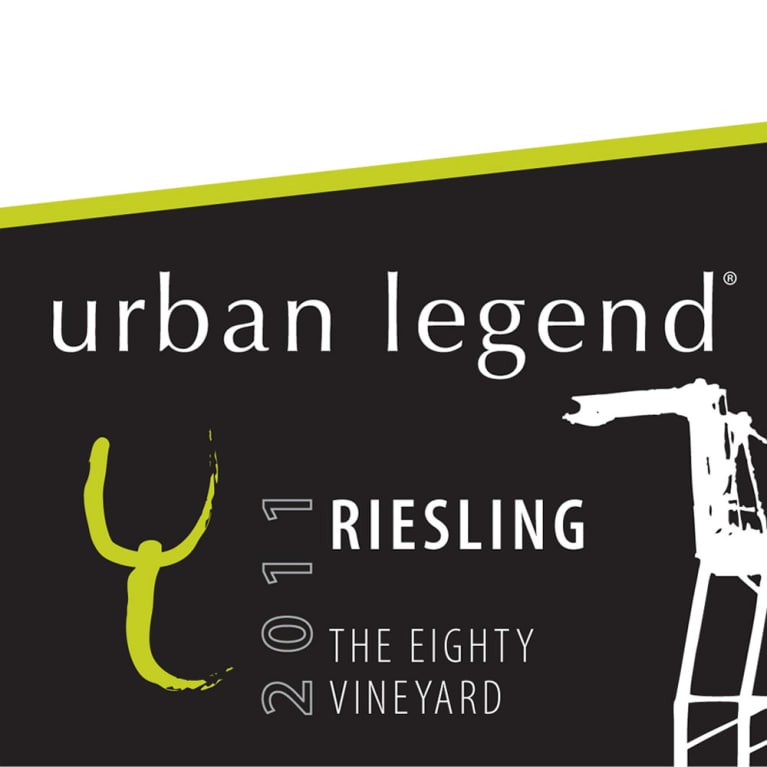 Urban Legend Cellars Riesling 2011
Winemaker Notes
Urban Legend Riesling is medium dry and in the Alsatian style. Aromas are floral with a heady mix of orange blossom overlaying stone fruit—apricot and peach. There's a whiff of candle wax, too, which hints of growing complexity with age. Flavors begin with lush apricot and finish with citrus.
Dryer Rieslings like this one are wonderful with piquant Asian food to cool the fire and clear the palate, particularly spicy, citrusy, Thai cuisine. This Riesling also can make an appearance with lighter desserts: tangerines or a creamy Meyer lemon tart with candied orange peel finish well.
Urban legends are remarkable but often apocryphal stories that spread like wildfire. Urban Legend is a winery in a city—almost an apocryphal story in itself—that makes remarkable wines.
We've never been shy about disruption. Throughout our careers, we've introduced technologies that no one ever thought would work—and changed the world. When we wanted to drink wines that were perfect complements to our local food—diverse flavors, honest ingredients, a sophisticated yet approachable style—we said: "We'll have to make them ourselves, We'll make them where the food is created—in the city, and let's do it together!" It's not a traditional strategy—just a very American one.
Today, we hand craft more than a dozen Urban Legend wines that each, uniquely, salutes the varied flavors of California and our home: Oakland, America's most diverse city. Critics and consumers alike are impressed with our fidelity to variety, our expression of place, our food-friendly style, and our absolute consistency of quality—from our very first release and forward.
A warm inland area just north of Napa Valley, Lake County represents a new frontier for California winemaking. While Prohibition halted viticulture here just as it did in so many California regions, winemaking activity remained fairly insignificant for a few decades longer than others. Finally in the 1990s Lake County Sauvignon blanc—uniquely savory and fruity—earned the appellation a renewed reputation.
Lake County is comprised of a handful of unique American Viticultural Areas (AVAs).
Vineyards that settle into the hills on the west side of Clear Lake create the Clear Lake AVA and produce good quality Cabernet Sauvignon, Sauvignon blanc and Zinfandel.
Recently the Red Hills AVA, located within the boundaries of the Clear Lake AVA, has become the focus of some of Napa's more respected growers. Its notable volcanic and obsidian-based soils could be the source of California's next best Cabernet Sauvignons. Andy Beckstoffer, a leader in recognizing prime Napa Valley vineyard locales, has already invested heavily in the area.
Guenoc Valley AVA produces fine examples of Petite Sirah, recognized for their voluptuous aromas of clove, cocoa, tobacco and deep red and blue berry flavors.
The High Valley AVA sits northeast of Clear Lake. This warm area boasts multiple soil types allowing growers a lot of flexibility and experimentation with grape varieties. While Sauvignon blanc is a mainstay, this zone excels with Zinfandel, Petite Sirah, as well as other less common varieties like Barbera and Tempranillo.
Riesling possesses a remarkable ability to reflect the character of wherever it is grown while still maintaining its identity. A regal variety of incredible purity and precision, this versatile grape can be just as enjoyable dry or sweet, young or old, still or sparkling and can age longer than nearly any other white variety. Somm Secret—Given how difficult it is to discern the level of sweetness in a Riesling from the label, here are some clues to find the dry ones. First, look for the world "trocken." ("Halbtrocken" or "feinherb" mean off-dry.) Also a higher abv usually indicates a drier Riesling.
URBRIESLING_2011
Item#
124893