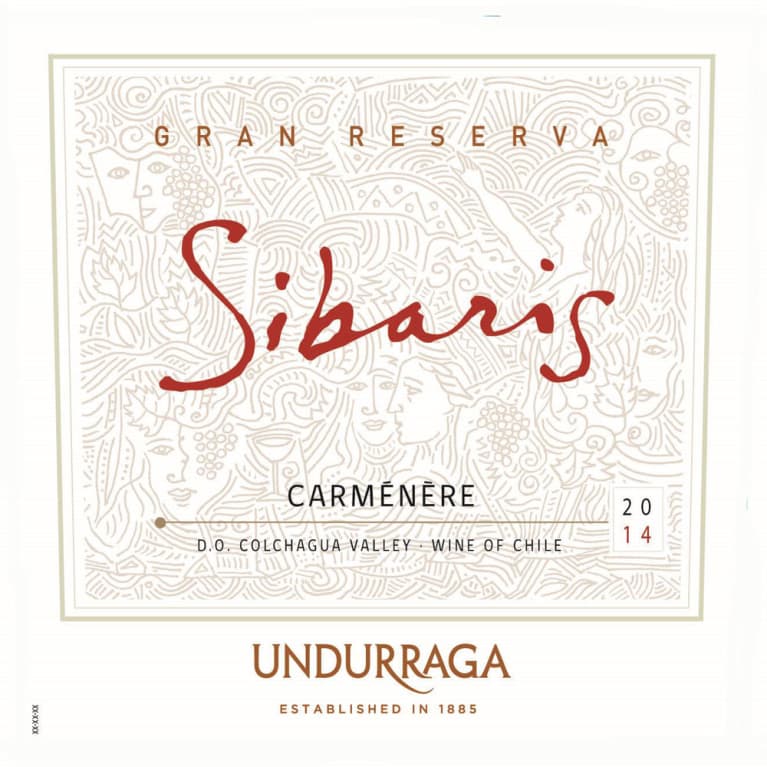 Undurraga Sibaris Carmenere Gran Reserva 2014
Winemaker Notes
The Carmenere variety originated in Bordeaux, France, disappeared in the nineteenth century and has now been rediscovered in Chile. This wine is made from grapes from the vineyards in the Colchagua Valley. This wine has a deep violet-red color. Exuberant aromas of black cherries, ripe plums, wild berriesand blueberries mix with spicy notes, such as black pepper, rosemary, boldo and bay laurel. On The palate is soft, concentrated and complex, with a pleasant silkiness and notes of spice and fruit, and offers a delicate yet persistent finish.
This wine is an ideal accompaniment for red meat, poultry, pasta and fish. It is also excellent with typical Chilean cuisine, such as sweetcorn pie, sweetcorn parcels and meat pasties.
The Undurraga family owns over 2,000 acres of prime vineyards in Chile's foremost appellations, the Maipo and Colchagua Valleys. Since the beginning in 1885, the Undurraga tradition has taken hold, producing outstanding wines from some of the finest raw material on earth - grapes nurtured in the earth and sun of these fertile valleys.
The Undurragas were early pioneers in Chilean winemaking, planting French varietals before the turn on the century and using wood barrels crafted by a master French cooper to age the wines and bring forward rich bouquet and flavors. In 1903, they were first to export wines to the U.S.
Undurraga's Santa Ana Estate, pictured on every label, is a proud expression of their long tradition of quality and innovation. Over the last few years, Undurraga has heavily invested in prime vineyards and facilities.
Well-regarded for intense and exceptionally high quality red wines, the Colchagua Valley is situated in the southern part of Chile's Rapel Valley, with many of the best vineyards lying in the foothills of the Coastal Range.
Heavy French investment and cutting-edge technology in both the vineyard and the winery has been a boon to the local viticultural industry, which already laid claim to ancient vines and a textbook Mediterranean climate.
The warm, dry growing season in the Colchagua Valley favors robust reds made from Cabernet Sauvignon, Carmenère, Malbec and Syrah—in fact, some of Chile's very best are made here. A small amount of good white wine is produced from Chardonnay and Sauvignon Blanc.
Dark, full-bodied and herbaceous with a spicy kick, Carménère found great success with its move to Chile in the mid-19th century. However, the variety went a bit undercover until 1994 when many plantings previously thought to be Merlot, were profiled as Carménère. Somm Secret— Carménère is both a progeny and a great-grandchild of the similarly flavored Cabernet Franc.
SER12395_2014
Item#
163779