Trois Rivieres Cuvee de L'Ocean Blanc Rum
Ships Tue, Jun 2
Limit
0
bottles
per customer
Distiller Notes
Trois Rivieres Cuvee de L'Ocean has aromas of grass, sea spray and coal-like bitterness. Sweet notes of fruit develop, with a buttery backbone and licorice hints. Soft spice and lemon zest provide support. The palate is light, sweet and very green – freshly chopped sugar cane, mown grass and stacked straw. Earthy and woody notes appear, with seaside pebbles sat alongside freshly stripped twigs. Rich, warm and sweet notes of dark sugar slowly develop underneath. On the palate, a wave of sugar syrup is followed by phenolic notes, brine and hints of smoke. Green and grassy notes develop, with stony minerality and a touch of earthy spice. Spice lingers.
Proof: 84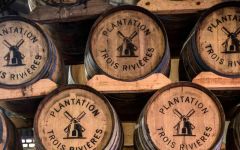 Agricole rhum is made by distilling pure, fresh, fermented cane juice. Produced mainly in the French West Indies, Martinique and Guadeloupe, agricole rhum is a high-quality rum, well-known and appreciated for its specific aromas and flavours due to its long and established method of production.
Trois Rivieres gets its name from the three rivers; Bois d'Inde, Oman and St. Pierre, which border the original estate which was first established by Nicolas Fouquet, The Superintendent of King Louis XIV in 1660. The Plantation, in the far South of Martinique, benefits from an exceptional geographic location that gives the rhums their character and rich flavour. The sugar cane grows in clay soils that are rich in magnesium, whilst their roots bathe in sea water. This gives the rhums their high sugar content and their remarkable, refined and diverse flavour profile.
From pirate life on the open sea to Caribbean island paradises, perhaps no other spirit evokes such a romantic history as Rum. Made through fermentation and distillation of molasses or the fresh-pressed juice of sugar cane, Rums range from 20% to over 70% alcohol and come in a variety of tones from clear to dark. Highest quality Rums are generally produced in pot stills and aged in wood, while less expensive Clear or "White" Rums are produced in column stills and bottled without barrel aging. Naturally, Rums form the base of tropical cocktails like Daquiris and Mojitos.