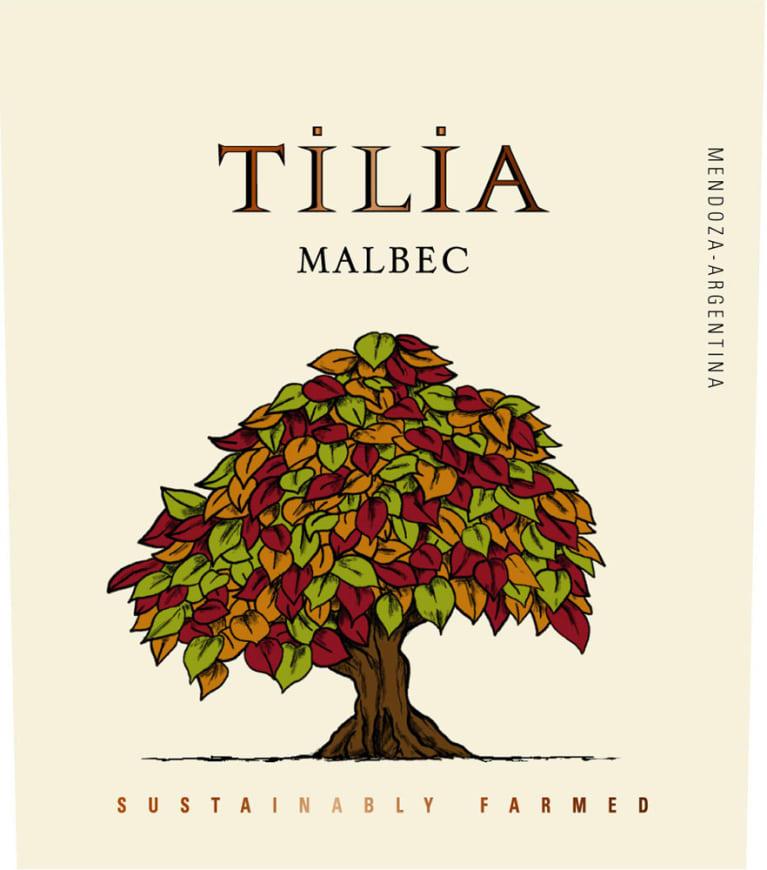 Winemaker Notes
On the nose, there are ripe black cherry aromas and light floral notes that give way to a full, rich wine with concentrated flavors of cassis and black raspberry fruit interwoven slightly with a touch of chocolate and sweet spice. On the finish, the tannins are silky and ripe.
Critical Acclaim
All Vintages
Sweet and savory aromas of hickory, BBQ and plum jam are nice, while the body is structured and full. The flavors follow the nose, meaning there's a savory, roasted quality to the wine but also jammy raspberry fruit notes. Chewy and a bit marinated, but it's quite good for the price.
View More
Sustainability pioneers, Tilia Wines were the first to carry the certified sustainable seal from Bodegas de Argentina on the label.
Today, Tilia is the first wine label to illustrate the path toward sustainability in Argentina. Through powerful symbols, the label highlights Tilia's core values and represents programs implemented by Tilia to practice both environmental and social sustainability. People enrich the land at Tilia, and Tilia enriches the land of its people. With a focus on social sustainability, Tilia supports it community with an array of programs to ensure that everyone thrives as one.
Tilia's roots, like its traditions, are robust and deep. They descend far into the soil to access glacial water from the ancestral irrigation canals. The winery thrives on biodiversity, preserving and nurturing plants, insects, and animals so that its vineyards can adapt to a changing environment. There is a natural resilience at Tilia, and a reverence for traditional farming practices that has shielded their ungrafted vineyards from interventions, sustaining the land for generations to come. Everyone is stronger together at Tilia, and the wines reflect its values: honor tradition, support the community, and respect nature.
 Gonzalo Llensa, Tilia's Winemaker, believes his love for the vineyard started when he grew tomatoes, peppers, and squash in his grandmother's orchard. He is constantly looking to repurpose resources, save water, and turn off lights – a trait he got from his father, a professional electrician. Every weekend, Gonzalo walks seven blocks to his family home for a day-long asado and dreams of one day taking over the grill from his father.
 Guillermina Van Houten, Tilia Sustainability Vineyard Specialist, has always been fascinated by nature and understanding how it works. Born a scientist at heart, her focus is to care for the grape and its environment as a whole to create the best wines. Her passion for sustainability was awakened while studying in France. What inspires Guillermina about winemaking is the fact that a piece of Mendoza's land is able to travel to the farthest parts of the world in a bottle of wine.
Most distinguished and celebrated from Argentina's Mendoza, Malbec has seen runaway success since the early 2000s. Mendoza's agreeable, continental climate with hot, dry summers and cold snowy winters allows the perfect conditions for growing outstanding Malbec. This grape is easy to like for its lusty, deep flavors and aromas of blackberry, plum, red cherry, autumn spice and tilled earth. It's easy to find delicious, fruit-driven, affordable everyday examples and in prices beyond, quite exceptional ones with dense, supple textures that make them capable of aging.
YNG524725_2009
Item#
107979