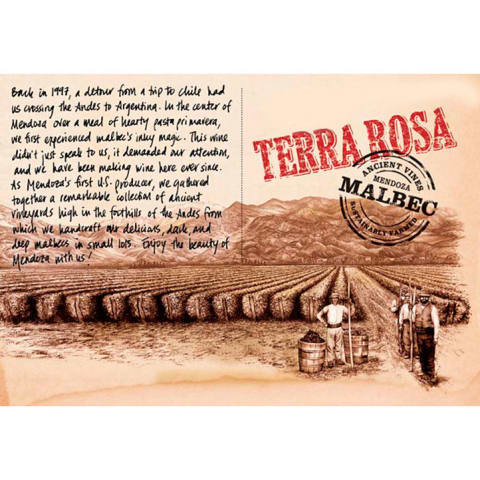 Tierra Divina Terra Rosa Malbec 2014
Winemaker Notes
Our ancient vineyards lie high on the slopes of the Andes in the Lujan and Valle de Uco regions of Mendoza and produce deep and dark, spicy and aromatic wines that are full with ripe, juicy, black fruit flavors, and inviting, complex textures.
Enjoy as the Argentines do, with pizza, pastas, and simply grilled meats.
Tierra Divina is owned by Patrick Campbell, the founder and former owner of Laurel Glen. Known for its elegance and age-worthiness, Laurel Glen is a Sonoma Mountain cabernet that has been acclaimed as far back as the early 1980s. In the mid 90s, decided to Patrick to purchase grapes from the North Coast and make Terra Rosa, designed to be a reasonably-priced alternative to costly cabernets in the market. REDS, an old-vine blend followed suit. With its catch-phrase "A Wine for the People," REDS developed a cult following for its creative marketing which positioned it as an everyday, easy-drinking wine. In the later 90s, Patrick discovered vineyards in Chile that were not being utilized to their full potential; and by 1997 he had moved the entire Terra Rosa line to Mendoza where hebecame the first North American producer to make wine in Argentina.
Patrick majored in English, got a masters degree in Theology at Harvard then played viola in several orchestras in Sonoma County (more recently, he has seen the light and now performs bluegrass on the fidlde). While studying Buddhism and living at the Sonoma Mountain Zen Center, he found his calling in viticulture. A self-proclaimed "vineyard guy," Patrick oversees the farming of every Tierra Divina vineyard in Lodi and Argentina. He believes that great wines start in heritage (aka old-vine) vineyards. Heritage vines' complex root structures spread broadly to collect all the micro-elements the soil can provide and they naturally produce lower yields, lending higher-concentrations of flavor in the wines. Starting with a great vineyard then focusing on proper management minimizes the need for "fixing" or manipulating in the winery. Tierra Divina wines are honest and vineyard-specific wines that exhibit integrity and depth.
These days, Tierra Divina vineyards are found exclusively in Lodi, the "Zinfandel Capital of the World," and Mendoza, Argentina where malbecs are the acclaimed varietal. REDS, an old-vine zinfandel blend and ZaZin, are known for being balanced, elegant wines in contrast to many highly-extracted, over-the-top Lodi zins. Terra Rosa, Tierra Divina and Vale la Pena are vineyard-specific, varietally-correct, 100% malbecs. They tend to be less oaky and more balanced than their Mendoza counterparts. Patrick flies to Argentina 5 to 6 times per year to sustainably farm the heritage vineyards in the foothills of the Andes mountains. He makes the wine in Argentina, then ships it up in containers where he barrel-ages and bottles it in Sonoma County.
By far the largest and best-known winemaking province in Argentina, Mendoza is responsible for over 70% of the country's enological output. Set in the eastern foothills of the Andes Mountains, the climate is dry and continental, presenting relatively few challenges for viticulturists during the growing season. Mendoza, divided into several distinctive sub-regions, including Luján de Cuyo and the Uco Valley, is the source of some of the country's finest wines.
For many wine lovers, Mendoza is practically synonymous with Malbec. Originally a Bordelaise variety brought to Argentina by the French in the mid-1800s, here it found success and renown that it never knew in its homeland where a finicky climate gives mixed results. Cabernet Sauvignon, Syrah, Merlot and Pinot Noir are all widely planted here as well (and sometimes even blended with each other or Malbec). Mendoza's main white varieties include Chardonnay, Torrontés, Sauvignon Blanc and Sémillon.
Celebrated for its bold flavors and supple texture, Malbec has enjoyed runaway success in Argentina since the late 20th century. The grape originated in Bordeaux, France, where it historically contributed color and tannin to blends. A French agronomist, who saw great potential for the variety in Mendoza's hot, high-altitude landscape, brought Malbec to Argentina in 1868. Somm Secret—If you're trying to please a crowd, Malbec is generally a safe bet with its combination of dense fruit and soft tannins.
HNYTDVTRM14C_2014
Item#
162657