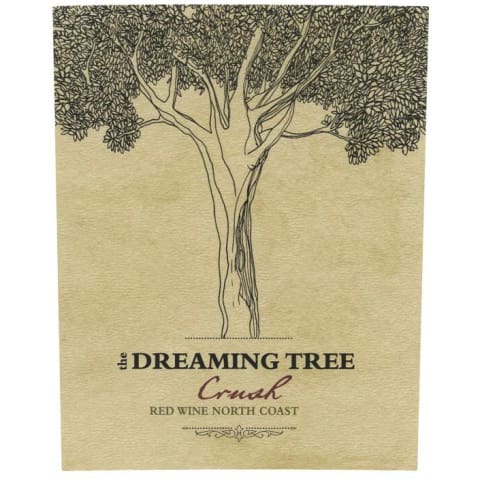 The Dreaming Tree Crush Red Blend 2011
Out of Stock

(was $16.99)
Winemaker Notes
A blend of the North Coast's finest varieties, Crush Red Blend pulls you in with a smoky berry note and then jumps up with a raspberry jam. Around the dinner table or out on the patio, it's a wine you're going to want to share with your favorite people.
An exciting collaboration between musician Dave Matthews and seasoned winemaker Sean McKenzie, The Dreaming Tree captures the spirit of California's wine country. United by their shared passion to make quality wines accessible to everyone, the two friends set out on a journey to discover the unique characters and rich flavors that give the region its rare charm. 
Most may know Dave Matthews from his day job as a professional musician, but his passion for winemaking stretches back nearly as far as his love for music. With a winery in Virginia under his belt, Dave is no amateur, but when he chose to lay down roots in the California wine country, he knew he couldn't do it alone.
Winemaker Sean McKenzie has shared his diverse winemaking experience with The Dreaming Tree brand since 2014. Along the way, he has helped preserve many of California's most prestigious growing regions and featured their respective styles throughout the Dreaming Tree's stellar lineup of wines. Together with collaborator Dave Matthews, the duo have created wines that are approachable, balanced, and easy to drink. Consistent with Sean and Dave's shared values of generosity and community, the wines are meant to be shared and enjoyed with all.  
The Dreaming Tree Wines is based in Geyserville, CA and has received over 20 Gold Medals and 90+ Scores. As a sustainably driven brand, it has donated over $1.5 Million in proceeds to environmental conservation organizations around the world.  
Reaching up California's coastline and into its valleys north of San Francisco, the North Coast AVA includes six counties: Marin, Solano, Napa, Sonoma, Mendocino and Lake. While Napa and Sonoma enjoy most of the glory, the rest produce no shortage of quality wines in an intriguing and diverse range of styles.
Climbing up the state's rugged coastline, the chilly Marin County, just above the City and most of Sonoma County, as well as Mendocino County on the far north end of the North Coast successfully grow cool-climate varieties like Pinot Noir, Chardonnay and in some spots, Riesling. Inland Lake County, on the other hand, is considerably warmer, and Cabernet Sauvignon, Zinfandel and Sauvignon Blanc produce some impressive wines with affordable price tags.
With hundreds of red grape varieties to choose from, winemakers have the freedom to create a virtually endless assortment of blended red wines. In many European regions, strict laws are in place determining the set of varieties that may be used, but in the New World, experimentation is permitted and encouraged resulting in a wide variety of red wine styles. Blending can be utilized to enhance balance or create complexity, lending different layers of flavors and aromas. For example, a red wine blend variety that creates a fruity and full-bodied wine would do well combined with one that is naturally high in acidity and tannins. Sometimes small amounts of a particular variety are added to boost color or aromatics. Blending can take place before or after fermentation, with the latter, more popular option giving more control to the winemaker over the final qualities of the wine.
How to Serve Red Wine
A common piece of advice is to serve red wine at "room temperature," but this suggestion is imprecise. After all, room temperature in January is likely to be quite different than in August, even considering the possible effect of central heating and air conditioning systems. The proper temperature to aim for is 55° F to 60° F for lighter-bodied reds and 60° F to 65° F for fuller-bodied wines.
How Long Does Red Wine Last?
Once opened and re-corked, a bottle stored in a cool, dark environment (like your fridge) will stay fresh and nicely drinkable for a day or two. There are products available that can extend that period by a couple of days. As for unopened bottles, optimal storage means keeping them on their sides in a moderately humid environment at about 57° F. Red wines stored in this manner will stay good – and possibly improve – for anywhere from one year to multiple decades. Assessing how long to hold on to a bottle is a complicated science. If you are planning long-term storage of your reds, seek the advice of a wine professional.
SWS309366_2011
Item#
124233