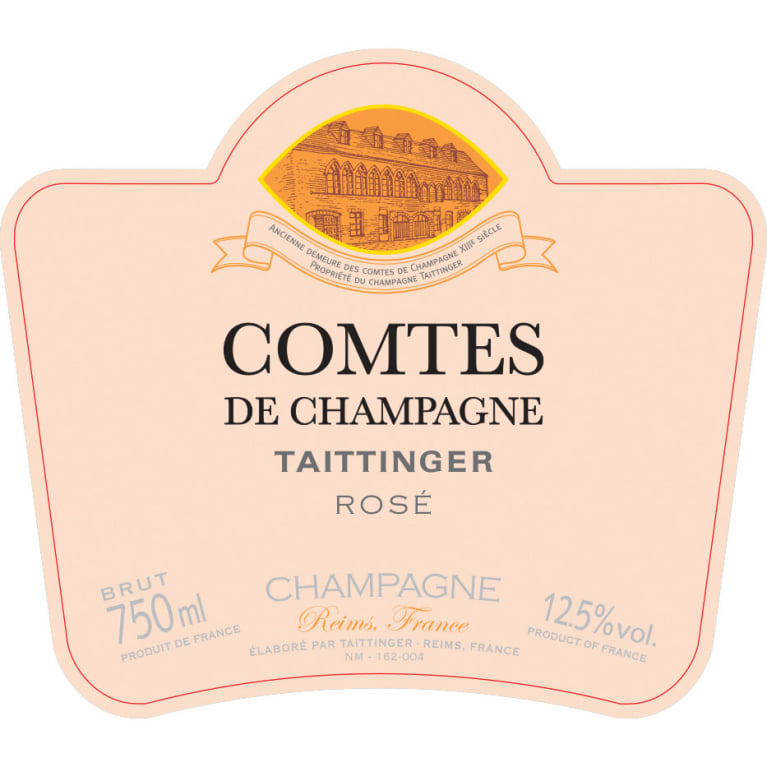 Taittinger Comtes de Champagne Rose 2005
Ships Wed, Nov 27
Limit
0
bottles
per customer
Winemaker Notes
Comtes de Champagne Rose 2005 is a rich rose color, with touches of violet. The bubbles are extraordinarily fine, rising vigorously in the glass, forming a wonderfully fine necklace of mousse. The nose affirms intense aromas of ripe, sweet fruit, including crystallised strawberries, quince jelly, violet sweets and pears in syrup. There are hints of the cooked fruit aromas of plum tart. The mid-palate confirms the initial aromas of sweet quince jelly, and develops richness with the flavors of fresh figs.
A suitable accompaniment to light cured meats, veal, lamb dishes and ribs as well as fruit salad and berry desserts.
Blend: 70% Pinot Noir, 30% Chardonnay
Critical Acclaim
All Vintages
The 2005 Brut Rose Comtes de Champagne is rich, round and seductive in this vintage. Warm and resonant, the 2005 blossoms in all directions with gorgeous aromatics and expressive, generous fruit. I generally prefer more vibrant vintages for the estate's Rose, especially for aging, but immediate accessibility is one of the undisputed attributes of the 2005.
Inviting from first sniff to lasting finish, and hitting the expected marks at every stop along the way, this lovely effort is both light and lively with a surprising burst of cherryish fruit and complex in its toasty, yeasty, chalky, somewhat creamy aromas. Perfectly formed small, suitably insistent bubbles frame a bright, vital wine whose fine balance and energy carry its elegant flavors into a long, persistent finish. It may be dear in price, but it is a wine to choose for the best occasions.
Delicate red fruit scents fill this clean, elegant rose, its tart strawberry flavors lasting, harmonious, glowing with light fruit sweetness. With its freshness and refinement, this is a mouthwatering match for seared duck breast or roast squab.
Lightly toasty and creamy in texture, this graceful rosé offers a firm backbone of acidity and rich flavors of raspberry coulis, dried strawberry, mille-feuille and graphite.
View More
Champagne Taittinger was established in 1931 by Pierre Taittinger on the foundations of Forest-Forneaux, itself established in 1734 and the third-oldest wine producing house of Champagne. Taittinger is today proprietor of approximately 600 acres of vines among which are included parcels in the one hundred - percent rated villages of Cramant and Avize in the Cote des Blancs; and Bouzy, Mailly, Ambonnay and Verzenay in the Montagne de Reims. The Taittinger Estate is one of the three most extensive in the Champagne district, and the firm's major holdings in Chardonnay vineyards are the physical expression of the Taittinger philosophy and style.
Associated with luxury, celebration, and romance, the region, Champagne, is home to the world's most prized sparkling wine. In order to bear the label, 'Champagne', a sparkling wine must originate from this northeastern region of France—called Champagne—and adhere to strict quality standards. Made up of the three towns Reims, Épernay, and Aÿ, it was here that the traditional method of sparkling wine production was both invented and perfected, birthing a winemaking technique as well as a flavor profile that is now emulated worldwide.
Well-drained, limestone and chalky soil defines much of the region, which lend a mineral component to its wines. Champagne's cold, continental climate promotes ample acidity in its grapes but weather differences from year to year can create significant variation between vintages. While vintage Champagnes are produced in exceptional years, non-vintage cuvées are produced annually from a blend of several years in order to produce Champagnes that maintain a consistent house style.
With nearly negligible exceptions, three varieties are permitted for use in Champagne: Chardonnay, Pinot Noir, and Pinot Meunier. These can be blended together or bottled as individual varietal Champagnes, depending on the final style of wine desired. Chardonnay, the only white variety, contributes freshness, elegance, lively acidity and notes of citrus, orchard fruit and white flowers. Pinot Noir and its relative Pinot Meunier, provide the backbone to many blends, adding structure, body and supple red fruit flavors. Wines with a large proportion of Pinot Meunier will be ready to drink earlier, while Pinot Noir contributes to longevity. Whether it is white or rosé, most Champagne is made from a blend of red and white grapes—and uniquely, rosé is often produce by blending together red and white wine. A Champagne made exclusively from Chardonnay will be labeled as 'blanc de blancs,' while ones comprised of only red grapes are called 'blanc de noirs.'
What are the different types of Champagne and sparkling wine?
Beloved for its lively bubbles, sparkling wine is the ultimate beverage for any festivity, whether it's a major celebration or a mere merrymaking of nothing much! Sparkling wine is made throughout the winemaking world, but only can be called "Champagne" if it comes from the Champagne region of France and is made using what is referred to as the "traditional method." Other regions have their own specialties—Crémant in other parts of France, Cava in Spain and Prosecco in Italy, to name a few. New World regions like California, Australia and New Zealand enjoy the freedom to make many styles, with production methods and traditions defined locally. In a dry style, Champagne and sparkling wine goes with just about any type of food. Sweet styles are not uncommon and among both dry and sweet, you'll find white, rosé—or even red!—examples.
How is Champagne and sparkling wine made?
Champagne, Crémant, Cava and many other sparkling wines of the world are made using the traditional method, in which the second fermentation (the one that makes the bubbles) takes place inside the bottle. With this method, spent yeast cells remain in contact with the wine during bottle aging, giving it a creamy mouthful, toasted bread or brioche qualities and in many cases, the capacity to age. For Prosecco, the carbonation process usually occurs in a stainless steel tank (before bottling) to preserve the fresh fruity and floral aromas imminent in this style.
What gives Champagne and sparkling wine its bubbles?
The bubbles in sparkling wine are formed when the base wine undergoes a secondary fermentation, which traps carbon dioxide inside the bottle or fermentation vessel.
How do you serve Champagne and sparkling wine?
Ideally for storing Champagne and sparkling wine in any long-term sense, it should be at cellar temperature, about 55F. For serving, cool Champagne and sparkling wine down to about 40F to 50F. (Most refrigerators are colder than this.) As for drinking Champagne and sparkling wine, the best glasses have a stem and flute or tulip shape to allow the bead (bubbles) to show.
How long does Champagne and sparkling wine last?
Most sparkling wines like Prosecco, Cava or others around the "$20 and under" price point are intended for early consumption. Wines made using the traditional method with extended cellar time before release can typically improve with age. If you are unsure, definitely consult a wine professional for guidance.
CGM20488_2005
Item#
121912