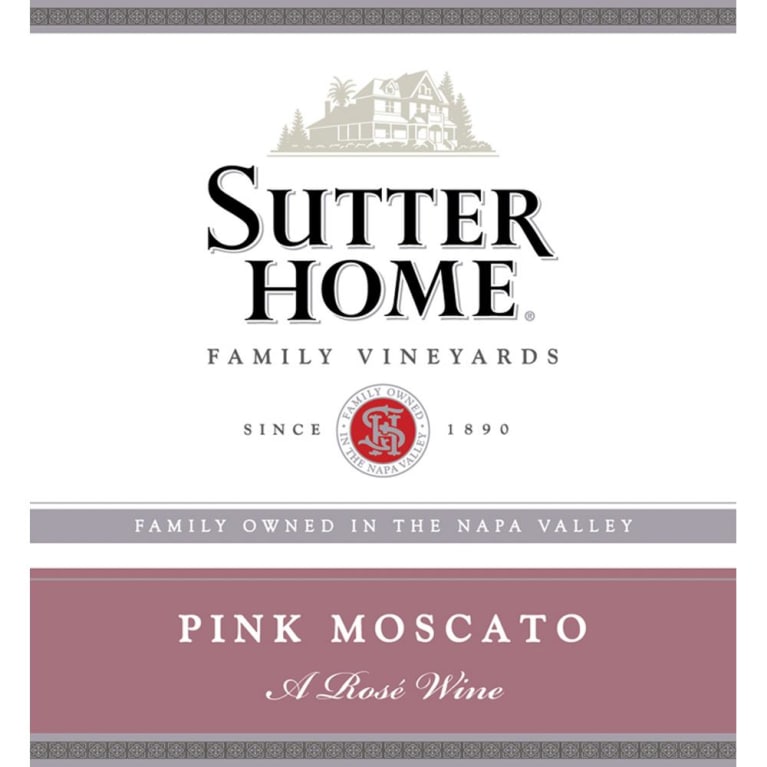 Sutter Home Pink Moscato
Ships Fri, Nov 23
Limit
0
bottles
per customer
Add to Cart
Limit Reached
Winemaker Notes
Pink Moscato: We're tickled pink to introduce you to our Pink Moscato. It's no secret that Sutter Home is known for making pretty, pink wines. And this one takes the cake, or should we say, compliments it.
One sip of our fun, flirtatious Pink Moscato is sure to make you blush. But then you'll want to freshen up that glass with the luxurious aromas of creamy white peaches and caramel. Of course those sweet scents are not to be outdone by the luscious passion fruit and honeydew melon flavors. A hint of sweet vanilla makes this a perfect partner for a fresh berry tart. While you're sipping you may wonder, "What makes Sutter Home Pink Moscato so pink?" We'll let you in on a little secret. We add just a hint of premium California rose' wine to our luscious Moscato for that unbelievably pretty color and fabulously, flirty flavor. Bring Pink Moscato to a party to spice things up, or sweeten things up. Or save it for a night in for the one who tickles you pink.
When the Trinchero family bought the Sutter Home Winery in 1948, they had a vision, a passion, and apparently, an insight into consumer tastes. In the early 1970s, Sutter Home started a trend when the company created White Zinfandel, introducing a new, sweeter flavor profile. They changed the way Americans enjoyed wine by offering them high-quality varietals at an affordable price. By the 1980s and 1990s, Sutter Home became a household name and the second largest independent family-run winery in the United States.
But that was just the beginning. Sutter Home began producing Moscato long before it was "cool," continuously staying one taste bud ahead of the consumer with new varietals such as Bubbly Pink Moscato and Red Moscato. And when "green" was just a color, Sutter Home introduced the wildly popular 187s in environmentally friendly, conveniently sized PET bottles.
Sutter Home continued to reach beyond the bottle by launching one of the first breast cancer awareness programs in 2001. Through the Sutter Home for Hope® program, the company has raised nearly $1 million dollars toward breast cancer awareness and research. Then in 1990, the Build a Better Burger® recipe contest was born, demystifying the wine experience by pairing America's favorite everyday meal with its favorite wine brand—Sutter Home. And with an exciting $25,000 grand prize, it continues to bring together burger and wine enthusiasts every year.
With a fresh new label, Sutter Home continues to reflect the evolution of the brand and its consumers. With over 20 different varietals to choose from in the Sutter Home portfolio, there's a wine to suit every mood and every palate. We can't wait to taste what's next.
One of South America's most important wine-producing countries, Chile is a reliable source of both budget-friendly wines and premium bottlings. Spanish settlers, Juan Jufre and Diego Garcia de Cáceres, most likely brought Vitis vinifera (Europe's wine producing vine species) to the Central Valley of Chile some time in the 1550s. But Chile's modern wine industry is largely the result of heavy investment from the 1990s.
Long and narrow, Chile is geographically isolated, bordered by the Pacific Ocean to the west, the Andes Mountains to the east and the Atacama desert to the north. These natural borders allowed Chile to avoid the disastrous phylloxera infestation in the late 1800s and as a result, vines are often planted on their own rootstock rather than grafted (as is the case in much of the wine producing world).
Chile's vineyards vary widely in climate and soil type from north to south. The Coquimbo region in the far north contains the Elqui and Limari Valleys, where minimal rainfall and intense sunlight are offset by chilly breezes from the Humboldt Current. While historically focused solely on Pisco production, today this area finds success with Chardonnay and Pinot Noir. The Aconcagua region contains the eponymous Aconcagua Valley—hot and dry and home to full-bodied red wines made from Cabernet Sauvignon, Syrah and Merlot—as well as Casablanca Valley and San Antonio Valley, which focus on Pinot Noir, Chardonnay and Sauvignon Blanc. The Central Valley is home to the Maipo, Rapel, Curicó and Maule Valleys, which produce a wide variety of red and white wines. Maipo in particular is known for Carmenère, Chile's unofficial signature grape. In the up-and-coming southern regions of Bio Bio and Itata make excellent Riesling, Chardonnay and Pinot Noir.
Whether it's playful and fun or savory and serious, most rosé today is not your grandmother's White Zinfandel, though that category remains strong. Pink wine has recently become quite trendy, and this time around it's commonly quite dry. It is produced throughout the world from a vast array of grape varieties, but the most successful sources are California, southern France (particularly Provence), and parts of Spain and Italy.
Since the pigment in red wines comes from keeping fermenting juice in contact with the grape skins for an extended period, it follows that a pink wine can be made using just a brief period of skin contact—usually just a couple of days. The resulting color will depend on the grape variety and the winemaking style, ranging from pale salmon to deep magenta. These wines are typically fresh and fruity, fermented at cool temperatures in stainless steel to preserve the primary aromas and flavors. Most rosé, with a few notable exceptions, should be drunk rather young, within a few years of the vintage.