Siembra Valles Reposado Tequila
Distiller Notes
Siembra Valles Reposado has a clean, bright appearance with the color of straw from the American Oak. Shortly after pouring, the aroma of cooked agave, fresh peppercorn, and walnut rush to the nose. After minutes, the bouquet opens with hay, mint, grapefruit, cardamom and more pepper. All of these notes are characteristic of the valley region. On the palate, the juice has a natural sweetness reminiscent of almond, honey and vanilla from the barrel interacting with the mint, minerals and roasted notes of the agave. The finish has a pleasant bitterness signifying the maturation of the juice in the Missouri Ozark barrels. After a walk through the oak forest, you return to the sublime cooked agave from the brick ovens at Cascahuin.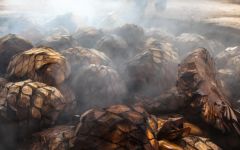 Siembra Valles Ancestral is a project conceived of a love of history and a desire to know tequila from its roots. To celebrate tequilas true identity and to fulfill that undying curiosity of what our past tasted like, Siembra Valles Ancestral embraces abandoned ancestral methods, such as the use of earthen pit ovens, hand-maceration, fermentation with bagasse in oak and brick, distillation in pine and copper, and the use of naturally, bat-pollinated agave.
With agave untouched by machine, Siembra Valles Ancestral boasts the complexity of nature's flavors and the skills of our tequilero ancestry. We are proud to present you with a tequila that contains terroir from the past and a glance into our history. In an unprecedented collaboration of master mezcaleros and tequileros, the past is now present and the future will now be tradition.