Siembra Valles High Proof Blanco Tequila
Distiller Notes
Siembra Valles High Proof has the same pristine color with complex organoleptic elements and body. Beginning with a silky texture, Valles High Proof has the strong aromas of cooked agave you expect from Siembra Valles. The prevalent agave scent and taste is due to the use of bagasse in fermentation. At this higher alcohol content, Valles High Proof coats your mouth and has a complex, invigorating finish.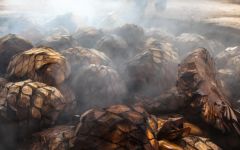 Siembra Valles Ancestral is a project conceived of a love of history and a desire to know tequila from its roots. To celebrate tequilas true identity and to fulfill that undying curiosity of what our past tasted like, Siembra Valles Ancestral embraces abandoned ancestral methods, such as the use of earthen pit ovens, hand-maceration, fermentation with bagasse in oak and brick, distillation in pine and copper, and the use of naturally, bat-pollinated agave.
With agave untouched by machine, Siembra Valles Ancestral boasts the complexity of nature's flavors and the skills of our tequilero ancestry. We are proud to present you with a tequila that contains terroir from the past and a glance into our history. In an unprecedented collaboration of master mezcaleros and tequileros, the past is now present and the future will now be tradition.
Tequila Blanco, or 'white Tequila', is also known as Tequila Plata, or 'silver Tequila'. Its clear color is the result of being bottled immediately after distillation instead of being aged in oak barrels like Tequila Reposado or Anejo. Because of their youth and lack of barrel influence, Blanco Tequilas are thought to offer the purest expression of blue agave available, with notes of citrus and pepper. However, they can also be quite forceful and energetic on the palate without the moderating influence of time and wood.
HNYSAVBHPNVC_0
Item#
528760