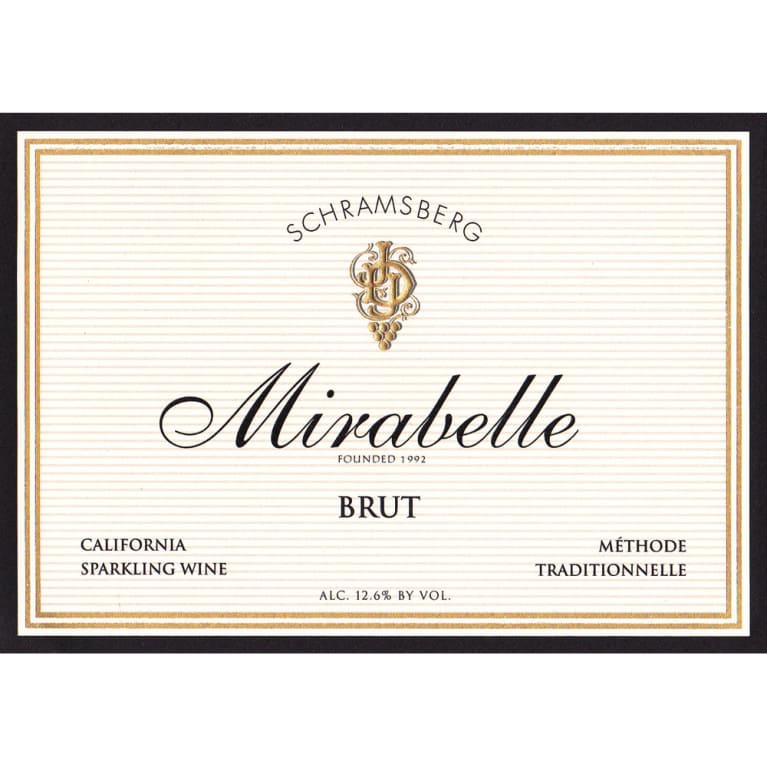 Schramsberg Mirabelle Brut
Last call - only 6 left!
Ships Tomorrow
Winemaker Notes
Mirabelle is Schramsberg's multi-vintage brut sparkling wine. This flavorful, bright bubbly exhibits the crisp acidity and vibrant apple/citrus fruit that is characteristic of cool-climate Chardonnay. Pinot Noir adds body to the palate and further depth of fruit flavor. Twenty years into building an outstanding range of vintage dated sparkling wines, the Davies family set out to master the non-vintage or "multi-vintage" traditional method technique. A few years of experimentation would ultimately lead to the successful launch of Mirabelle Brut and Mirabelle Brut Rosé in 1992. Unlike their vintage bottlings, Mirabelle gains unique richness from blending additions of aged base wines, stored in barrels and tanks at the winery from prior vintages. These older lots add significant palate richness and aromatic complexity.
The grapes for Mirabelle are principally grown in the cool-climate pockets of California's North Coast, including the Napa Carneros, Sonoma Coast, Anderson Valley and Marin County. The fruit is hand-picked in the early morning hours at optimal maturity. Individual lot fermentations allow the winemakers to carefully select the components that make up the finished blend. After bottle fermentation and about two years of aging en tirage, subsequent trials determine the ideal dosage to finish this brut style.
Blend: 57% Chardonnay, 43% Pinot Noir
Critical Acclaim
All Vintages
Alluring and nuanced, with expressive pear, brioche and caramelized hazelnut flavors that finish on a rich, polished note. Drink now.
A light touch of sweetness combines with ripe apple and pear flavors to make this full-bodied wine from Schramsberg taste rich and mouth filling. Layers of fruit and light spices spread across the palate and linger on the finish.
View More
In 1965, Jack and Jamie Davies founded Schramsberg and set out to make world-class sparkling wine in the true méthode traditionelle style on the property originally established in 1862 by German immigrant Jacob Schram. There were only 22 bonded wineries in Napa Valley and fewer than 100 acres of California vineyards planted to Chardonnay and Pinot Noir. Schramsberg was the first California winery to provide a Blanc de Blancs in 1965 followed by a Blanc de Noirs in 1967. Now their son, Hugh Davies, leads the winery's management and winemaking team.
The Schramsberg estate in Napa Valley's famed Diamond Mountain District is a registered historic landmark with Napa's first caves, hand-dug in the 1880s, and its first hillside vineyards. Quality focus drives all aspects of wine production starting with access to over 120 cool-climate sites in Carneros, Marin, Mendocino and Sonoma, which result in over 200 separate lots. Unique among California sparkling wine houses, Schramsberg ferments about 25 percent of its juice in oak barrels to produce rich, flavorful, complex wines.
Most of Schramsberg's viticultural and winemaking practices are carried out by hand: grapes are hand harvested, the wines are handcrafted, and the bottles are stacked and riddled in underground caves. The family and the winery embody excellence and innovation in winemaking, as well as preservation of their land, their history and their community.
Reaching up California's coastline and into its valleys north of San Francisco, the North Coast AVA includes six counties: Marin, Solano, Napa, Sonoma, Mendocino and Lake. While Napa and Sonoma enjoy most of the glory, the rest produce no shortage of quality wines in an intriguing and diverse range of styles.
Climbing up the state's rugged coastline, the chilly Marin County, just above the City and most of Sonoma County, as well as Mendocino County on the far north end of the North Coast successfully grow cool-climate varieties like Pinot Noir, Chardonnay and in some spots, Riesling. Inland Lake County, on the other hand, is considerably warmer, and Cabernet Sauvignon, Zinfandel and Sauvignon Blanc produce some impressive wines with affordable price tags.
A term typically reserved for Champagne and Sparkling Wines, non-vintage or simply "NV" on a label indicates a blend of finished wines from different vintages (years of harvest). To make non-vintage Champagne, typically the current year's harvest (in other words, the current vintage) forms the base of the blend. Finished wines from previous years, called "vins de reserve" are blended in at approximately 10-50% of the total volume in order to achieve the flavor, complexity, body and acidity for the desired house style. A tiny proportion of Champagnes are made from a single vintage.
There are also some very large production still wines that may not claim one particular vintage. This would be at the discretion of the winemaker's goals for character of the final wine.