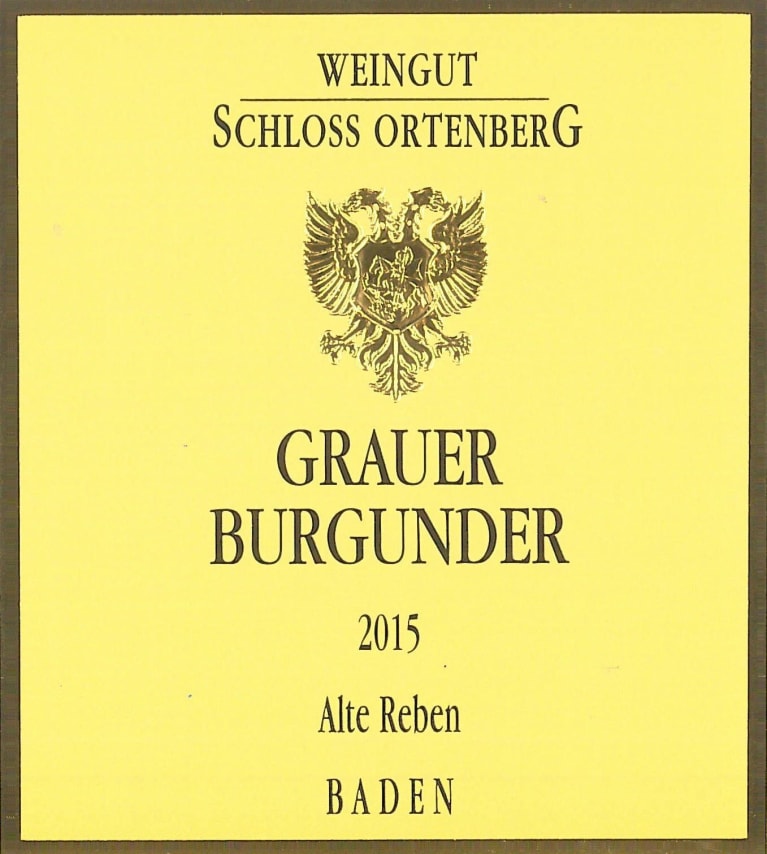 Schloss Ortenberg Baden Grauer Burgunder Alte Reben 2015
Winemaker Notes
It is ripe apples and pears that this Pinot Gris carries and the fine spice of the wooden barrel in which it was allowed to develop.
Schloss Ortenberg's wines are proud ambassadors of the region. They tell you about the soil on which they grow. From the climate in which they thrive. And from the traditional vintner's trade in Ortenau. In their clear structure you recognize the quality of honest work and enjoy the passion of the people. The wine is a piece of home.
Showing a unique rosy, purplish hue upon full ripeness, this "white" variety is actually born out of a mutation of Pinot Noir. The grape boasts two versions of its name, as well as two generally distinct styles. In Italy, Pinot Grigio achieves most success in the mountainous regions of Trentino and Alto Adige as well as in the neighboring Friuli—all in Italy's northeast. France's Alsace and Oregon's Willamette Valley produce some of the world's most well-regarded Pinot Gris wine. California produces both styles with success.
Where Does Pinot Gris / Pinot Grigio Come From?
Pinot Gris is originally from France, and it is technically not a variety but a clone of Pinot Noir. In Italy it's called Pinot Grigio (Italian for gray), and it is widely planted in northern and NE Italy. Pinot Gris is also grown around the globe, most notably in Oregon, California, and New Zealand. No matter where it's made or what it's called, Pinot Gris/Pinot Grigio produces many exciting styles.
Tasting Notes for Pinot Grigio
Pinot Grigio is a dry, white wine naturally low in acidity. Pinot Grigio wines showcase signature flavors and aromas of stone fruit, citrus, honeysuckle, pear and almond. Alsatian styles are refreshing, expressive, aromatic (think rose and honey), smooth, full-bodied and richly textured and sometimes relatively higher in alcohol compared to their Italian counterpart. As Pinot Grigio in Italy, the style is often light and charming. The focus here is usually to produce a crisp, refreshing, lighter style of wine. While there are regional differences of Pinot Grigio, the typical profile includes lemon, lime and subtle minerality.
Pinot Grigio Food Pairings
The viscosity of a typical Alsatian Pinot Gris allows it to fit in harmoniously with the region's rich foods like pork, charcuterie and foie gras. Pinot Grigio, on the other hand, with its citrusy freshness, works well as an aperitif wine or with seafood and subtle chicken dishes.
Sommelier Secrets
Given the pinkish color of its berries and aromatic potential if cared for to fully ripen, the Pinot Grigio variety is actually one that is commonly used to make "orange wines." An orange wine is a white wine made in the red wine method, i.e. with fermentation on its skins. This process leads to a wine with more ephemeral aromas, complexity on the palate and a pleasant, light orange hue.
WVWGOR_GBAR15_2015
Item#
534624