Santa Margherita Prosecco Superiore
Winemaker Notes
The wine is dry with fine, lively bubbles, delicate pear, and apple fruit aromas and a crisp finish. Whether served at the beginning of a beautiful evening for two or sipped throughout a lively meal  with friends, this celebrated bubbly has versatility at the table that can be shared time and time again. The elegant mousse can refresh your palate for the next bite, and the greater complexity and intensity  of our Prosecco Superiore DOCG will not get overwhelmed by heavier dishes such as pasta carbonara with shrimp, grilled vegetables drizzled with Italian olive oil and parmesan cheese, or simply prepared filet of beef with rosemary. 
Critical Acclaim
All Vintages
COMMENTARY: The Santa Margherita Prosecco Superiore Valdobbiadene is an outstanding value in the world of sparkling wines. TASTING NOTES: This wine is fresh, elegant, and refined. Enjoy its lovely ripe fruit aromas and flavors with an alfresco meal with a choice of veggie-oriented salads and light meats. (Tasted: November 13, 2019, San Francisco, CA)
View More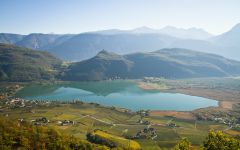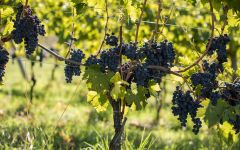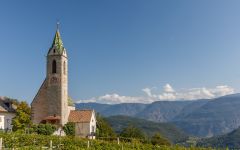 In 1935 Count Gaetano Marzotto led the revitalization of a portion of the Venetian countryside. Here, where rivers from the alps cut through the sun-drenched hills on their winding way to the Mediterranean shore, he created farmlands and restored traditional wine-making in what had been a region of fine vineyards since the time of the Roman Empire. Employing new agricultural techniques and a commitment to the needs of the Italian people, Count Marzotto gave this labor of love the name of his dear wife Margherita. The illustration on the label is the historical Marzotto home, Villa Marzotto; which was subsequently donated back to the town of Portogruaro, about an hour outside of Venice. Steeped in a history of making Prosecco as far back as 1952, Santa Margherita gained its iconic status after 1961, when it was among the first Italian wineries to vinify Pinot Grigio as a monovarietal, and off the copper-colored skins; thereby enhancing the freshness of the fruit and bringing out the wine's enormous versatility. Since then, Santa Margherita has grown to encompass vineyards across Italy, from Veneto to Tuscany, producing distinctive, authentic wines of deep tradition and regional character. Their wines are crafted for the evolving tastes of today's fine wine lovers, and they invite you to pair the moments, people and food in your life with the Pinot Grigio they made famous, their brilliant Prosecco, their complex Chianti Classico Riserva or their delicate Sparkling Rosé.? At Santa Margherita, they're wine people; they are passionate about wine because they are passionate about people and the extraordinary experiences they live. What defines an extraordinary experience? It can be as simple as watching the sun set from your favorite chair as you unwind after a long day, as fulfilling as a great afternoon with friends that lasts well into the evening, and as unforgettable as the first time you locked eyes and realized it was going to be forever. These experiences define the joy of your life, and the wine you choose should live up to them. Their rich heritage rooted in quality winemaking is what makes Santa Margherita the wine worthy of every memorable experience. Why settle for anything less? 
The wines of Conegliano Valdobbiadene Prosecco Superiore DOCG represent Italy's highest-quality designation in the Prosecco category. Situated approximately 30 miles north of Venice and 63 miles south of the Dolomites in the province of Treviso, Prosecco Superiore DOCG is defined by a limited geographic area that extends over 15 hillside towns, flanked by the municipalities of Conegliano to the east and Valdobbiadene to the west.
Hand harvesting and cultivation occur in the steep hillsides of Conegliano Valdobbiadene, the birthplace of Prosecco, and while incredibly labor-intensive, also drive quality grape selection and an artisanal approach throughout. To qualify as Prosecco Superiore DOCG, wines must contain at least 85% Glera. Other permitted varieties include Verdiso, Perera, and Bianchetta Trevigiana – but the aromatic Glera is the region's star. Hardy and vigorous with hazelnut-colored shoots, Glera forms large, loose bunches of beautiful golden-yellow grapes that stand out against the bright green leaves of the vine.
Vines have been grown in Conegliano Valdobbiadene since ancient times. In 1876 Conegliano became home to the first enology school in Italy, an institution of learning and innovation. It fundamentally altered the future course of winemaking in the region, and indeed the entire country, by perfecting the Italian Method of sparkling wine production in autoclaves to preserve and enhance the aromas of the indigenous grape varieties. A Consortium of Conegliano Valdobbiadene producers was formed in 1963 and was instrumental in obtaining the very first Prosecco appellation in 1969. In 2009, Conegliano Valdobbiadene Prosecco was elevated to a DOCG, Italy's highest wine category. Conegliano, home to the enology school and research center, is known as the area's cultural capital, while Valdobbiadene, with its high altitudes, dramatically steep hillsides and twisting contours, is devoted mainly to production.
While the vast majority (95%) of Conegliano Valdobbiadene Prosecco is Spumante (sparkling or foamy), it is also made as a fizzy (Frizzante) wine, or even in a rare completely still version called Tranquillo. It comes in three different categories of residual sugar: "DRY," with 17-32 grams of residual sugar per liter, is actually the sweetest; "Extra-Dry," ranges from 12-17 grams; and Brut (0-12) is the driest category. Brut Nature or Zero Dossaggio Prosecco has less than 3 grams of residual sugar and Extra-Brut less than 6. Though most Prosecco is made in an autoclave, second fermentation in the bottle is still permitted under the DOCG guidelines, either in the traditional process known as Col Fondo (in which the sediment is left in the bottle) or Metodo Classico with sediment removed.
Due to the Conegliano Valdobbiadene's complex geologic history, there is tremendous diversity of terroir between the eastern and western portions of the zone and even different sub zones and parcels within the same area. For this reason, in 2009 a sub-category called RIVE was created, which indicates a Prosecco made of grapes from one of 43 registered geographic areas. In order to qualify as a Rive, the grapes have an even lower maximum yield and the wine must be vintage dated. It is also possible to find Prosecco DOCGs made entirely from grapes of a single vineyard parcel.
Conegliano Valdobbiadene is currently shortlisted for inclusion as a UNESCO World Heritage Site.
A term typically reserved for Champagne and Sparkling Wines, non-vintage or simply "NV" on a label indicates a blend of finished wines from different vintages (years of harvest). To make non-vintage Champagne, typically the current year's harvest (in other words, the current vintage) forms the base of the blend. Finished wines from previous years, called "vins de reserve" are blended in at approximately 10-50% of the total volume in order to achieve the flavor, complexity, body and acidity for the desired house style. A tiny proportion of Champagnes are made from a single vintage.
There are also some very large production still wines that may not claim one particular vintage. This would be at the discretion of the winemaker's goals for character of the final wine.