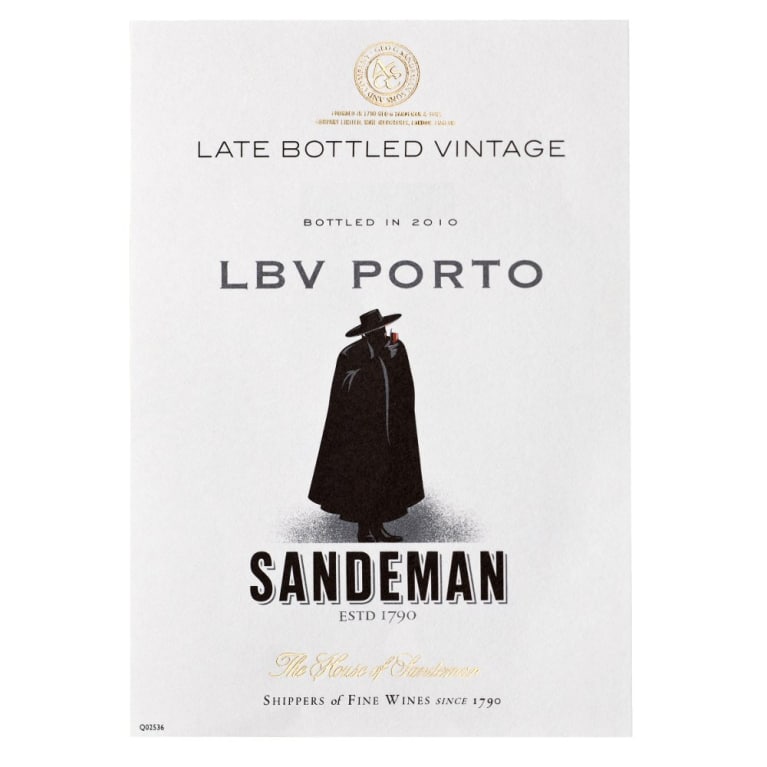 Sandeman Late Bottled Vintage 2007
Out of Stock

(was $33.99)
Winemaker Notes
Sandeman Late Bottled Vintage Portos are young and intense wines, with a good evolving structure of great harmony. The wine shows a deep red ruby color, ripe fruit aromas and a rich taste in a perfect balance of evolution and concentrated powerful tannins.
Sandeman Late Bottled Vintage Porto is perfect with rich chocolate desserts (mousses, parfaits, cakes, truffles), red fruits tarts, creamy cheeses or ... just with a good cigar.
The House of Sandeman was founded in London in 1790 by George Sandeman, a young Scotsman from Perth who borrowed £300 to invest in a wine trading business with products from Porto and Jerez. More than 230 years later, an average of 21 bottles of Sandeman are bought every minute in more than 75 countries. The Sandeman portfolio includes Ports, Sherries and Madeira's and has been recognized as the world's most awarded portfolio of Aged Tawnies for the past six years by Decanter, IWC and IWSC.
As for the infamous Sandeman Don, a Scottish artist named George Massiot Brown approached Sandeman in 1928 to design a poster to advertise the brand. Incorporating the company's Ports of Portugal and their Spanish Sherries, The Don is wearing a wide-brimmed Spanish had like the caballeros of Jerez and a Portuguese student's cape. The Don became famous and was one of the very first design icons for wine. Today the Don has become part of the very essence of the Sandeman brand and can be found on every bottle sold.
Best known for intense, impressive and age-worthy fortified wines, Portugal relies almost exclusively on its many indigenous grape varieties. Bordering Spain to its north and east, and the Atlantic Ocean on its west and south coasts, this is a land where tradition reigns supreme, due to its relative geographical and, for much of the 20th century, political isolation. A long and narrow but small country, Portugal claims considerable diversity in climate and wine styles, with milder weather in the north and significantly more rainfall near the coast.
While Port (named after its city of Oporto on the Atlantic Coast at the end of the Douro Valley), made Portugal famous, Portugal is also an excellent source of dry red and white Portuguese wines of various styles.
The Douro Valley produces full-bodied and concentrated dry red Portuguese wines made from the same set of grape varieties used for Port, which include Touriga Nacional, Tinta Roriz (Spain's Tempranillo), Touriga Franca, Tinta Barroca and Tinto Cão, among a long list of others in minor proportions.
Other dry Portuguese wines include the tart, slightly effervescent Vinho Verde white wine, made in the north, and the bright, elegant reds and whites of the Dão as well as the bold, and fruit-driven reds and whites of the southern, Alentejo.
The nation's other important fortified wine, Madeira, is produced on the eponymous island off the North African coast.
Port is a sweet, fortified wine with numerous styles: Ruby, Tawny, Vintage, Late Bottled Vintage (LBV), White, Colheita, and a few unusual others. It is blended from from the most important red grapes of the Douro Valley, based primarily on Touriga Nacional with over 80 other varieties approved for use. Most Ports are best served slightly chilled at around 55-65°F.
SWS106628_2007
Item#
113524