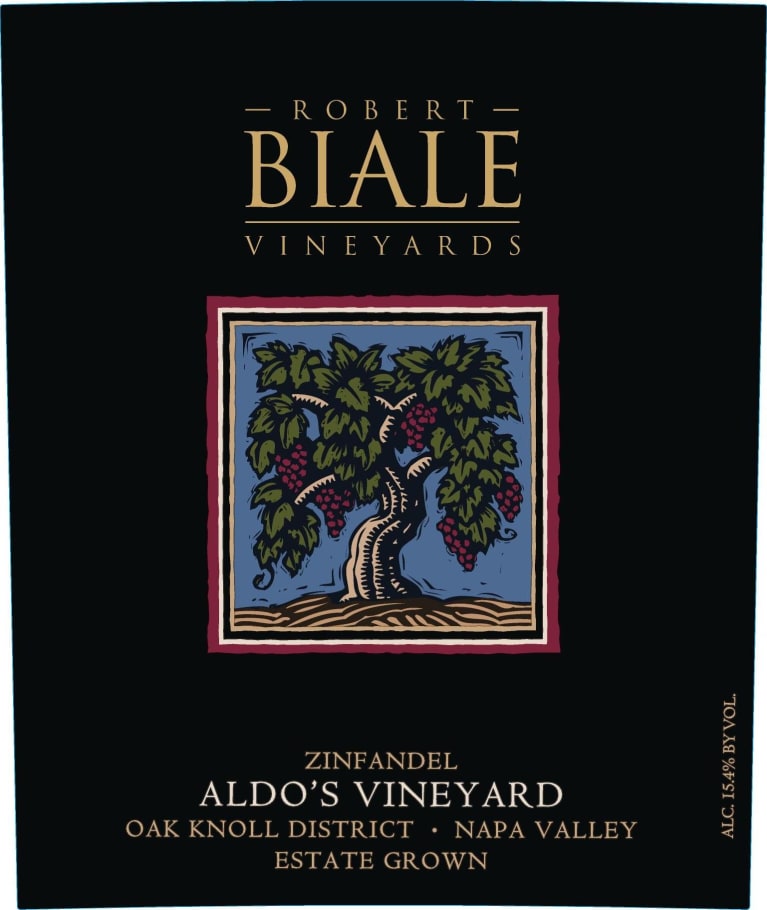 Robert Biale Vineyards Aldo's Vineyard Zinfandel 2015
Out of Stock

(was $89.97)
Perfecting the old California classics, Robert Biale Vineyards has become a revered standard of heritage Vineyard Zinfandel and Petite Sirah in Napa Valley. Among the winery's portfolio of 20 wines that are crafted by winemaker Tres Goetting, Black Chicken Zinfandel is the flagship – and has become a benchmark for the varietal.
Robert Biale's father, Aldo needed to supplement the ranch income, after the passing of his father. That's when Aldo learned to make wine from his Uncle Angelo. He sold his jugs of Zin to friends and neighbors on the "down low", and the phone started ringing regularly for re-orders…The Biale's phone was a party line, so nosy neighbors could listen in on conversations, including orders for produce, eggs, and a jug of Aldo's homemade wine from barrels he hid in the barn. Then, as now, any commercial activity involving alcohol was highly regulated by government agencies of various acronyms, and any violation of federal, state, or local regulations was severely penalized. So Aldo needed a way to keep the orders coming over the party line without divulging his clandestine wine operation.
Aldo's ranch was known for its legions of white leghorn chickens for laying eggs and serving for supper. Perhaps it was not much of a stretch for the 14-year-old Aldo to look to them for the code name for his secret wine. So that there would be no confusion, he changed the color and dubbed a jug of his inky dark Zinfandel Gallina Nera–Black Chicken. Soon phone calls started coming over the party line with customers requesting, for example, "2 dozen eggs, some zucchini, prunes, walnuts and a Gallo Nero." The punch-down stick and picker's box that he used in those early decades of production are currently on display at the Food and Wine exhibition at the Smithsonian's National Museum of American History in Washington, D.C.
Undoubtedly proving its merit over and over, Napa Valley is a now a leading force in the world of prestigious red wine regions. Though Cabernet Sauvignon dominates Napa Valley, other red varieties certainly thrive here. Important but often overlooked include Merlot and other Bordeaux varieties well-regarded on their own as well as for their blending capacities. Very old vine Zinfandel represents an important historical stronghold for the region and Pinot noir is produced in the cooler southern parts, close to the San Pablo Bay.
Perfectly situated running north to south, the valley acts as a corridor, pulling cool, moist air up from the San Pablo Bay in the evenings during the hot days of the growing season, which leads to even and slow grape ripening. Furthermore the valley claims over 100 soil variations including layers of volcanic, gravel, sand and silt—a combination excellent for world-class red wine production.
MWH681916_2015
Item#
681916