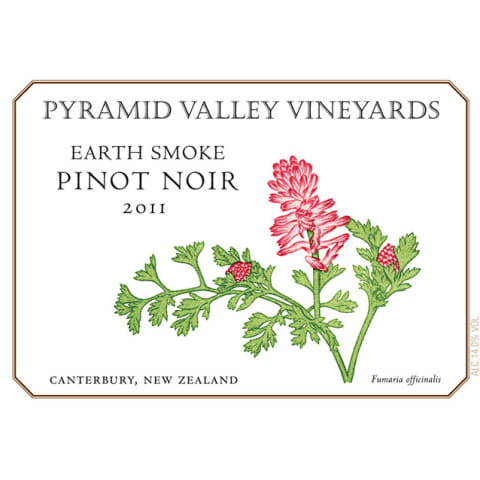 Pyramid Valley Earth Smoke Pinot Noir 2011
Ships Mon, Jun 8
Limit
0
bottles
per customer
Winemaker Notes
Though the blocks are only a few hundred metres from one another, and share the same vine age, same clonal mix, are both ungrafted, are managed and vinified identically, the Earth Smoke always presents more tobacco and fresh-turned soil notes, less spice, but darker fruits than the Angel Flower. There is also a strong iron filing note, almost like fresh blood, which seems to be typical of this site. Less astral, more terrestrial, which given the soil and aspect differences, is perhaps not so astonishing.
Critical Acclaim
All Vintages
An alluringly complex nose of exotic spice, roasting duck, dark cherry, blueberry, forest floor and shiitake mushroom. Sexy, whole-bunch characters draw you into the glass. In the mouth the wine is sultry and stemmy, with spiced cherry and blue fruits: gamey, spice-laden and meaty with fresh acidity and crackling, fine tannins. The finish is long, graceful and complex.
Pale ruby colored with a remaining touch of purple, the 2011 Earth Smoke Vineyard Pinot Noir has more of a gentle herbal character with fresh cranberries and Bing cherries, raspberry leaves and wild thyme plus a loamy undercurrent. It fills the palate with expressive red berry and herbal notes supported by very fine tannins, finishing long and earthy.
There are copious floral and spice elements adding interest to the cool and somewhat advanced dried leaf and red berry fruit aromas. There is a bit more size, weight and richness to the medium-bodied flavors that also coat the palate with sappy dry extract on the better balanced and slightly longer finale that also exhibits just a touch of warmth.
View More
Wine to us is a genie, genius loci; our job is to coax it from its rock to bottle. Every gesture we make, in vineyard and winery, is a summons to this spirit of place. Biodynamics, hand-based viticulture, low yields, natural winemaking – these are some of the means we've adopted better to record and transmit this voice.
For example, all of our wines are fermented with their own yeast starters, cultured every year, from the vineyard itself. If wine is meant to be the bottled breath of a certain place, from a certain moment in time, then we feel that working with yeasts from that site, of that season, is an important step towards transparency and authenticity. Our cultures allow very long, very regular ferments: most of our whites ferment for more than a year. During this time, the wine is protected, so no sulphur is necessary. After so long a ferment, the wine is stable: thus most of our wines are bottled unfiltered, again with little or no sulphur.
Each wine is allowed to flower as it wishes. If the Pinot Blanc stops with 4 grams RS, so be it. If the Gewurztraminer ferments to dryness, that is its choice. As my friend and hero Edmond Vatan once replied when I asked him about malolactic fermentation, "Pwah, le malo, si ca se fait, ca se fait."
So, at home we've sponsored a marriage of clay-limestone soils to Pinot Noir and Chardonnay, hoping to bring to the wine world a special, new place-voice. With the Growers Collection, we are allowed to work with admired colleagues, and with sites, soils, varieties different than those at home. All of our wines are devoted to people and place; all bring rich rewards of community.
The home vineyard has been established according to rules that Mike grew to respect and inherently to trust during his time studying and working in Burgundy: Pinot Noir and Chardonnay have been planted, on clay-limestone soils on scarp slopes, at a density of 10,000-12,000 vines per hectare. The vineyard has been biodynamically managed from inception.
Each block is planted to reflect a specific soil type hence the somewhat irregular looking blocks. In total we have only 2.2 hectares planted in 4 separate blocks. The differences you can taste reflects the soil and climatic differences between each block, which is never more than 400 metres at most. We vinify each block and variety separately but identically in a mixture of old oak and clay amphorae so the outside influences on the grape are minimised.
The blocks themselves were named by Claudia after the weed varieties predominant in each, which also reflect the different soil. The Angel Flower is a more exposed block, north facing that reflects a lightness, delicacy and an ethereal scent. The Lions Tooth with its golden dandelions and obvious lime rich soil shows a rich golden colour with a toasty sulphite nose. The Earth Smoke is heavier clay, with a denser, wild, gamey outcome. The Field of Fire slopes away to an eastern aspect and into the heaviest clay and makes typically a green-hued delicate wine.
Today, we are fully certified Bio dynamic. Our cows, pigs, chickens, ducks, dogs, cats and vineyard family share in the journey of Bio dynamics and benefit from the gifts it gives.
A relatively young but extremely promising wine producing country, New Zealand is widely recognized for its distinctive wines made from the aromatic, Sauvignon blanc.
The world's most southerly vineyards are found here, with significant climatic variation both between and within the warmer North Island and the cooler South Island. Overall, the climate is maritime, with plenty of rainfall, as well as abundant sunshine. Producers have almost unilaterally embraced cutting-edge winery technology, resulting in clean, high-quality wines at every price point from wallet-friendly to premium.
Sauvignon blanc, known here for its trademark herbaceous character, is at its best in Marlborough but thrives throughout the nation, accounting for an overwhelming majority of the country's exports. While this is indeed the country's most planted and successful variety, it is certainly not the only New Zealand grape capable of delighting wine lovers.
Chardonnay is the second-most important white variety and takes on a supple texture with citrus and tropical fruit aromas in Gisborne and Hawke's Bay, respectively. Pinot noir, second behind Sauvignon blanc in national production numbers, is at its best in Central Otago—the most southerly winegrowing region in the world! These wines are known for bright and juicy red fruit. Taking cues from the wines of Alsace, aromatic varieties like Pinot Gris, Riesling and Gewürztraminer shine in Martinborough, while red Bordeaux varieties like Cabernet Sauvignon and Merlot have found success in Hawke's Bay. Throughout New Zealand but especially in Marlborough, Pinot noir and Chardonnay are used to produce traditional method sparkling wines.
COMPVESPN_2011
Item#
140149