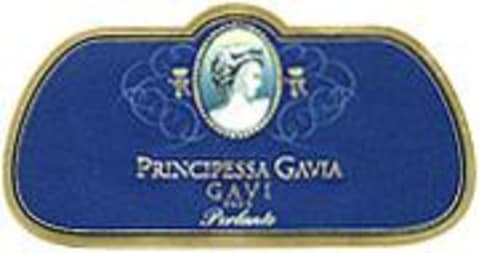 Principessa Gavia Perlante 2001
Ships Tue, Dec 17
Limit
0
bottles
per customer
Winemaker Notes
Principessa Perlante captures the fresh, fruity bouquet and elegant structure of Gavi with a delicate natural effervescence. An elegant aperitif, Principessa Perlante is also an ideal accompaniment to all shellfish, and marries well with fish, veal and grilled chicken. It's combination of delicacy and flavor make it a most appropriate accompaniment to the nuances of Asian cuisine in general and Japanese dishes in particular.
In 1979, John and Harry Mariani, owners of Banfi Vintners, established the the Principessa Gavia estate. Just a few kilometers from the town of Strevi in Italy's Piedmont region, this vineyard estate is dedicated exclusively to the cultivation of the Cortese di Gavi grape, the sole white grape used to make Principessa Gavia Gavi and the light frizzante Principessa Perlante.
The name Principessa Gavia comes from a historical tale: a princess named Gavia fell in love with a handsome man who served as a guard in her father's court. The couple sought the king's permission to marry, but he refused to have his daughter wed out of her class. Desperate, the young couple fled to a distant part of the kingdom and settled in a sleepy village on the other side of the alps.
They eluded the king's troops until one night, after enjoying a generous amount of a local white wine, the groom confided their story to the local innkeeper. The innkeeper nodded and feigned sympathy, but sent word to the king and collected a handsome reward. Troops found the couple and brought them back to the king to face punishment.
The King looked into his daughter's eyes and could not help but forgive her. He blessed their union, and as a wedding gift, bequeathed them the town which they had chosen to settle in. In her honor he gave the name Gavi to the town as well as the charming white wine they drank.
Set upon a backdrop of the visually stunning Alps, the enchanting and rolling hills of Piedmont are the source of some of the country's longest-lived and most sought-after wines. Vineyards cover a great majority of the land area—especially in Barolo—with the most prized sites at the top hilltops or on south-facing slopes where sunlight exposure is maximized. Piedmont has a continental climate with hot, humid summers leading to cold winters and precipitation year-round. The reliable autumnal fog provides a cooling effect, especially beneficial for Nebbiolo, Piedmont's most prestigious variety.
In fact, Nebbiolo is named exactly for the arrival of this pre-harvest fog (called "nebbia" in Italian), which prolongs cluster hang time and allows full phenolic balance and ripeness. Harvest of Nebbiolo is last among Piedmont's varieties, occurring sometime in October. This grape is responsible for the exalted wines of Barbaresco and Barolo, known for their ageability, firm tannins and hallmark aromas of tar and roses. Nebbiolo wines, despite their pale hue, pack a pleasing punch of flavor and structure; the best examples can require about a decade's wait before they become approachable. Barbaresco tends to be more elegant in style while Barolo is more powerful. Across the Tanaro River, the Roero region, and farther north, the regions of Gattinara and Ghemme, also produce excellent quality Nebbiolo.
Easy-going Barbera is the most planted grape in Piedmont, beloved for its trademark high acidity, low tannin and juicy red fruit. Dolcetto, Piedmont's other important red grape, is usually ready within a couple of years of release.
White wines, while less ubiquitous here, should not be missed. Key varieties include Arneis, Cortese, Timorasso, Erbaluce and the sweet, charming Muscat, responsible for the brilliantly recognizable, Moscato d'Asti.
With hundreds of white grape varieties to choose from, winemakers have the freedom to create a virtually endless assortment of blended wines. In many European regions, strict laws are in place determining the set of varieties that may be used, but in the New World, experimentation is permitted and encouraged. Blending can be utilized to enhance balance or create complexity, lending different layers of flavors and aromas. For example, a variety that creates a soft and full-bodied wine would do well combined with one that is more fragrant and naturally high in acidity. Sometimes small amounts of a particular variety are added to boost color or aromatics. Blending can take place before or after fermentation, with the latter, more popular option giving more control to the winemaker over the final qualities of the wine.
ABC13668_2001
Item#
53170