Pomp & Whimsy Gin Liqueur
Ships Tomorrow
Limit
0
bottles
per customer
Distiller Notes
2017 San Francisco World Spirits Competition Gold Medal Winner
Pomp & Whimsy brings modern sensibilities to the tradition of gin making, by infusing classically distilled gin with a natural, delightfully flavorful botanical liqueur. Light citrus and exotic fruits on the start, evolving into a dry, warm spice finish, with a familiar suggestion of citrusy juniper on the tail. Subtly sweet and eminently quaffable.
This highly refined, yet playfully sensorial spirit, is both graceful by itself, and can be effortlessly dressed up or down.
It's gin, reimagined.
Proof: 60
Critical Acclaim
All Vintages
Pomp & Whimsy Gin Liqueur's glorious botanicals do not mask this spirit—juicy white peaches and pears on the nose diminish any strong juniper or coriander notes with a jasmine kiss. Luscious notes of ginger, McIntosh apple and orange rind vamp the expansive palate.
This is lightly sweet, distinctly (but not overly) floral and compulsively quaffable. You'll want to add this cucumber-dominant gin liqueur to spring cocktails, although it also sips surprisingly well straight up.
View More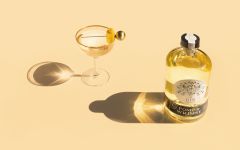 Back in the heyday of gin, the spirit's seductive nature earned it the nickname Mother Gin. From lords to ladies, mistresses to maids, all were captivated by the exotic botanicals within.
Today we return to the dawn of the affair with a reinvention of the classic gin cordial style, updated for a contemporary palate. Bringing fancy, modernity and dare we say it, a touch of femininity, to this wondrously old-world spirit.
It's gin. Reimagined.
Enjoyed best mixed with something bubbly (sparkling wine, tonic, or club soda), and just as easily swapped in as the base spirit for classic gin cocktails, or sipped straight.
A trained sociologist, brand strategist and cocktail enthusiast, Dr. Nicola Nice is on a mission to give women back their rightful place – on cocktail menus, in bars, and in cocktail history books. For years, in a career spanning academic research, management consultancy and global strategy, Nicola watched as major spirits producers systematically ignored or misrepresented their female consumers.
In 2015, Nicola turned insight into action and, after a two-year journey of deep-diving into the history of women in spirits, consumer research and home infusions, Pomp & Whimsy – a uniquely distinct botanical gin liqueur – was born.
Today, with a community of inspired consumers and bartenders, a trophy cabinet full of prestigious spirits awards, and a growing footprint in bars, restaurants and premium liquor stores around the country, Dr. Nice is making good on her promise to revolutionize the spirits industry for women.
And she has taken her mission a step further, founding the Women's Cocktail Collective to bring even more diversity and inclusion to the backbar.
First prepared by 13th century Italian monks as herbal medicines and elixirs, Liqueurs are distilled spirits that have been combined with flavoring agents. A range of herbs, spices, nuts, fruits and flowers can be used, and a sweetener such as sugar or corn syrup is often added. While typically rather sweet, some examples are herbaceous or tart and pair exceptionally well with desserts or act as a delightful addition to cocktails.
PBC9317835_0
Item#
530527