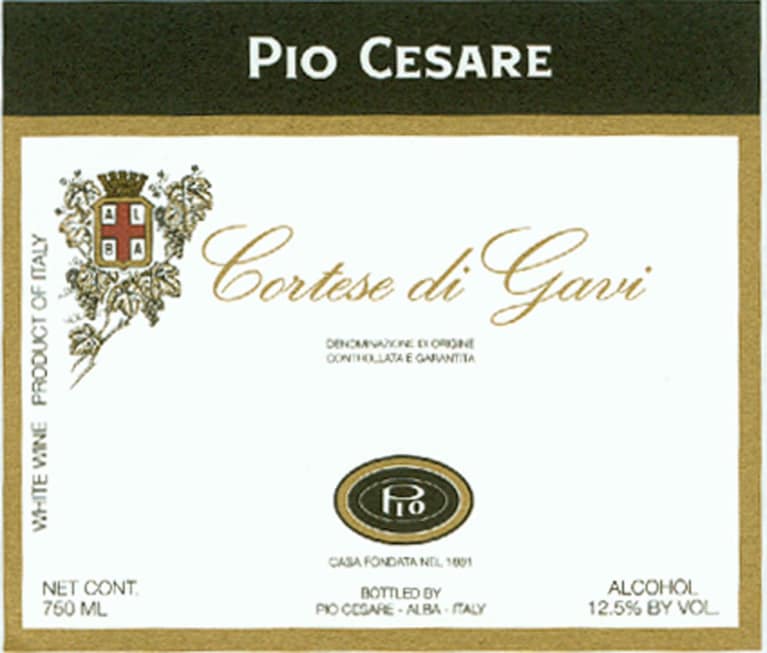 Pio Cesare Cortese di Gavi 2010
Ships Wed, Apr 15
Limit
0
bottles
per customer
Winemaker Notes
Gavi is made in limited quantities from Cortese grapes harvested from the hilly vineyards in Gavi. Pio Cesare carefully chooses the vintage time and imposes strict grape selection criteria to ensure the characteristics that give Gavi its unique style. The harvest is completed during the first week of October. The grapes are soft-pressed, using checked temperature fermentation, to enhance development of aromas and fresh and fruity characteristics. The wine is bottled during the month of March.
Gavi is a clear straw yellow, with green reflections. The bouquet is intense and ethereal, reminiscent of ripe fruit, green apples and moss. The palate is full and flavorful yet soft, with a daring hint of green fruit. It is a harmoniously balanced wine.
Pio Cesare has been producing wine for more than 100 years and through generations. The tradition began in 1881, when Pio Cesare started gathering grapes in his vineyards and purchasing those of some selected and reliable farmers in the hills of Barolo and Barbaresco districts.
At Pio Cesare, there has always been a conviction that great wine can come only from the finest grapes and the winery's output has always been limited through adherence to the highest standards. Pio Cesare limits its production by using only the most mature and healthy grapes. The ripening of the grapes is carefully monitored and the harvest is rigidly controlled with each grape selected by hand.
Today, the estate is managed by Pio Boffa, great-grandson of Pio Cesare. Under his stewardship, the wines of Pio Cesare have become famous throughout the world. Great strides have been made in quality, and single vineyard offerings have dazzled the wine press.
Set upon a backdrop of the visually stunning Alps, the enchanting and rolling hills of Piedmont are the source of some of the country's longest-lived and most sought-after wines. Vineyards cover a great majority of the land area—especially in Barolo—with the most prized sites at the top hilltops or on south-facing slopes where sunlight exposure is maximized. Piedmont has a continental climate with hot, humid summers leading to cold winters and precipitation year-round. The reliable autumnal fog provides a cooling effect, especially beneficial for Nebbiolo, Piedmont's most prestigious variety.
In fact, Nebbiolo is named exactly for the arrival of this pre-harvest fog (called "nebbia" in Italian), which prolongs cluster hang time and allows full phenolic balance and ripeness. Harvest of Nebbiolo is last among Piedmont's varieties, occurring sometime in October. This grape is responsible for the exalted wines of Barbaresco and Barolo, known for their ageability, firm tannins and hallmark aromas of tar and roses. Nebbiolo wines, despite their pale hue, pack a pleasing punch of flavor and structure; the best examples can require about a decade's wait before they become approachable. Barbaresco tends to be more elegant in style while Barolo is more powerful. Across the Tanaro River, the Roero region, and farther north, the regions of Gattinara and Ghemme, also produce excellent quality Nebbiolo.
Easy-going Barbera is the most planted grape in Piedmont, beloved for its trademark high acidity, low tannin and juicy red fruit. Dolcetto, Piedmont's other important red grape, is usually ready within a couple of years of release.
White wines, while less ubiquitous here, should not be missed. Key varieties include Arneis, Cortese, Timorasso, Erbaluce and the sweet, charming Muscat, responsible for the brilliantly recognizable, Moscato d'Asti.
Cortese's territory was once part of the city-state of Genoa, and still the grape practically owes more allegiance to Liguria than the region that grows it: Piedmont.
Cortese was first recorded in the early 17th century at the far southeastern corner of Piedmont, in the province of Alessandria and today has no known relatives. It is most highly regarded here, in Gavi, and thus is often referred to simply as "Gavi." Cortese also grows well in the surrounding parts of Piedmont: Cortese dell'Alto Monferrato a few miles west of Gavi and just over a few hills to the east, in the Colli Tortonesi. But there Cortese doesn't always achieve the ripeness, or get the winemaking proficiency that it does when grown on the limestone-rich soils of Gavi. While some renowned Barolo producers produce stellar Gavi, such as Michele Chiarlo and Pio Cesare, the region has no shortage of its own dedicated producers.
Because of its freshness and chalky minerality, this white wine commonly populates the fish restaurants' wine lists of the Ligurian coast.
GZT1728715_2010
Item#
110721