Pecchenino Maestro Bianco 2018
Out of Stock

(was $25.99)
Winemaker Notes
Straw yellow color. The bouquet on the nose is rich, round and buttery. Fresh, aromatic, and zingy. Sauvignon Blanc brings a crisp acidity and lively aromatics.
Smoked salmon and avocado sushi. Ceviche with cilantro and chili Oven-baked salmon with cherry tomatoes, broad beans and asparagus
Blend: 60% Chardonnay, 40% Sauvignon Blanc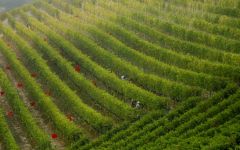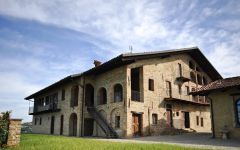 The Company was founded at the end of the nineteenth century, in an area where Dolcetto vineyards have been a typical feature for centuries, as is documented by a writing that dates back to 1432, which is kept in the communal archives.
The farm has always been family run, and the land has passed from father to son throughout its history. The first historical evidence of the farm is from the beginning of the twentieth century, when the farm was led by Attilio Pecchenino (the grandfather) and had little more than 8 hectares of land. In the 70s, the farm was given to Marino Pecchenino (Attilio's son), and in 1987 to Orlando and Attilio (Marino's two sons) who currently own it and manage it. At present, after having recently bought a new farm (Bricco Botti), the total land owned by Pecchenino is approx. 25 hectares, all in the area of Dogliani. For a couple of year now, Pecchenino has expended much energy on making his dolcettos more elegant and appetizing abroad as well as in Italy. The results clearly show in his two main house Dolcettos: the San Luigi and the Siri d'Jermu that recently was upgraded to Dogliani DOCG status.
Pecchenino winery is managed in a sustainable fashion: Orlando is convinced that the quality of his wine is strictly related to the natural health of his vineyard. His main objective is that of growing the best possible grapes with the lowest possible impact on nature. In the vineyards, he opts for organic compost and avoids the use of any chemical products for weed or pest control; his treatments in the vineyards are all natural unless it becomes absolutely necessary.
Set upon a backdrop of the visually stunning Alps, the enchanting and rolling hills of Piedmont are the source of some of the country's longest-lived and most sought-after red wines. Vineyards cover a great majority of the land area—especially in Barolo—with the most prized sites at the top hilltops or on south-facing slopes where sunlight exposure is maximized. Piedmont has a continental climate with hot, humid summers leading to cold winters and precipitation year-round. The reliable autumnal fog provides a cooling effect, especially beneficial for Nebbiolo, Piedmont's most prestigious variety.
In fact, Nebbiolo is named exactly for the arrival of this pre-harvest fog (called "nebbia" in Italian), which prolongs cluster hang time and allows full phenolic balance and ripeness. Harvest of Nebbiolo is last among Piedmont's wine varieties, occurring sometime in October. This grape is responsible for the exalted Piedmont wines of Barbaresco and Barolo, known for their ageability, firm tannins and hallmark aromas of tar and roses. Nebbiolo wines, despite their pale hue, pack a pleasing punch of flavor and structure; the best examples can require about a decade's wait before they become approachable. Barbaresco tends to be more elegant in style while Barolo is more powerful. Across the Tanaro River, the Roero region, and farther north, the regions of Gattinara and Ghemme, also produce excellent quality Nebbiolo.
Easy-going Barbera is the most planted grape in Piedmont, beloved for its trademark high acidity, low tannin and juicy red fruit. Dolcetto, Piedmont's other important red grape, is usually ready within a couple of years of release.
White wines, while less ubiquitous here, should not be missed. Key Piedmont wine varieties include Arneis, Cortese, Timorasso, Erbaluce and the sweet, charming Muscat, responsible for the brilliantly recognizable, Moscato d'Asti.
With hundreds of white grape varieties to choose from, winemakers have the freedom to create a virtually endless assortment of blended white wines. In many European regions, strict laws are in place determining the set of varieties that may be used in white wine blends, but in the New World, experimentation is permitted and encouraged. Blending can be utilized to enhance balance or create complexity, lending different layers of flavors and aromas. For example, a variety that creates a soft and full-bodied white wine blend, like Chardonnay, would do well combined with one that is more fragrant and naturally high in acidity. Sometimes small amounts of a particular variety are added to boost color or aromatics. Blending can take place before or after fermentation, with the latter, more popular option giving more control to the winemaker over the final qualities of the wine.
VIYITPCVM7518_2018
Item#
533864