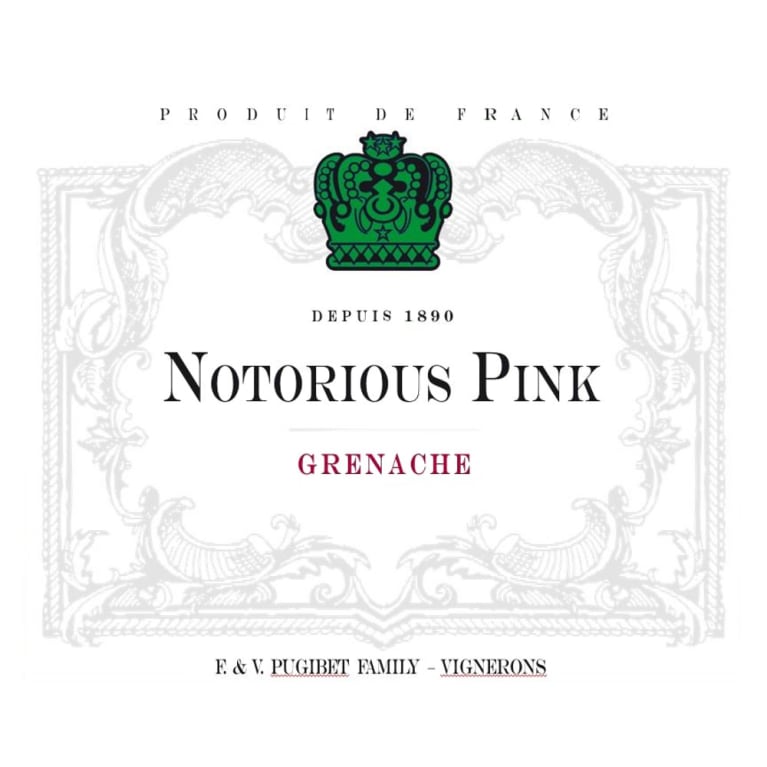 Notorious Wines Notorious Pink Rose 2015
Out of Stock

(was $16.99)
Winemaker Notes
Bright and pink in color, Notorious Pink is very aromatic with citrus and red fruit. Floral aromas with crisp and refreshing mineral character . Notorious Pink Rosé is not as dry as most French rosé wines. Enjoyable with seafood, vegetables, pasta and poultry dishes.
Notorious Wines is a sensible luxury brand with wines made from made from the Languedoc region in the South of France.
In addition to Notorious Pink Rose in early 2019, Notorious Wines Inc. and the Pugibet family took yet another leap into innovation in winemaking by introducing two new wine varieties in the forefront of the "sustainable" wine production process. Their two new wines, Infamous Gold Cabernet Blanc and Scandalous One Cabernet Noir are hybrid wines developed from traditional European vitis vinifera vines and crossed with other breeds for a new and innovative Vin de France offering. 
The advantages of these creations include their ability to better withstand heat, drought and disease. This means few to no mildew treatments needed during growth. They also tend to ripen earlier than normal, and avoid the issues of sugar levels rising out of balance with overall phenolic ripeness and increasing alcohol levels. Overall, this makes these new wines a better choice for health conscience wine drinkers seeking a reduced sulfite and reduced sugar level experience.  
A small category representing the wines that either fall outside of appellation lines or don't subscribe to the law and traditions set forth by the French government within certain classified appellations, "Vin De France" is a catch-all that includes some of the most basic French wines as well as those of superior quality. The category includes large production, value-driven wines. It also includes some that were made with a great deal of creativity, diligence and talent by those who desire to make wine outside of governmental restrictions. These used to be called Vin de Table (table wine) but were renamed to compete with other European countries' wines of similar quality.
Whether it's playful and fun or savory and serious, most rosé today is not your grandmother's White Zinfandel, though that category remains strong. Pink wine has recently become quite trendy, and this time around it's commonly quite dry. Since the pigment in red wines comes from keeping fermenting juice in contact with the grape skins for an extended period, it follows that a pink wine can be made using just a brief period of skin contact—usually just a couple of days. The resulting color depends on grape variety and winemaking style, ranging from pale salmon to deep magenta.
EPC32937_2015
Item#
164871