Nino Franco Rustico Prosecco Superiore
Winemaker Notes
#1 Wine Enthusiast Top 100 Wines of 2019
Made in the heart of the Prosecco DOCG zone, Nino Franco's Rustico Prosecco Superiore is unquestionably the world's finest value in a high-quality sparkling wine. Made from 100% Glera (traditionally called Prosecco), the non-vintage, light-bodied Rustico offers gorgeously elegant notes of pear, citrus and honeysuckle. The texture is creamy, soft and delicate with persistent effervescence.  
The word 'Rustico' dates back to an old winemaking tradition where Prosecco was made using a short second fermentation in the bottle and leaving the sediments in the wine. Although no longer the technique, the name 'Rustico' has remained as a reflection of quality and tradition.
Pair with charcuterie, risotto, vegetables, seafood and delicate pasta dishes.
Critical Acclaim
All Vintages
Aromas of white spring flower, Bartlett pear and citrus waft out of the glass. The racy, refreshing palate is full of energy, offering crisp yellow-apple, lemon drop and orange zest flavors balanced by vibrant acidity. A perlage of small, refined and continuous bubbles provides the silky backdrop.
Editors' Choice
Fresh, citrusy nose with lightly candied lemons and a hint of sherberty mineral. Lively froth that then reveals a good dose of fresh cream. This is what you look for in a good Prosecco. Frothy, creamy and fun. Enjoy now.
One of the top sparkling deals in the world, the non-vintage Nino Franco Rustico Valdobbiadene Prosecco Superiore exhibits a beautifully refined mousse and fresh, tart apple flavors. The wine's crisp finish pairs it perfectly with delicate appetizers. (Tasted: February 16, 2016, Treasure Island, CA)
The golden color and peach nectar scent predict this to be rich, but a potent, nutty savor keeps it balanced. It finishes clean, tight and grippy - a mouthwatering aperitif.
View More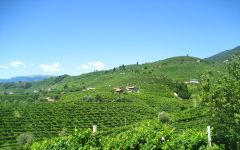 "Cantine Franco" was founded in Valdobbiadene in 1919 by Antonio Franco, who set out right from the start to make a quality product. One of the oldest wineries in Valdobbiadene, Nino Franco is located in the center of town and close to the countryside. It is surrounded by vineyards of extraordinary beauty, with a special terroir ripe for producing high-quality wines.
The area lies in Veneto, in the hilly strip of the Province of Treviso, that lies between the small towns of Valdobbiadene and Conegliano. Throughout its extraordinary history, the Conegliano and Valdobbiadene areas have made Prosecco into an extraordinary success story, creating over the course of time a modern, informal and vivacious Italian-Style sparkling wine that is appreciated and enjoyed all over the world; it gained DOCG recognition in 2009, and represents the top of the quality pyramid for Prosecco.
Valdobbiadene is located in the heart of the Prosecco DOCG production zone at the foot of the Prealps, a mountain range in the south-eastern part of the Alps. This region in the north-eastern part of Italy is most famous for the prized Prosecco vine and wine production because it has the greater concentration of high hillside vineyards. Vines are grown only on the sunniest parts of the hills, at altitudes varying between 50 and 500 meters above sea level, while the north-facing slopes are covered mainly in woodland. The climate throughout the area is mild, with not excessively cold winters with warm summers. The Nino Franco Prosecco produced in the Valdobbiadene area represents a synthesis of history and "naturally" superior quality.  
Thanks to a careful and wise management, the Nino Franco estate has been growing and evolving throughout four generations of producers. Antonio founded it, Nino expanded it and Primo improved the company performance. When Primo took over its management in 1982, it was a turning point for the estate. He became a pioneer of Prosecco, successfully introducing a different sparkling wine than Champagne to International markets. He has been successful thanks to his open-minded personality, his spontaneity, reliability and competence as well as his charm and ability to communicate his love for his work, and his passion to produce the highest quality sparkling wines. Today the winery is still family-owned by Primo and his wife Annalisa, and their daughter Silvia is the next generation responsible for future growth of the estate.
The wines of Conegliano Valdobbiadene Prosecco Superiore DOCG represent Italy's highest-quality designation in the Prosecco category. Situated approximately 30 miles north of Venice and 63 miles south of the Dolomites in the province of Treviso, Prosecco Superiore DOCG is defined by a limited geographic area that extends over 15 hillside towns, flanked by the municipalities of Conegliano to the east and Valdobbiadene to the west.
Hand harvesting and cultivation occur in the steep hillsides of Conegliano Valdobbiadene, the birthplace of Prosecco, and while incredibly labor-intensive, also drive quality grape selection and an artisanal approach throughout. To qualify as Prosecco Superiore DOCG, wines must contain at least 85% Glera. Other permitted varieties include Verdiso, Perera, and Bianchetta Trevigiana – but the aromatic Glera is the region's star. Hardy and vigorous with hazelnut-colored shoots, Glera forms large, loose bunches of beautiful golden-yellow grapes that stand out against the bright green leaves of the vine.
Vines have been grown in Conegliano Valdobbiadene since ancient times. In 1876 Conegliano became home to the first enology school in Italy, an institution of learning and innovation. It fundamentally altered the future course of winemaking in the region, and indeed the entire country, by perfecting the Italian Method of sparkling wine production in autoclaves to preserve and enhance the aromas of the indigenous grape varieties. A Consortium of Conegliano Valdobbiadene producers was formed in 1963 and was instrumental in obtaining the very first Prosecco appellation in 1969. In 2009, Conegliano Valdobbiadene Prosecco was elevated to a DOCG, Italy's highest wine category. Conegliano, home to the enology school and research center, is known as the area's cultural capital, while Valdobbiadene, with its high altitudes, dramatically steep hillsides and twisting contours, is devoted mainly to production.
While the vast majority (95%) of Conegliano Valdobbiadene Prosecco is Spumante (sparkling or foamy), it is also made as a fizzy (Frizzante) wine, or even in a rare completely still version called Tranquillo. It comes in three different categories of residual sugar: "DRY," with 17-32 grams of residual sugar per liter, is actually the sweetest; "Extra-Dry," ranges from 12-17 grams; and Brut (0-12) is the driest category. Brut Nature or Zero Dossaggio Prosecco has less than 3 grams of residual sugar and Extra-Brut less than 6. Though most Prosecco is made in an autoclave, second fermentation in the bottle is still permitted under the DOCG guidelines, either in the traditional process known as Col Fondo (in which the sediment is left in the bottle) or Metodo Classico with sediment removed.
Due to the Conegliano Valdobbiadene's complex geologic history, there is tremendous diversity of terroir between the eastern and western portions of the zone and even different sub zones and parcels within the same area. For this reason, in 2009 a sub-category called RIVE was created, which indicates a Prosecco made of grapes from one of 43 registered geographic areas. In order to qualify as a Rive, the grapes have an even lower maximum yield and the wine must be vintage dated. It is also possible to find Prosecco DOCGs made entirely from grapes of a single vineyard parcel.
Conegliano Valdobbiadene is currently shortlisted for inclusion as a UNESCO World Heritage Site.
A term typically reserved for Champagne and Sparkling Wines, non-vintage or simply "NV" on a label indicates a blend of finished wines from different vintages (years of harvest). To make non-vintage Champagne, typically the current year's harvest (in other words, the current vintage) forms the base of the blend. Finished wines from previous years, called "vins de reserve" are blended in at approximately 10-50% of the total volume in order to achieve the flavor, complexity, body and acidity for the desired house style. A tiny proportion of Champagnes are made from a single vintage.
There are also some very large production still wines that may not claim one particular vintage. This would be at the discretion of the winemaker's goals for character of the final wine.