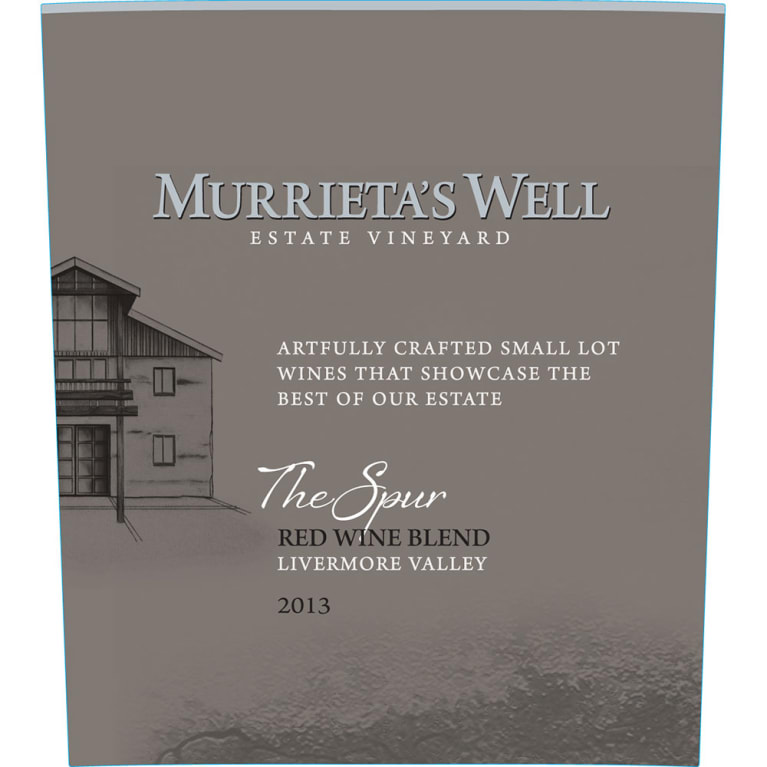 Murrieta's Well The Spur 2013
Regular price
Currently Unavailable

$23.99
Winemaker Notes
The Spur 2013 is crafted from blending the classic Bordeaux varietals with a Petite Sirah foundation and offers a distinctively California expression. Each varietal is farmed, harvested, and handcrafted individually to achieve their greatest expression. Beautiful fruit aromas of black cherry and blueberry are highlighted by subtle notes of sweet oak and earthy spice. A ripe tannic structure and balanced acidity make this wine perfect by itself or paired with your favorite recipes from the grill.
Blend: 40% Petite Sirah, 26% Cabernet Sauvignon, 10% Petit Verdot, 8% Merlot, 8% Cabernet Franc, 8% Malbec
Critical Acclaim
All Vintages
The licorice-scented blackberry and plum flavors have dense but refined tannins, with chai tea, black walnut and espresso notes on the expressive finish. Petite Sirah, Cabernet Sauvignon, Petit Verdot, Merlot, Cabernet Franc and Malbec. Drink now through 2026.
An attractive, oaky perfume and melt-in-the-mouth fruit and dark-chocolate flavors make this full-bodied wine hard to resist. It has a luscious, mouth-coating texture, beautifully ripe blackberries and cherries, and a lingering finish.
Smooth, ripe and rich with spice and dense flavors of cassis and plum; juicy and balanced, long and deep. 40% Petit Sirah, 26% Cabernet Sauvignon, 10% Petit Verdot, 8% Merlot, 8% Cabernet Franc, 8% Malbec
View More
Nestled in the Livermore Valley, Murrieta's Well is one of California's original wine estates. Their vineyard began in the 1880s with cuttings from famed Chateau d'Yquem and Chateau Margaux. Today, they use this land to their advantage and plant grape varieties according to the various microclimates on our property. All of the wines are sourced exclusively from the estate.
2019 marks acclaimed winemaker, Robbie Meyer's 23rd vintage. In this time, he has received over 100 90+ point ratings for wines from the Livermore Valley, Napa Valley, Santa Barbara and Sonoma County. At Murrieta's Well, Robbie focuses on creating wines of elegance and balance that tell the story of their estate. With a patient and open-minded approach to winemaking, Robbie tells a story worth listening to glass after glass.
A warm sub-appellation of the greater San Francisco Bay AVA (American Viticultural Area), Livermore Valley mainly hides behind the shielding effects of the bay's eastern hills. However, late afternoon winds cool down summer nights as daytime heat rises from the Central Valley in the east, pulling the cold, foggy, bay air inland. This cooler evening air permeates the Livermore Valley's foothills, making this an ideal environment for the development of phenolic ripeness and concentration in its wine grapes.
The Livermore Valley is one of California's oldest wine regions and has played a crucial role in shaping California's wine industry. Spanish missionaries planted the first wine grapes in the Livermore Valley in the 1760s. Then in the mid 1800s, a man named Robert Livermore planted the area's first commercial vineyards. Winemaker pioneer C. H. Wente arrived a few years later; today the Wente Chardonnay clone is the source of a majority of California Chardonnay. Furthermore, James Concannon and the Wetmore brothers recognized the virtues of the area's Bordeaux-like gravel soils and dedicated themselves to making high quality wine from Bordeaux varieties. Today the area is also known for high quality Petite Sirah.
With hundreds of red grape varieties to choose from, winemakers have the freedom to create a virtually endless assortment of blended red wines. In many European regions, strict laws are in place determining the set of varieties that may be used, but in the New World, experimentation is permitted and encouraged resulting in a wide variety of red wine styles. Blending can be utilized to enhance balance or create complexity, lending different layers of flavors and aromas. For example, a red wine blend variety that creates a fruity and full-bodied wine would do well combined with one that is naturally high in acidity and tannins. Sometimes small amounts of a particular variety are added to boost color or aromatics. Blending can take place before or after fermentation, with the latter, more popular option giving more control to the winemaker over the final qualities of the wine.
How to Serve Red Wine
A common piece of advice is to serve red wine at "room temperature," but this suggestion is imprecise. After all, room temperature in January is likely to be quite different than in August, even considering the possible effect of central heating and air conditioning systems. The proper temperature to aim for is 55° F to 60° F for lighter-bodied reds and 60° F to 65° F for fuller-bodied wines. How much does this matter?
How Long Does Red Wine Last?
Once opened and re-corked, a bottle stored in a cool, dark environment (like your fridge) will stay fresh and nicely drinkable for a day or two. There are products available that can extend that period by a couple of days. As for unopened bottles, optimal storage means keeping them on their sides in a moderately humid environment at about 57° F. Red wines stored in this manner will stay good – and possibly improve – for anywhere from one year to multiple decades. Assessing how long to hold on to a bottle is a complicated science. If you are planning long-term storage of your reds, seek the advice of a wine professional.
SOU402802_2013
Item#
157067