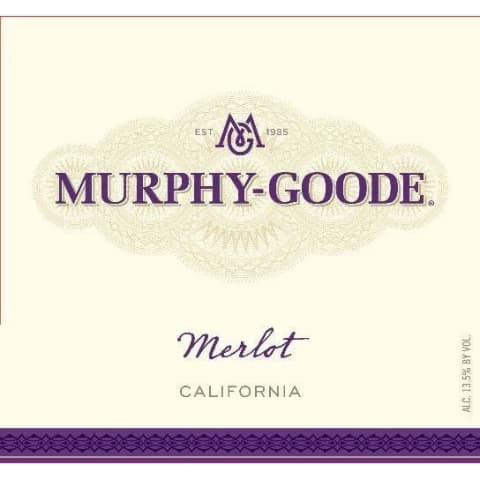 Murphy-Goode California Merlot 2011
Out of Stock

(was $13.98)
Winemaker Notes
Cue the band, light the grill and pop the cork on a bottle of our 2011 Merlot. From grunge angst to easy pop, from laid-back reggae to big-band swing, this wine goes with all your favorite tunes, not to mention your favorite foods. Pair the deep, dark fruit aromas and flavors with barbecue, burgers and roasted veggies in a jam session not soon forgotten.
Twenty years ago, Tim Murphy, Dale Goode and Dave Ready shared a vision: grow distinctive grapes, produce delicious wine, have fun and make friends in the process. They founded their three-family partnership in 1985 and launched the brand with two wines: estate grown Fumé Blanc and Chardonnay.
In the beginning, only the Murphy family's ranch and the Murphy-Goode Vineyard provided the grapes. Over the years, Murphy-Goode Winery steadily increased production, expanding the winery capacity and augmenting the harvest with fruit from the winery's "grower partners," local farmers and neighbors who shared the Murphy-Goode vision.
Initially the partners custom-crushed their grapes at a neighboring winery; consultant Merry Edwards guided the winemaking. After constructing a modest production facility on Tim Murphy's Alexander Valley ranch in 1987, they hired Winemaker Christina Benz. Chris made fifteen vintages of Murphy-Goode wine before turning the winemaking over to David Ready Jr. in 2001.
In recent years, the winery's focus has shifted from primarily white wine to distinctive red wines, particularly Bordeaux blends. Today, Murphy's three sons oversee the vineyards. Dave Ready's two sons make the wine. With exceptional grapes, inspired winemaking and the guiding values of the founding partners, the Murphy-Goode team is entering a fresh, new era of excellence.
Today the fourth most widely planted red variety in the state, Merlot has much to offer. While it bears similarities to Cabernet Sauvignon (its half-sibling), it tends to be lower in both acidity and tannins, giving Merlot wines a mouthfeel that is often perceived as soft, round and plush. These qualities make it an ideal blending partner for Cabernet, the two complementing each other throughout.
Merlot arrived relatively late to the California wine scene. It wasn't until the 1970's when producers like Louis Martini, Sterling and Matanzas Creek—influenced by European Merlot blends—began crafting single varietal versions. These trend-setting bottles opened the eyes of others in the California wine scene and spurred increased plantings. From there, the variety's lush drinkability led to a surge in popularity, then overplanting (some of it on unsuitable sites) and finally a backlash that was turbo-charged by the infamous 2004 film, Sideways. What most viewers didn't realize was that, as much as Miles derided the variety, the prized wine of his collection—a 1961 Château Cheval Blanc—is made from a blend of Merlot with Cabernet Franc.
Fine examples of California Merlot—either as a single varietal wine or as part of a blend—can be found from Napa Valley, Sonoma County, the Central Coast and most regions around the state. Merlot wines offer a ripe, sensual mouthful of plummy fruit, suggestions of mint, herbs and vanilla, all carried along by an approachable structure and often, a great potential for improving with age.
RGL45011544_2011
Item#
137159