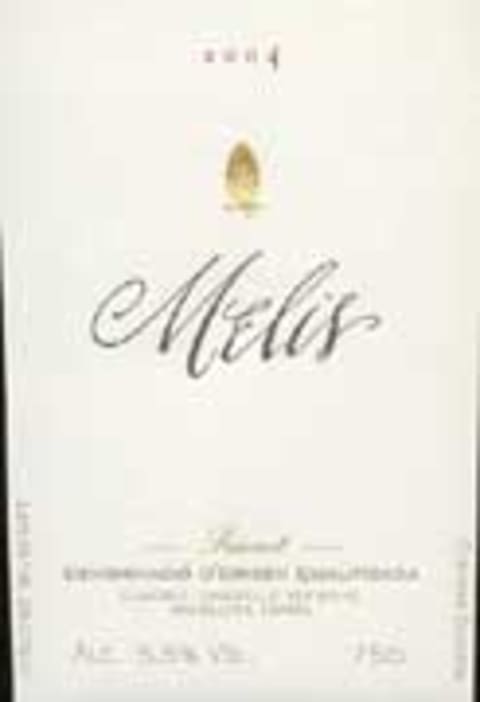 Melis Priorat 2004
Ships Tue, Oct 29
Limit
0
bottles
per customer
Winemaker Notes
"From the same team that brings you the Central Coast's superb Sea Smoke Pinot Noirs comes Melis, a splendid example of what can be achieved in Priorat. The 2004 Melis, from an outstanding vintage, is a blend of 63% Grenache, 16% Carignan, 14% Syrah, and 7% Cabernet Sauvignon. It was aged for 15 months in several sizes of 100% new Burgundian oak before being bottled without fining or filtration. Purple-colored, it exhibits sweet aromas of vanilla spice, toast, mineral, wild blueberry and blackberry. Full-bodied (a nicely concealed 15.5% alcohol) with a velvety palate-feel, layers of opulent black fruit flavors, ripe tannins, and a long, pure finish, this large-scaled wine can be enjoyed now and over the next 15-20 years. Bravo!"
-Wine Advocate
The Melis vineyard is a prime Priorat estate, ranging in elevation from 800 to 1,200 feet with steep terraces of dense volcanic schist and llicorella slate, attributes that contribute to both the signature intensity and minerality of fine Priorat wines. Located near the 13th century town of Torroja del Priorat, the vineyard's exceptional microclimate benefits from broad access to the Mediterranean Garbinada winds, balancing the vineyard's warm southern exposure with a cooling maritime breeze.
Melis is guided by its team's defining philosophy: that the wine should honor and reflect the wild, earthy richness of Priorat's traditional varietals and terroir, while achieving world-class balance and elegance. Melis' dedicated vineyard crew practice assiduous crop and canopy management to produce extremely low yields of intense, ripe fruit. In the winery, great care is taken to gently shape the forceful tannins of the traditional Priorat varietals. The Melis winemaking team focuses on small but crucial details, from hand harvesting into refrigerated containers and diligent hand sorting prior to crushing, to the incorporation of large Burgundian cooperage into the fermentation and aging program to ensure that the wines remain balanced and are not overwhelmed by oak.
Tiny and entirely composed of craggy, jagged and deeply terraced vineyards, Priorat is a Catalan wine-producing region that was virtually abandoned until the early 1990s. Its renaissance came with the arrival of one man, René Barbier, who recognized the region's forgotten potential. He banded with five friends to create five "Clos" in the village of Gratallops. Their aim was to revive some of Priorat's ancient Carignan vines, as well as plant new—mainly French—varieties. These winemakers were technically skilled, well-trained and locally inspired; not surprisingly their results were a far cry from the few rustic and overly fermented wines already produced.
This movement escalated Priorat's popularity for a few reasons. Its new wines were modern and made with well-recognized varieties, namely old Carignan and Grenache blended with Syrah, Cabernet Sauvignon and Merlot. When the demand arrived, scarcity commanded higher prices and as the region discovered its new acclaim, investors came running from near and far. Within ten years, the area under vine practically doubled.
Priorat's steep slopes of licorella (brown and black slate) and quartzite soils, protection from the cold winds of the Siera de Monstant and a lack of water, leading to incredibly low vine yields, all work together to make the region's wines unique. While similar blends could and are produced elsewhere, the mineral essence and unprecedented concentration of a Priorat wine is unmistakable.
Beyond the usual suspects, there are hundreds of red grape varieties grown throughout the world. Some are indigenous specialties capable of producing excellent single varietal wines, while others are better suited for use as blending grapes. Each has its own distinct viticultural characteristics, as well as aroma and flavor profiles, offering much to be discovered by the curious wine lover. In particular, Portugal and Italy are known for having a multitude of unique varieties but they can really be found in any region.
WWH104248_2004
Item#
90448