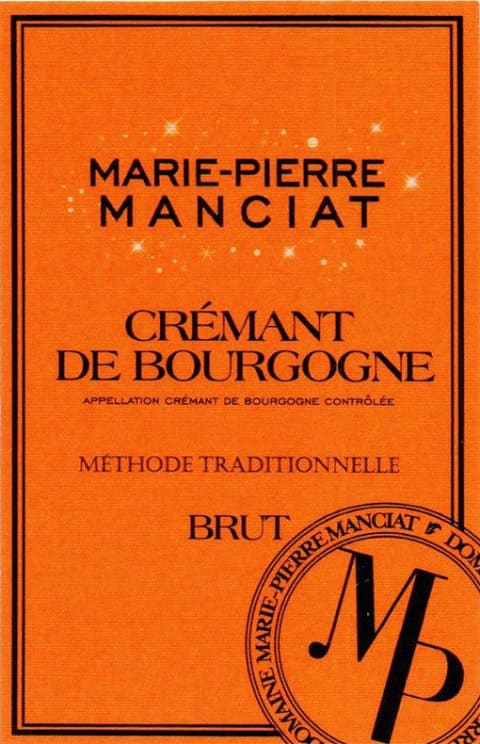 Marie-Pierre Manciat Cremant de Bourgogne
Non-Vintage Sparkling Wine
from
Burgundy, France
Ships Thu, Apr 25
Limit
0
bottles
per customer
Marie-Pierre Manciat was born into a family of vignerons that have been making wine since 1871. From a very young age, she spent her school vacations in the cellars and vineyards, soaking up knowledge and experience, all of which helped her when she took over the reins of her family's estate in 2002 and became a sixth-generation winemaker. Her family has instilled in her a strong sense of tradition, time-honored winemaking practices, and the value of quality over quantity.
Her father, Claude Manciat, was one of the top producers in the Maconnais area. Up until the early 1980s when he took over, the Manciat wines were mainly sold in bulk to local negociants, but Claude decided that he wanted to focus on making and bottling his own wines. Due to his meticulous viticulture and vinification techniques, he has been able to attain a high level of quality, translating into exceptional purity and texture apparent in the wines produced. In addition to practicing sustainable agriculture, the Manciats are among the few remaining vignerons in the Macon that still harvest by hand.
Before taking over for her parents, Marie-Pierre had her own pet project, named Lacrochette-Manciat, which she started in 1991. Initially she rented vineyards; then, year after year, she was able to start purchasing parcels, which now amount to 9 hectares. Since taking over for her parents, Marie-Pierre has set her sights high and has tried to better the estate. She now maintains 22 hectares with every bit of the passion she began with, and each year it is reaffirmed with the birth of a new vintage. As she says, this job teaches you to be humble every day—winemakers simply help develop what nature gives them.
She also believes in the importance of being respectful of terroir. She believes that the soil greatly affects the grapes, and that the resulting wine is a direct representation of quality of the soil. Marie-Pierre lets each area express itself according to its personality, and each of her wines are aged differently, in either stainless steel tanks or oak barrels. In the end, she believes that wine is above all else, a refreshing drink. This is why she strives to create a harmony between depth, complexity, minerality, and drinkability in all of her wines.
A legendary wine region setting the benchmark for Pinot Noir and Chardonnay worldwide, Burgundy is a perennial favorite of many wine lovers. While the concept of 'terroir' reigns supreme here—soil type, elevation and angle of each slope—this is a region firmly rooted in tradition. Because of the Napoleonic Code requiring equal distribution of property and land among all heirs, vineyard ownership in Burgundy is extremely fragmented, with some growers responsible for just one or two rows of vines. This system has led to the predominance of the "negociant"—a merchant who purchases fruit from many different growers to vinify and bottle together.
Burgundy's cool, continental climate and Jurassic limestone soils are perfect for the production of elegant, savory and mineral-driven Chardonnay and Pinot Noir with plenty of acidity. Vintage variation is of particular importance here, as weather conditions can be variable and unpredictable. In some years spring frost and hail must be overcome.
The Côte d'Or, a long and narrow escarpment, forms the heart of the region, split into the Côte de Nuits to the north and the Côte de Beaune to the south. The former is home to many of the world's finest Pinot Noir wines, while Chardonnay plays a much more prominent role in the latter, though outstanding red and white are produced throughout. Other key appellations include the Côte Chalonnaise, home to great value Pinot Noir and sparkling Crémant de Bourgogne. The Mâconnais produces soft and round, value-driven Chardonnay while Chablis, the northernmost region of Burgundy, is a paradise for any lover of bright, acid-driven and often age-worthy versions of the grape.
A term typically reserved for Champagne and Sparkling Wines, non-vintage or simply "NV" on a label indicates a blend of finished wines from different vintages (years of harvest). To make non-vintage Champagne, typically the current year's harvest (in other words, the current vintage) forms the base of the blend. Finished wines from previous years, called "vins de reserve" are blended in at approximately 10-50% of the total volume in order to achieve the flavor, complexity, body and acidity for the desired house style. A tiny proportion of Champagnes are made from a single vintage.
There are also some very large production still wines that may not claim one particular vintage. This would be at the discretion of the winemaker's goals for character of the final wine.
LSIMANCNV10_0
Item#
522470