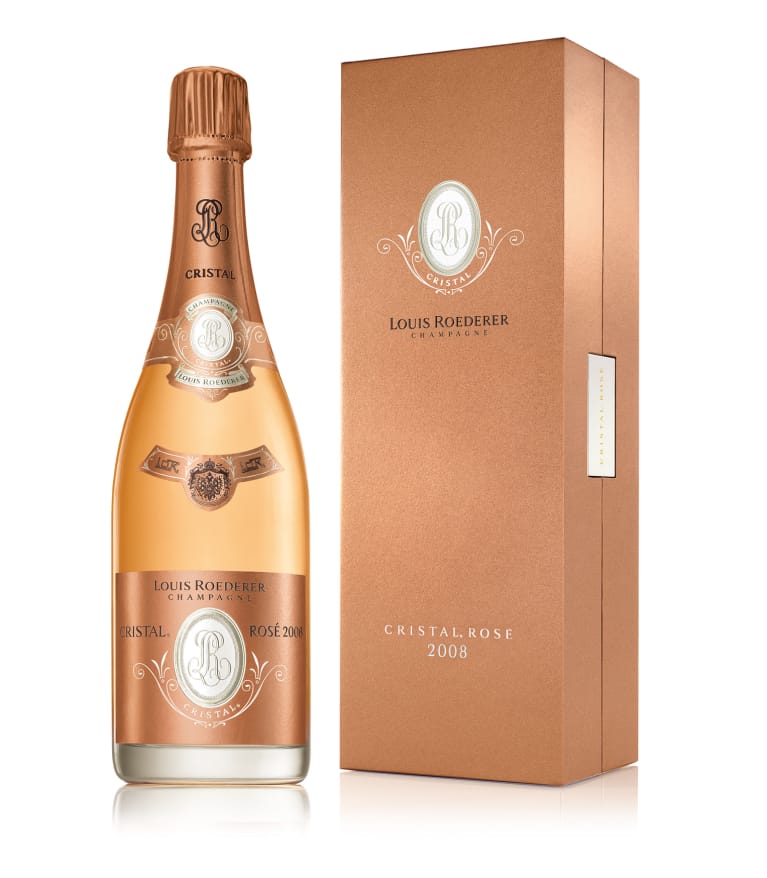 Louis Roederer Cristal Rose with Gift Box 2008
Ships Sun, Mar 1
Limit
0
bottles
per customer
Winemaker Notes
Bright pink hue with delicate salmon-pink tints. Soft, even sparkle that fills the glass and gives the wine an almost creamy appearance. The delicate, subtle bouquet opens up with elegantaromas of flower petals and dried fruit and nuts, which then give way to zesty notes of red berries such as red currant and wild strawberry, characteristic of our old Pinot noir vines from Ay. The juicy and fleshy attack is underpinned by a direct, intense freshness. It displays simultaneously solid and fluid powdery notes harking back to the tannins in the pips which were perfectly ripe and lignified.
There is an explosion of intense, rich, fresh flavours,complemented by notes of hazelnut and a powdery, almost oily, mouthfeel, characteristic of the finest Pinot noirs. There is an impression of chalkiness on the finish with zesty notes reminiscent of candied citrus and yuzu.
Blend: 56% Pinot noir, 44% Chardonnay
Critical Acclaim
All Vintages
Interestingly released after the softer 2009 version of this wine, this 2008 vintage is beautifully balanced between crisp fruit and ripe maturity. With its red fruits still in place, it also has a toasty yeasty edge that is sophisticated and enticing. It is a superb wine, delicious to drink now although because of the quality of the vintage it will age for many more years.
Cellar Selection
Roederer's 2008 Cristal Rosé is a pure but textured, perfectly ripe, round, luscious and mouth-filling Champagne with power and concentration as well as a crystalline, elegant precision and stunning, citrusy freshness. Sourced in four biodynamically farmed plots in Aÿ (two vineyards with old-vines Pinot Noir on calcareous clay soils that can give exceptional ripeness but also crystalline freshness), Avize and Mesnil (one-third), the 2008 is a blend of 55% to 57% Pinot Noir and 43% to 45% Chardonnay and was fermented partly (15%) in large oak casks, with 16% having undergone malolactic fermentation. The unique light peach to pink-salmon color as well as the combination of juicy ripeness and great freshness is the result of "infusion," a vinification method practiced at Roederer since 1974 to combine finesse and mineralization with depth and ripeness. Cristal Rosé is produced with the saignée process after a cold maceration of seven to ten days and, after being blended with Chardonnay, is fermented like a dry wine. The delicate and subtle bouquet of the 2008 Cristal Rosé is intense and fruity, intertwining red berry and sweet cherry aromas with floral flavors and a touch of caramel and nuts. On the palate, the 2008 is very elegant, fine, pure, precise and fresh but nevertheless dense, intense and fleshy, with lots of powdery chalk and a pure, very fresh, chalky-salty finish with zesty citrus flavors. The 2008 should have enormous aging potential. The Rosé was disgorged in March 2017, and the dosage is eight grams per liter.
Rating: 96+
Like fine china, this graceful rosé Champagne is all about delicacy paired with form. Vibrant acidity provides well-honed structure, fleshed out by the detailed flavor range of white cherry, slivered almond, candied ginger, pink grapefruit pith and spring blossom as this rides the satiny mousse. Minerally smoke and chalk notes echo on the finish. Drink now through 2030.
View More
Uncompromising Quality
Champagne Louis Roederer was founded in 1776 in Reims, France and is one of the rare family owned companies, which is still managed by the Roederer family. In 1833, Louis Roederer inherited the company from his uncle and renamed the company under his namesake. Under his leadership, the company rapidly grew while remaining true to their philosophy of uncompromising quality. Today, the company is under the helm of Jean-Claude Rouzaud and his son Frédéric who continue to place quality before quantity.
First-Rate Vineyards
Champagne Louis Roederer is one of the only French champagne producers to own nearly 75 percent of the grapes in the most desirable vineyards in the Champagne. The property is located on 450 acres in the finest villages of Montagne de Reims, Côtes des Blancs, and Valleé de la Marne. Each region is selected to produce Chardonnay and Pinot Noir with the elegance needed for perfectly balanced champagne. The Louis Roederer vineyards rate an average 98 percent based on France's statutory 100-point classification scale.
The reserve wine is then tasted and graded by a team of Roederer specialists. They choose as many as 40 different wines from several lots for the blend. For the final touch, the wine is then added in order to enhance the cuvee and guarantee consistency while retaining the champagne's characteristics.
Associated with luxury, celebration, and romance, the region, Champagne, is home to the world's most prized sparkling wine. In order to bear the label, 'Champagne', a sparkling wine must originate from this northeastern region of France—called Champagne—and adhere to strict quality standards. Made up of the three towns Reims, Épernay, and Aÿ, it was here that the traditional method of sparkling wine production was both invented and perfected, birthing a winemaking technique as well as a flavor profile that is now emulated worldwide.
Well-drained, limestone and chalky soil defines much of the region, which lend a mineral component to its wines. Champagne's cold, continental climate promotes ample acidity in its grapes but weather differences from year to year can create significant variation between vintages. While vintage Champagnes are produced in exceptional years, non-vintage cuvées are produced annually from a blend of several years in order to produce Champagnes that maintain a consistent house style.
With nearly negligible exceptions, . These can be blended together or bottled as individual varietal Champagnes, depending on the final style of wine desired. Chardonnay, the only white variety, contributes freshness, elegance, lively acidity and notes of citrus, orchard fruit and white flowers. Pinot Noir and its relative Pinot Meunier, provide the backbone to many blends, adding structure, body and supple red fruit flavors. Wines with a large proportion of Pinot Meunier will be ready to drink earlier, while Pinot Noir contributes to longevity. Whether it is white or rosé, most Champagne is made from a blend of red and white grapes—and uniquely, rosé is often produce by blending together red and white wine. A Champagne made exclusively from Chardonnay will be labeled as 'blanc de blancs,' while ones comprised of only red grapes are called 'blanc de noirs.'
What are the different types of Champagne and sparkling wine?
Beloved for its lively bubbles, sparkling wine is the ultimate beverage for any festivity, whether it's a major celebration or a mere merrymaking of nothing much! Sparkling wine is made throughout the winemaking world, but only can be called "Champagne" if it comes from the Champagne region of France and is made using what is referred to as the "traditional method." Other regions have their own specialties—Crémant in other parts of France, Cava in Spain and Prosecco in Italy, to name a few. New World regions like California, Australia and New Zealand enjoy the freedom to make many styles, with production methods and traditions defined locally. In a dry style, Champagne and sparkling wine goes with just about any type of food. Sweet styles are not uncommon and among both dry and sweet, you'll find white, rosé—or even red!—examples.
How is Champagne and sparkling wine made?
Champagne, Crémant, Cava and many other sparkling wines of the world are made using the traditional method, in which the second fermentation (the one that makes the bubbles) takes place inside the bottle. With this method, spent yeast cells remain in contact with the wine during bottle aging, giving it a creamy mouthful, toasted bread or brioche qualities and in many cases, the capacity to age. For Prosecco, the carbonation process usually occurs in a stainless steel tank (before bottling) to preserve the fresh fruity and floral aromas imminent in this style.
What gives Champagne and sparkling wine its bubbles?
The bubbles in sparkling wine are formed when the base wine undergoes a secondary fermentation, which traps carbon dioxide inside the bottle or fermentation vessel.
How do you serve Champagne and sparkling wine?
Ideally for storing Champagne and sparkling wine in any long-term sense, it should be at cellar temperature, about 55F. For serving, cool Champagne and sparkling wine down to about 40F to 50F. (Most refrigerators are colder than this.) As for drinking Champagne and sparkling wine, the best glasses have a stem and flute or tulip shape to allow the bead (bubbles) to show.
How long does Champagne and sparkling wine last?
Most sparkling wines like Prosecco, Cava or others around the "$20 and under" price point are intended for early consumption. Wines made using the traditional method with extended cellar time before release can typically improve with age. If you are unsure, definitely consult a wine professional for guidance.
SOU918204_2008
Item#
507333