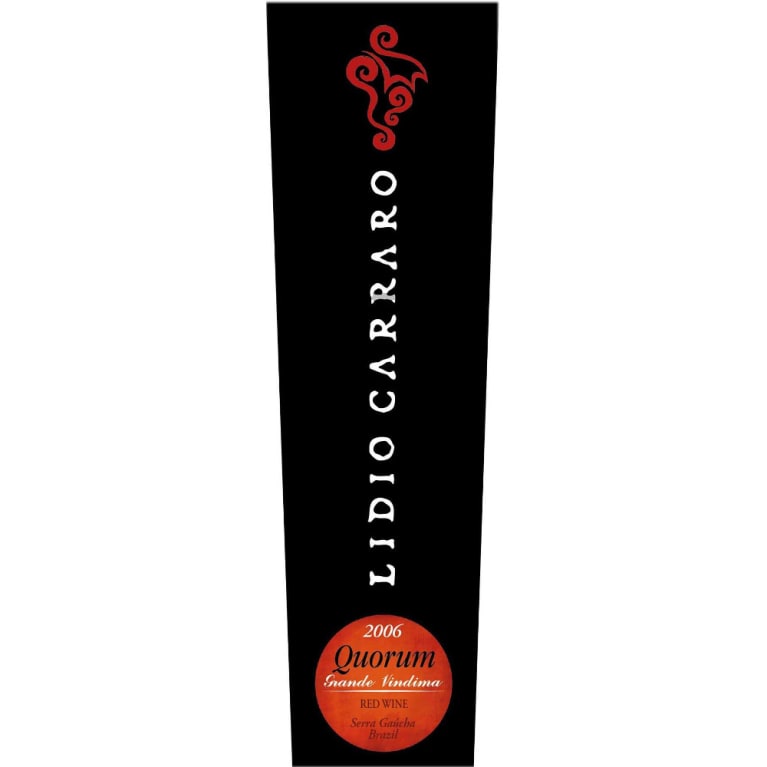 Lidio Carraro Quorum 2006
Winemaker Notes
Fruity aromas and floral touch, evolving to coffee, chocolate and spices. This wine evolves over time and has firm and ripe tannins.
In 2001, the Lidio Carraro winery started operating. In the same year the family acquired 200 acres in Encruzilhada do Sul, Southeast region of Rio Grande do Sul state. Later on, this area became recognized as a prestigious wine region in Brazil.
Earliest harvest of Vale dos Vinhedos vineyards took place in 2002, which is what allowed for the creation of Lidio Carraro's first wines, that were released to the market in 2004. Shortly thereafter, the wineryprovides a selection to represent Brazilian wines at the Duty-free international airports' stores, becoming the first Brazilian producer to do it, in its own country. In 2005, the winery opened the doors to the world and Lidio Carraro started having international attention, leading to the first export.
Portugese colonists brought wine producing grapes to Brazil as far back as the mid 16th century but the mainly humid, tropical environment proved to be a challenge for the early settlers. Though it is a large country, only a small portion, towards its southern end near Uruguay, is within the ideal latitudes for wine production. Brazil has about the same acreage under vine as its South American wine-producing neighbors, Chile and Argentina, but most of it is for table grapes. About 10% of the land is Vitis vinifera, the wine producing species.
Brazil has enjoyed consistent quality advancements since the 1970s and 1980s, largely due to investments by international wine companies, namely Moet & Chandon, Seagram, Bacardi, Domecq and Martini & Rossi. Serra Gaucha, a southerly coastal region of low mountains, recognized for sparkling wine production, is Brazil's key wine region. Campanha, its neighbor, is attracting more attention for its red wines (Cabernet and Tannat) and white wines (Chardonnay).
With hundreds of red grape varieties to choose from, winemakers have the freedom to create a virtually endless assortment of blended wines. In many European regions, strict laws are in place determining the set of varieties that may be used, but in the New World, experimentation is permitted and encouraged. Blending can be utilized to enhance balance or create complexity, lending different layers of flavors and aromas. For example, a variety that creates a fruity and full-bodied wine would do well combined with one that is naturally high in acidity and tannins. Sometimes small amounts of a particular variety are added to boost color or aromatics. Blending can take place before or after fermentation, with the latter, more popular option giving more control to the winemaker over the final qualities of the wine.
STC659253_2006
Item#
166426