Leblon Cachaca
Ships Fri, Oct 30
Limit
0
bottles
per customer
Distiller Notes
Leblon Cachaça has a tequila-like nose with transparent fruity and herbal notes and undertones of vanilla, caramel and light grass. Long cleansing finish, sweet and balanced, fresh and clean. Pleasing layers of cane, spices, and fruits. Clean taste, silky texture. Smooth entry, with a creamy full body, and notes of toasty vanilla, creme brulee, and butterscotch. The spirit warms in the mouth and leaves a gentle sweetness in the middle of the tongue that flowers as it lasts, much like a refined tequila.
Proof: 80
Critical Acclaim
All Vintages
This cachaça has a faint yellowish tinge and an aroma that tilts both funky and sweet, suggesting ripe banana plus hints of coconut and lychee. Vanilla sweetness leads the robust palate, finishing with plenty of ripe fruit tapering off to cinnamon and spearmint on the exhale.
Best Buy
View More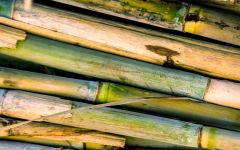 Maison Leblon's philosophy is that a great cachaça is made in the cane field first. Just like a great French wine, Leblon treats its cane with the utmost respect and care, ensuring that the final product represents everything that this fruit has to offer. Lebleon's dedicated team of cane cutters cuts each stalk by hand with a machete.
The fresh-cut sugar cane is quickly transported to the distillery, where whole stalks are pressed into fresh sugar cane juice, called caldo de cana. Unlike other cachaça distilleries, which increase the force of their pressing to maximize juice yield, the Maison Leblon gently presses the cane to extract only the best-tasting sensorial qualities from the cane stalks. Like the production of the eau-de-vie for cognac or Scotch whiskies, Leblon's alambique cachaça is made via the traditional batch method in copper potstills. The cachaça is aged for up to six months in brandy cured casks from France, polishing the spirit without altering the fruity cane nose.
After aging, the cachaça is ready for assembly. Master Distiller Gilles Merlet and Carlos Eduardo Oliveira combine the various batches to build a complex flavor in terms of sensory attributes.
The Destilaria Maison Leblon is located in Patos de Minas, an agricultural town in the western highlands of Minas Gerais, the heart of sugar cane country and is a fully integrated craft distillery exclusively owned by and producing only Leblon Cachaça.
Brazil's national drink, and by far their most popular spirit with well over a thousand domestic producers, Cachaca is just now making its debut in the U.S. In many ways it is similar to Rum. But while most modern Rums are made from molasses or other sugar by-products, only fresh sugar cane juice can be used to make Cachaca. This yields a more floral and herbaceous flavor profile compared to Rum. Both unaged (prata, "silver") and barrel-aged (ouro, "gold") expressions are available and used as a base for tropical drinks, like the traditional, Caipirinha.