La Gritona Reposado Tequila
Out of Stock

(was $47.97)
Distiller Notes
Wine Enthusiast 100 Best Spirits of 2021
Very vegetal, without the sweetness, oakiness, or vanilla that is often associated with a highland reposado. You will not find a rounder finish in the tequila world. A perfect tequila for sipping with a beer on the side, no need for lime or ice.
La Gritona Reposado is a 100% de agave tequila distilled by Melly Cardenas at her small distillery (NOM 1533) in Valle de Guadalupe in the highlands of Jalisco, Mexico. Rested for 8 months the tequila is then bottled in one of the most distinctive bottles on the market, hand blown from recycled Mexican Coke bottles.
Critical Acclaim
All Vintages
Look for a pale straw hue and fruity/funky aromas. The palate offers distinct tropical fruit notes, opening with lychee and a faint floral hint, plus a faint waft of ripe-banana funk midpalate. The finish is long and drying, showing grapefruit peel and pink peppercorn. Sip or mix into Palomas.  Best Buy.
View More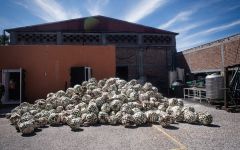 La Gritona Reposado is a subtle and distinctive 100% blue agave tequila distilled by Melly Barajas at her small distillery in Valle de Guadalupe in the highlands of Jalisco, Mexico. Melly begins with 9-10 year old mature agave grown in the iron-rich red soil of the Jalisco highlands that has been cultivated at the height of its sugar production and is put into ovens within 24 hours of being cut.
 The agave is steam cooked in two thick-walled earthen ovens for 24 hours and then allowed to rest for another 24 hours before crushing. The collected liquid is naturally fermented in open steel vats at a rate that is dictated by the local air temperature. Once it starts to swim, they distill their nascent silver twice. La Gritona rests the distilled silver in reused American whiskey barrels (Jack Daniels) for 8 months before filtering and bottling.
 La Gritona chars its barrels very lightly if necessary and they allow the barrels to be used for other rested tequilas prior to their resting period so that the residual oak, the residual whiskey, and the leached color from both can be as stunted as possible while the reposado ages. They do not use copper stills or a tahona, and they do not diffuse or use an autoclave. The agave is crushed with steel shredders after cooking and they distill their liquid in steel stills. Every step of production takes place under one roof and the facility is overseen by a small staff of local women that work each process from start to finish.
 La Gritona currently bottles an average of 12,500 liters per batch. All of the agave remnants that are left over after production are given to local farmers to use as cattle feed. The bottles are hand blown with recycled Mexican glass in the Guadalajara municipality of Tonolá, an hour away from the distillery.
 La Gritona is light on sweetness and retains the aroma and true essence of the plant from which it was distilled. Though La Gritona reposado has rested for 8 months in oak, the taste is herbaceous, with agave notes that have not been "whiskified" by the barreling process. It is a very vegetal tequila, without the notes of oak, pepper, vanilla or dulce de leche that can be associated with a highland reposado. It retains the crisp qualities reminiscent of an excellent silver tequila while still expressing subtle signs of Melly's deliberate, careful aging. The finish is extremely round with no burn. We recommend it straight with no ice, lime, salt, or mixer. It's best when paired it with a nice cold Mexican lager or pilsner.
Tequila Reposado refers to Tequilas that have been 'rested', or aged, in oak barrels for a minimum of two months but not more than one year. Depending on the specific flavors a tequilero wishes to impart on the spirit, a variety of different barrels may be used, from Brandy and Bourbon, to Wine and Sherry. The time spent on the wood allows Reposado Tequilas to mellow as they age, softening and rounding powerful flavor components brought by the agave and marrying them to subtle notes of caramel and vanilla brought by the barrel itself.