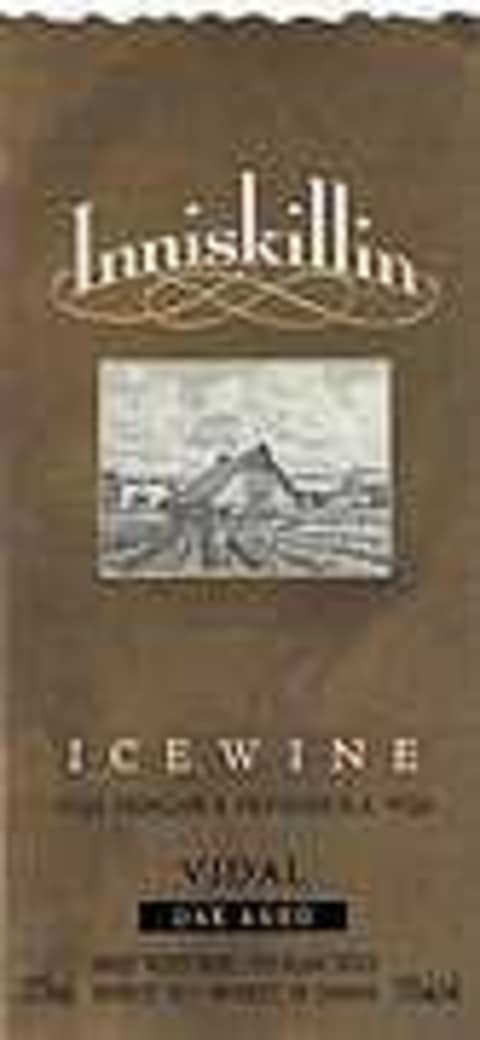 Inniskillin Oak-aged Vidal Icewine (375ML half-bottle) 2002
Out of Stock

(was $69.99)
Winemaker Notes
Icewine is nectar of the gods - some of the hardest to make, most intense wine in the world. Grapes are left on the vine well into the winter months. The resulting freezing and thawing of the grapes dehydrates the fruit, and concentrates the sugars, acids, and extracts in the berries, thereby intensifying the flavours and adding complexity to the wine made from it.
Genuine icewine must follow VQA (Vintners Quality Alliance) regulations that prohibit any artificial freezing of grapes. The grapes are painstakingly picked by hand in their natural frozen state, ideally at temperatures of -10 to -13 degrees C -- sometimes the picking must be done at night to take advantage of the temperature. Yields are very low, often as little as 5-10 percent of normal.
The frozen grapes are pressed in the extreme cold. The water in the juice remains frozen as ice crystals, and only a few drops of sweet concentrated juice is obtained. This juice is then fermented very slowly for several months, stopping naturally.
The finished icewine is intensely sweet and flavorful in the initial mouth sensation. The balance is achieved by the acidity, which gives a clean, dry finish. The nose of icewine recalls lychee nuts. The wine tastes of tropical fruits, with shadings of peach nectar and mango.
Icewine is winter's gift to the wine lover: one of the best-kept secrets of the wine world that garners gold medals in virtually every competition in which it is entered.
An enchanting integration of fresh tropical fruits, mango, litchi, apricot and papaya with intermingling layers of buckwheat honey and ginger. Superb sweet / tart interplay featuring flavours of apricot and honey. Outstanding complexities and length deliver pure refined elegance, which will only improve with age.
Austrian-born and monastically educated, Karl J. Kaiser, and native Canadian Donald J.P. Ziraldo, a decendant of a family of winegrowers in Northern Italy, founded Innisklillin Wines on July 31, 1975, obtaining the first winery license granted in the province of Ontario since 1929. Located in Niagara-on-the-Lake at the historic Brae Burn Estate, Inniskillin was founded upon and is dedicated to the principle of producing outstanding wines from vinifera wine grapes grown in the Niagara Peninsula. Karl and Donald tirelessly tested the new ground of Niagara, grafting old-world wisdom in the new-world terroir. Inniskillin rocketed to international notoriety when its pioneering 1989 Vidal Icewine was awarded the Grand Prix d'Honneur at Vinexpo 1991, and drew worldwide attention to Canada's burgeoning wine industry.
What is Icewine?
VQA Icewine is a highly concentrated dessert wine made by harvesting grapes naturally frozen on the vine at -10 C in December-January. Inniskillin VQA Icewine is internationally awarded and recognized and is exported throughout the world.
With a cool climate suitable for more than just icewine production, Canada is also home to excellent dry, still and sparkling Canadian wines. Most viticulture is based in Ontario on the east coast and British Columbia on the west coast. Because of the high risk of winter freeze and spring frost, plantings are typically centered on large bodies of water to take advantage of their temperature moderating effects.
In Ontario, particularly on the Niagara Peninsula, aromatic white varieties like Riesling and Gewürztraminer are most successful. Many Canadian wineries produce both dry and semi-dry versions. Chardonnay, Pinot Noir, Gamay, and Cabernet Franc perform nicely here as well. For icewine, French-American hybrid variety, Vidal, is popular. In British Columbia, many of the same grapes are grown, but there is also a significant emphasis on Bordeaux varieties—especially Merlot.
Apart from the classics, we find many regional gems of different styles.
Late harvest wines are probably the easiest to understand. Grapes are picked so late that the sugars build up and residual sugar remains after the fermentation process. Ice wine, a style founded in Germany and there referred to as eiswein, is an extreme late harvest wine, produced from grapes frozen on the vine, and pressed while still frozen, resulting in a higher concentration of sugar. It is becoming a specialty of Canada as well, where it takes on the English name of ice wine.
Vin Santo, literally "holy wine," is a Tuscan sweet wine made from drying the local white grapes Trebbiano Toscano and Malvasia in the winery and not pressing until somewhere between November and March.
Rutherglen is an historic wine region in northeast Victoria, Australia, famous for its fortified Topaque and Muscat with complex tawny characteristics.
YNG125842_2002
Item#
61272