Distiller Notes
A new kind of vodka that combines smooth and clean flavor with velvety texture and zero additives. Light, floral and clean, this vodka tastes smooth even at room temperature. The secret lies in combining spirits made from Midwestern wheat and California pomegranate for a balanced body with a creamy finish. Use it as your all around vodka.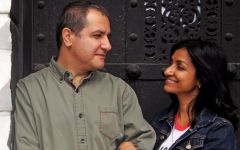 Founded in 2004, Greenbar Distillery is LA's first since Prohibition and one of the first craft distilleries in the U.S. The distillery brings a new standard of flavor to spirits lovers by marrying classic and modern techniques with whole, organic ingredients. By capturing bright, nuanced flavor, you get drinks that deliver more joy in every sip.
Way back when, Melkon Khosrovian was inspired to create infused spirits that his fiance, Litty Mathew would find more palatable than the harsh liquor served during his Armenian family celebrations— a tall task as Litty is a gourmet at heart.
Through relentless research and experimentation, the two began to innovate the art of extracting and capturing clean, rich flavors from organic ingredients. Legend of their concoctions grew and, eventually, led them to create Greenbar Distillery.
Made from the distillation of anything containing fermentable sugars, Straight Vodka is a clear and unaged spirit. Cereal grains like wheat, rye and barley are the most commonly used bases, but modern Vodkas are now made from crops as diverse as sugar beets, grapes and potatoes. Ideally Straight Vodkas should be colorless, odorless and flavorless. They are sipped chilled and neat, or used as a base for a variety of cocktails, from the Martini to the Cosmopolitan.