Greenbar TRU Garden Vodka
Distiller Notes
Green and fresh: this one's for bar chefs. TRU Garden Vodka captures the essence of spring herbs and veggies for fresher cocktails — just like stock helps kitchen chefs make tastier meals. Notes of celery, dill and coriander deliver complexity and add life to seasonal or savory cocktails, like Bloody Marys.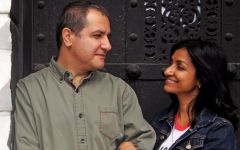 Founded in 2004, Greenbar Distillery is LA's first since Prohibition and one of the first craft distilleries in the U.S. The distillery brings a new standard of flavor to spirits lovers by marrying classic and modern techniques with whole, organic ingredients. By capturing bright, nuanced flavor, you get drinks that deliver more joy in every sip.
Way back when, Melkon Khosrovian was inspired to create infused spirits that his fiance, Litty Mathew would find more palatable than the harsh liquor served during his Armenian family celebrations— a tall task as Litty is a gourmet at heart.
Through relentless research and experimentation, the two began to innovate the art of extracting and capturing clean, rich flavors from organic ingredients. Legend of their concoctions grew and, eventually, led them to create Greenbar Distillery.
Though Vodka aspires to be an odorless and tasteless spirit on its own, this aspect (somewhat ironically) makes it the perfect base for flavored spirits, as there aren't any other flavors or aromas to compete with those being added. While some premium producers steep their Vodkas with actual fruit, extracts and concentrates are most commonly used to achieve a desired flavor.