Greenbar IXA Organic Silver Tequila
Distiller Notes
A smooth, complex tequila full of flavor and none of the burn. The secret to the creamy texture and velvety finish lies in combining traditional tequila making practices with modern California winemaking techniques. It's great on its own and shines in simple cocktails.
Proof: 80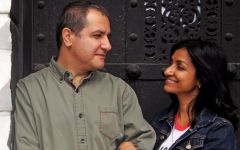 Founded in 2004, Greenbar Distillery is LA's first since Prohibition and one of the first craft distilleries in the U.S. The distillery brings a new standard of flavor to spirits lovers by marrying classic and modern techniques with whole, organic ingredients. By capturing bright, nuanced flavor, you get drinks that deliver more joy in every sip.
Way back when, Melkon Khosrovian was inspired to create infused spirits that his fiance, Litty Mathew would find more palatable than the harsh liquor served during his Armenian family celebrations— a tall task as Litty is a gourmet at heart.
Through relentless research and experimentation, the two began to innovate the art of extracting and capturing clean, rich flavors from organic ingredients. Legend of their concoctions grew and, eventually, led them to create Greenbar Distillery.
Tequila Blanco, or 'white Tequila', is also known as Tequila Plata, or 'silver Tequila'. Its clear color is the result of being bottled immediately after distillation instead of being aged in oak barrels like Tequila Reposado or Anejo. Because of their youth and lack of barrel influence, Blanco Tequilas are thought to offer the purest expression of blue agave available, with notes of citrus and pepper. However, they can also be quite forceful and energetic on the palate without the moderating influence of time and wood.