Greenbar Fruitlab Orange Liqueur
Distiller Notes
Wine Enthusiast Top 100 Spirits of 2019
Bright aromas of fresh and candied ginger with palate coating ?avor and a long, spicy ?nish.
Proof: 40
Critical Acclaim
All Vintages
Look for a honey hue and bright, mild orange aroma. The palate is light and easy-sipping, with hints of brown sugar and honey and nuanced orange flesh and ginger on the finish. The producer says its differentiator is that it's made with zest from fresh California oranges, not just dried peels.
View More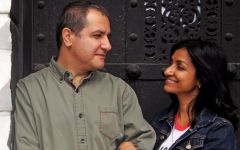 Founded in 2004, Greenbar Distillery is LA's first since Prohibition and one of the first craft distilleries in the U.S. The distillery brings a new standard of flavor to spirits lovers by marrying classic and modern techniques with whole, organic ingredients. By capturing bright, nuanced flavor, you get drinks that deliver more joy in every sip.
Way back when, Melkon Khosrovian was inspired to create infused spirits that his fiance, Litty Mathew would find more palatable than the harsh liquor served during his Armenian family celebrations— a tall task as Litty is a gourmet at heart.
Through relentless research and experimentation, the two began to innovate the art of extracting and capturing clean, rich flavors from organic ingredients. Legend of their concoctions grew and, eventually, led them to create Greenbar Distillery.
First prepared by 13th century Italian monks as herbal medicines and elixirs, Liqueurs are distilled spirits that have been combined with flavoring agents. A range of herbs, spices, nuts, fruits and flowers can be used, and a sweetener such as sugar or corn syrup is often added. While typically rather sweet, some examples are herbaceous or tart and pair exceptionally well with desserts or act as a delightful addition to cocktails.