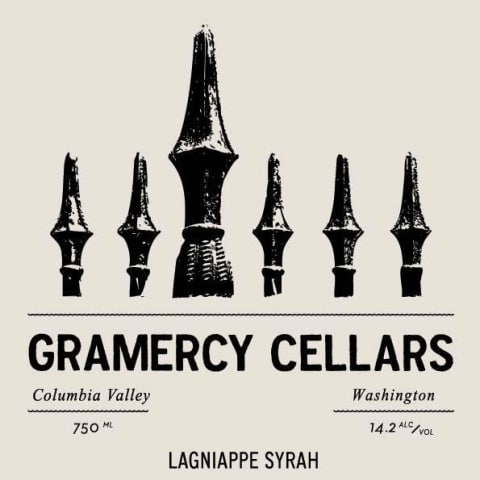 Gramercy Cellars Lagniappe Syrah 2014
Winemaker Notes
Smoked meat, intense core of strawberry, raspberry, blueberry, almost black fruit, mineral, black olive, pepper. Granite, stone, and cement. Some green herbs. Medium to medium plus bodied with noticeable tannins. Very floral on the nose. Length for days.
Critical Acclaim
All Vintages
A big, powerful example of this cuvee, the 2014 Syrah Lagniappe comes from the Red Willow, Forgotten Hills and Minick vineyards and is 100% Syrah. It offers a deep, rich bouquet of smoked herbs, cured meats, blackcurrants and pepper. This is followed by a powerful, tannic red that has full-bodied richness, plenty of mid-palate depth and a big finish. I was surprised by the tannin in this cuvee and it showed quite a bit differently (more fresh and lively) from barrel. Nevertheless, it's a serious wine that need 2-3 years of bottle age.
Rating: 94+?
The Cajun term 'lagniappe' means 'a little something extra'. This inky wine is filled with black fruit, thyme, modest acidity and sturdy tannins.
The 2014 Gramercy Syrahs, taken together, are quiet, burled up and needing the better part of three days to unfurl - the product, perhaps, of the new concrete fermenters Greg Harrington has used for this vintage. The Lagniappe smells of fare-off smoke, with dark blueberry fruit that feels like it's at a similar remove. The flavors, with time, move toward savory depths - now sage and lavender, then creosote and carob, then blueberries and violet candy. Utterly intriguing, and still a bit of a mystery. For the cellar.
View More
Founded in 2005, Gramercy Cellars is the realization of Greg and Pam Harrington's dream to make fine wine in a special place.
Prior to founding Gramercy Cellars, Greg spent what seemed like a lifetime as a sommelier and wine program director for top chefs such as Joyce Goldstein, Emeril Lagasse and Wolfgang Puck. Since becoming the youngest American to pass the Master Sommelier Exam at the age of 26, Greg has been passionate about someday making his own wine. His Washington odyssey began in the Spring of 2004, at a backyard picnic in Brooklyn, hosted by the Walla Walla Wine Alliance. There, Greg and Pam tasted wines that surprised them. They were very different from what they had come to expect from American wines. These were wines that displayed earthy characteristics and balance. A marathon tasting trip in Walla Walla later that spring (and Pam's discovery of the term "palate fatigue") convinced them that Walla Walla was in their future. First, this meant "when they retire." That quickly became "5 years from now." Meanwhile, Greg worked harvest in 2004 in Walla Walla and was more convinced than ever that Walla Walla was the place in the United States to make the wines he loves. Soon thereafter, Pam gave him the green light to leave his restaurant industry job to seize the opportunity to finally follow his dreams full time, resulting in Gramercy's first harvest in 2005. In 2006, Greg and Pam moved to Washington to establish and build the legacy of great Washington wine at Gramercy Cellars.
2010 was a watershed vintage for Gramercy. Vineyards, vintage and style have all come together as clearly evidenced by wines of amazing personality and quality. Tempranillo and the red Rhone blends - The Third Man and L'Idiot du Village showcase intense, pure fruit with rich textures and fine acid-tannin structure. The bright, intense, blue-black fruited Lagniappe Syrah is co-fermented with a dollop of Viognier and aged 18 months in 85% neutral French oak. In New Orleans, Lagniappe, means, a little something extra. The Walla Walla Valley Syrah is whole cluster fermented, aged in neutral oak and is fatter and meatier. The Cabs have both power and finesse and are built for an extra long haul. Finally, the Rosé is a full-bodied but not heavy Rhone blend that marks a new quality high for WA pink. Walla Walla native, Brandon Moss, worked harvests at King Estate and in New Zealand. Upon returning to Walla Walla he became cellar master at Waters Winery before joining Gramercy as assistant winemaker. In 2011 Brandon became a partner in Gramercy Cellars. This is a very important, world-class producer!
ATO196293_2014
Item#
196293