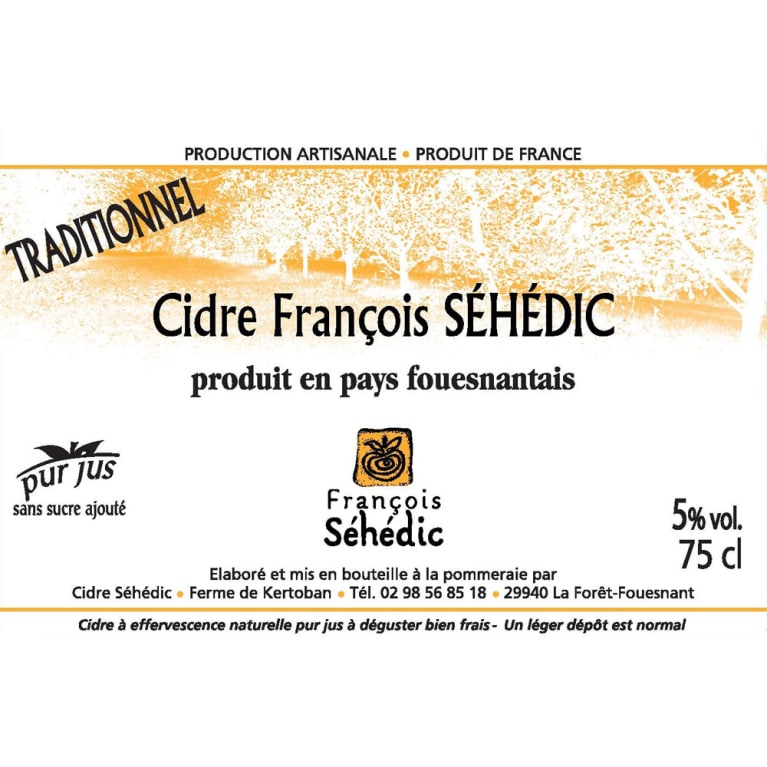 Francois Sehedic Cidre Traditionnel
Ships Sat, Dec 22
Limit
0
bottles
per customer
Add to Cart
Limit Reached
Winemaker Notes
Harvested from traditional cider apple varieties in the ancient orchards of Bretagne. Lightly filtered, resulting in a complex, earthy, bittersweet palate with a dry finish. A perfect companion to charcuterie, cheeses, fried fish and buckwheat pancakes.
A recipient of the "Prix d'Excellence" (Excellence Award) by the French Ministry of Agriculture for the quality of their production, Sehedic Ciders are all "AB" certified organic. All apples used come from organic apple trees grown in the Western region of Brittany. Of the bitter-sweet cider varieties, only the traditional apples of the region are used in production.
Cidre Sehedic has 3 apple orchards on 18 hectares. Some of the apple trees are more than 40 years old. All products at the estate are naturally made, without any additions of sugar, water or SO2.
Nearly synonymous with fine wine and all things epicurean, France has a culture of wine production and consumption that is deeply rooted in tradition. Many of the world's most beloved grape varieties originated here, as did the concept of "terroir"—soil type, elevation, slope angle and mesoclimate combine to produce resulting wines that convey a sense of place. Accordingly, most French wine is labeled by geographical location, rather than grape variety. So a general understaning of which grapes correspond to which regions can be helpful in navigating all of the types of French wine. Some of the greatest wine regions in the world are here, including Bordeaux, Burgundy, the Rhône, and Champagne, but each part of the country has its own specialties and strengths.
Pinot Noir and Chardonnay, are the king and queen of Burgundy, producing elegant red and white wines with great acidity, the finest examples of which can age for decades. The same varieties, along with Pinot Meunier, are used in Champagne. Of comparable renown is Bordeaux, focused on bold, structured red wines made of blends of Cabernet Sauvignon, Merlot, Cabernet Franc including sometimes a small amount of Petit Verdot or Malbec. The primary white varieties of Bordeaux are Sauvignon Blanc and Sémillon. The Rhône Valley is responsible for monovarietal Syrah in the north, while the south specializes in Grenache blends; Rhône's main white variety is Viognier.
Most of these grape varieties are planted throughout the country and beyond, extending their influence into other parts of Europe and New World appellations.
End a great meal on a sweet note, dessert and fortified wines come in an impressive array of styles and sweetness levels. Many wines in this category—including Port, Sherry, and Madeira—are fortified with neutral spirits to increase the level of alcohol, and, depending on the final style of wine desired, often to arrest fermentation while some (or a lot of) residual sugar remains. Others, like Sauternes and Tokaji, are produced by leaving the grapes on the vine long after the rest of the harvest has been processed in order to accumulate very high sugar levels. Often, a form of "noble" rot called botrytis plays a role, desiccating the grape until only the very flavorful solids and sugars remain. These late-picked wines are, accordingly, often referred to as late-harvest wines. In colder climates, the grapes may be allowed to freeze on the vine for the production of ice wine.