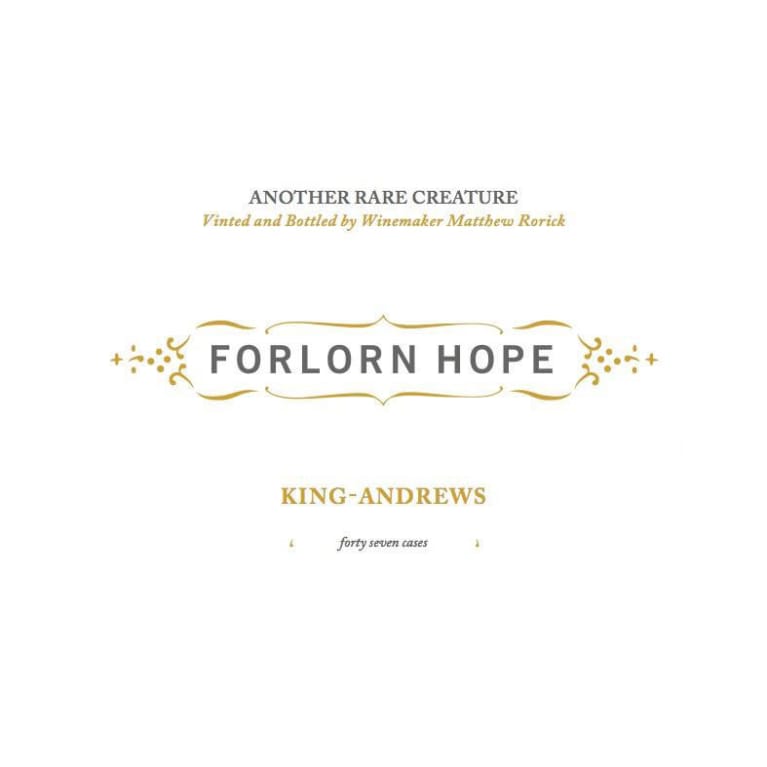 Forlorn Hope King Andrews White Wine 2015
Ships Sat, Feb 1
Limit
0
bottles
per customer
Winemaker Notes
Grown by Roger King in the Suisun Valley. The vineyard is situated on the eastern slope of the valley and its soil is deep clay loam. The King-Andrews white wine is a Heritage Revival project started in 2010, when Matthew procured cuttings from an abandoned (and now plowed under) Trousseau gris vineyard in Calistoga. Roger King raised four vines from these cuttings, and the inspiration to re-create a pre-prohibition white field blend was born. Since then, the planting has been expanded to include Chenin blanc, Vermentino and Green Hungarian.
Taken from the Dutch "verloren hoop", meaning "lost troop", Forlorn Hope was the name given to the band of soldiers who volunteered to lead the charge directly into enemy defenses. The chance of success for the Forlorn Hope was always slim, but the glory and rewards granted to survivors ensured no shortage of applicants.
These bottles, the first produced by Matthew Rorick Wines, were our headlong rush into the breach. Rare creatures from appellations unknown and varieties uncommon, these wines are our brave advance party, our pride and joy – our Forlorn Hope.
Matthew Rorick found his passion for food and wine at his grandfather's table, where the elder Rorick's love of sharing a bottle, a meal, and good conversation inspired his career in winemaking.
After receiving his degree in Viticulture and Enology from UC Davis, Matthew worked on a diverse number of winemaking projects including collaborations with wineries in New Zealand, South Africa, and Chile, as well as with Peter Michael Winery, Chasseur, and Miura Vineyards in California, among others. The broad array of different winemaking and grape growing techniques and philosophies he encountered provided a unique practical counterpoint to the theory he learned at University and flavor his current direction in the winery.
Taking his cues from the stones and soil, he endeavors to interrupt the natural development of each of his wines as little as possible in order that the character and uniqueness of each vineyard site may take center stage.
An off the beaten path wine country destination, Suisun Valley is just east of Napa Valley in the California Coast Ranges. The valley boasts plentiful agricultural products as well as wine.
With hundreds of white grape varieties to choose from, winemakers have the freedom to create a virtually endless assortment of blended wines. In many European regions, strict laws are in place determining the set of varieties that may be used, but in the New World, experimentation is permitted and encouraged. Blending can be utilized to enhance balance or create complexity, lending different layers of flavors and aromas. For example, a variety that creates a soft and full-bodied wine would do well combined with one that is more fragrant and naturally high in acidity. Sometimes small amounts of a particular variety are added to boost color or aromatics. Blending can take place before or after fermentation, with the latter, more popular option giving more control to the winemaker over the final qualities of the wine.
RVLRIFH15KA_2015
Item#
335317