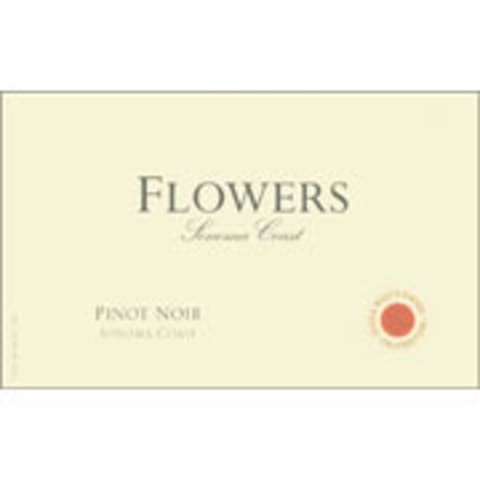 Flowers Sonoma Coast Pinot Noir (1.5-Liter) 2002
Out of Stock

(was $59.99)
Winemaker Notes
The aromas of this wine are, again, distinctly forward and multilayered. The clean brightness of fruit is what sets this vintage apart. A predominance of "red fruits" is accented by a touch of exotic East Indian spice and a "kiss" of well-seasoned French oak. The texture is plush and round with the underlying structure and acidity not becoming apparent until the late palate and finish.
This Pinot was a joy to blend with it never ceasing to amaze us how the sum can be so much greater than the parts. And there were several parts! Five key vineyards and five minor ones were the sources for the blend this year; with two of the key vineyards being Camp Meeting Ridge and our new ranch off Fort Ross Road.
The purity of this wine is what is so striking and reflects the preciseness and delineation of fruit that was a common denominator in many of the Pinot lots this vintage.
Drinking surprisingly well for such a young wine, I believe this vintage will continue to evolve and improve over the next 3 years.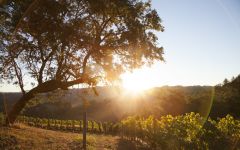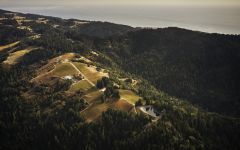 Over 25 years ago, Flowers Vineyards and Winery pioneered the growing of Pinot Noir and Chardonnay on the rugged coastal ridges of the extreme Sonoma Coast. Joan and Walt Flowers had a simple goal, to make exceptional wine that captures the wild beauty of the land and the spirit of the Sonoma Coast. This idea continues to drive everything we do - farming responsibly, harvesting by hand, using 100% native fermentation, and making wine with minimal intervention. Our unwavering commitment to crafting distinctive wines that capture the spirit of the Sonoma Coast has been the bedrock of our success, and it will continue to drive us forward for years to come.  
Perched on top of soaring coastal ridges that border the nearby Pacific Ocean, our estate vineyards, Camp Meeting Ridge and Sea View Ridge, rise to impressive elevations from 1,150 to 1,875 feet. Flowers resides in the Fort Ross-Seaview American Viticulture Area (AVA), which was established in 2012 and located on the extreme western edge of the Sonoma Coast Appellation. Defined by elevation, rugged terrain and proximity to the Pacific Ocean, vineyard plantings are limited to 920-1,800+ft above sea level and are only 2% of the total AVA acreage.
The Pacific Ocean is less than two miles from the vineyards, generating cooling sea breezes and coastal fog while the soaring elevations ensure abundant sunshine for a long, slow growing season. Together they create an ideal environment for elegant and nuanced Pinot Noir and Chardonnay.
The Sonoma Coast AVA is large in area but, not counting overlapping regions like Russian River Valley, only has a few thousand acres of grapevines—and it's no wonder. Much of the region is rugged and not easily accessible. Its proximity to the Pacific Ocean's fog and cool breezes limits the varieties that can be cultivated, but it proves to be an ideal environment for high quality Pinot Noir.
Since fog is a frequent fact of life here, as are heavy marine layers that sometimes bring rain, the best vineyards are wisely planted above the fog line, on picturesque ridges that capture enough sun to provide even ripening. That, with the overnight drop in temperature that reliably preserves acidity, results in fine expressions of Pinot Noir that often receive tremendous critic and consumer praise alike, and are often in high demand.
PIN192063_2002
Item#
98920