Dopff & Irion Cremant Rose Brut
Ships Mon, Mar 30
Limit
0
bottles
per customer
Winemaker Notes
Pink with tinges of orange. The bouquet is full of red berry fruit. Mouth: Lively, round, and elegant on the palate. It is a harmonious wine with pleasant, long-lasting aromas.
Crémant Brut Rosé makes refined aperitif or cocktail wine and is ideal for receptions. Its freshness and finesse make it a wine to be drunk throughout a meal, even with dessert.
Critical Acclaim
All Vintages
Gentle red-berry notes and fresh citrus appear tentatively on the nose of this wine. The palate is lively, with vivid foam that lends a little creaminess to the slender body. The finish is dry, refreshing and rings with a slight creaminess. It's restrained and easy, but elegant.
View More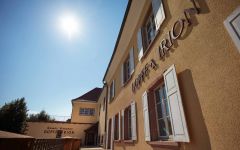 René Dopff took over Dopff & Irion in 1945. He broke away from the old winemaking techniques and looked to the terroir rather than to the grape variety. He decided to divide the vineyard at Chateau de Riquewihr into four estates, which he rechristened with typically French names: Les Murailles, Les Sorcières, Les Maquisards and Les Amandiers. He opted for clearer labeling, abandoning gothic lettering in favor of a more sober script. These wines, made solely from the four noble grape varieties, expressed the very soul of the terroir. From that day on, each estate was dedicated to a particular variety. René Dopff then proceeded to ensure that his wines graced the best tables in France and the world over. He supplied wines to the Palais de l'Elysée, the French President's residence, and for the launch of the luxury liner, "France"...
Dopff & Irion is proud of their inheritance and feel it is their duty to ensure that it continues to thrive and prosper. The love of wine, of their vines, and of the region is an invitation to a voyage through history to be shared and savored.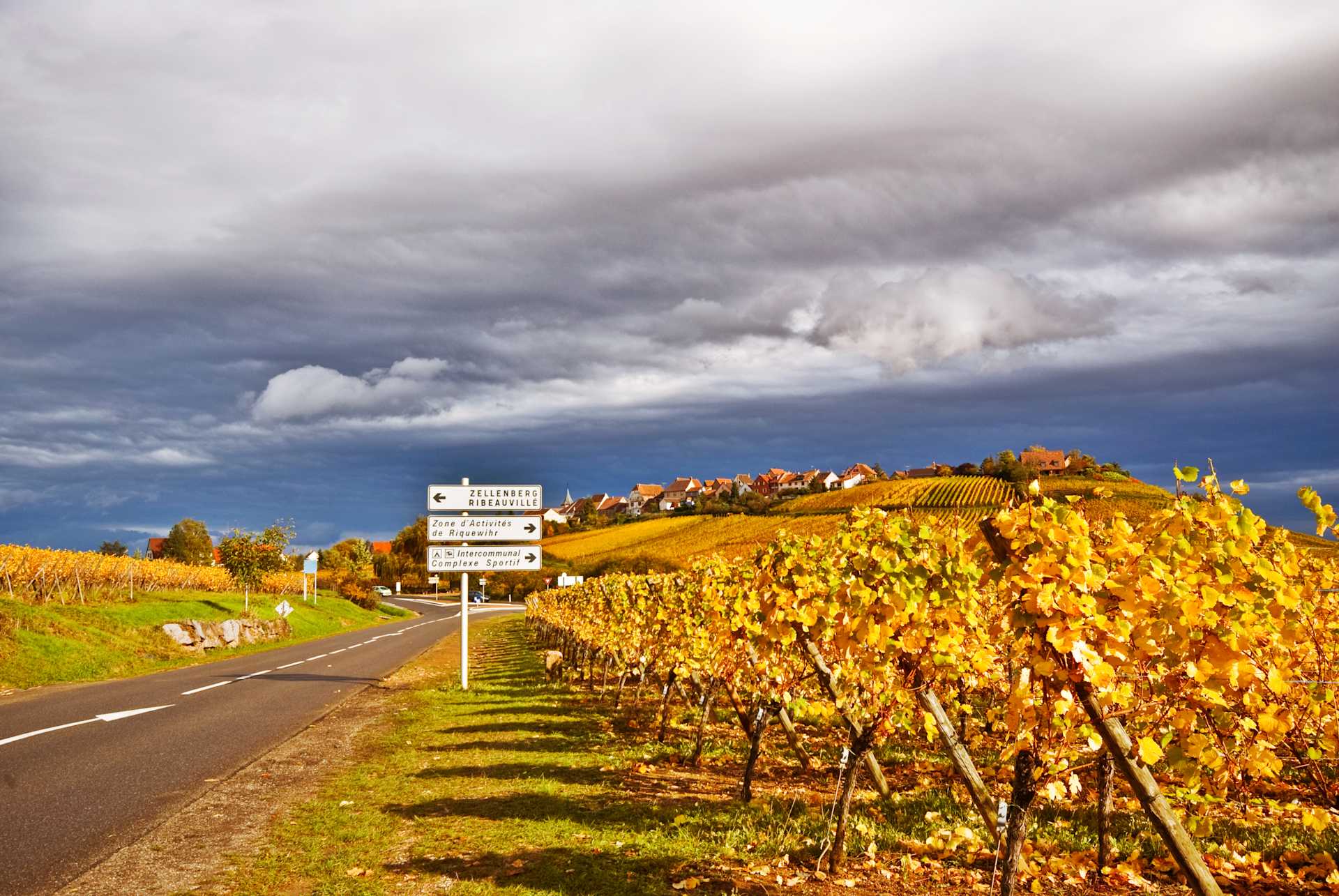 With its fairytale aesthetic, Germanic influence and strong emphasis on white wines, Alsace is one of France's most unique viticultural regions. This hotly contested stretch of land running north to south on France's northeastern border has spent much of its existence as German territory. Nestled in the rain shadow of the Vosges mountains, it is one of the driest regions of France but enjoys a long and cool growing season. Autumn humidity facilitates the development of "noble rot" for the production of late-picked sweet wines, Vendange Tardive and Sélection de Grains Nobles.
The best wines of Alsace can be described as aromatic and honeyed, even when completely dry. The region's "noble" varieties, the only ones permitted within Alsace's 51 Grands Crus vineyards, are Riesling, Gewurztraminer, Muscat, and Pinot Gris.
Riesling is Alsace's main specialty. In its youth, Alsatian Riesling is dry, fresh and floral, but develops complex mineral and flint character with age. Gewurztraminer is known for its signature spice and lychee aromatics, and is often utilized for late harvest wines. Pinot Gris is prized for its combination of crisp acidity and savory spice as well as ripe stone fruit flavors. Muscat, vinified dry, tastes of ripe green grapes and fresh rose petal.
Other varieties grown here include Pinot Blanc, Auxerrois, Chasselas, Sylvaner and Pinot Noir—the only red grape permitted in Alsace and mainly used for sparkling rosé known as Crémant d'Alsace. Most Alsatian wines are single-varietal bottlings and unlike other French regions, are also labeled with the variety name.
What are the different types of Champagne and sparkling wine?
Beloved for its lively bubbles, sparkling wine is the ultimate beverage for any festivity, whether it's a major celebration or a mere merrymaking of nothing much! Sparkling wine is made throughout the winemaking world, but only can be called "Champagne" if it comes from the Champagne region of France and is made using what is referred to as the "traditional method." Other regions have their own specialties—Crémant in other parts of France, Cava in Spain and Prosecco in Italy, to name a few. New World regions like California, Australia and New Zealand enjoy the freedom to make many styles, with production methods and traditions defined locally. In a dry style, Champagne and sparkling wine goes with just about any type of food. Sweet styles are not uncommon and among both dry and sweet, you'll find white, rosé—or even red!—examples.
How is Champagne and sparkling wine made?
Champagne, Crémant, Cava and many other sparkling wines of the world are made using the traditional method, in which the second fermentation (the one that makes the bubbles) takes place inside the bottle. With this method, spent yeast cells remain in contact with the wine during bottle aging, giving it a creamy mouthful, toasted bread or brioche qualities and in many cases, the capacity to age. For Prosecco, the carbonation process usually occurs in a stainless steel tank (before bottling) to preserve the fresh fruity and floral aromas imminent in this style.
What gives Champagne and sparkling wine its bubbles?
The bubbles in sparkling wine are formed when the base wine undergoes a secondary fermentation, which traps carbon dioxide inside the bottle or fermentation vessel.
How do you serve Champagne and sparkling wine?
Ideally for storing Champagne and sparkling wine in any long-term sense, they should be at cellar temperature, about 55F. For serving, cool Champagne and sparkling wine down to about 40F to 50F. (Most refrigerators are colder than this.) As for drinking Champagne and sparkling wine, the best glasses have a stem and flute or tulip shape to allow the bead (bubbles) to show.
How long does Champagne and sparkling wine last?
Most sparkling wines like Prosecco, Cava or others around the "$20 and under" price point are intended for early consumption. Wines made using the traditional method with extended cellar time before release can typically improve with age. If you are unsure, definitely consult a wine professional for guidance.